A match report, by JerkFromTheCoach, for the grand occasion of a contest of football played out between the two sides from Hartlepool (represented by Hartlepool United Football club) and from Dagenham (represented by Dagenham & Redbridge Football Club), the spectacle having taken place on the 15th January of the year 2011 at The
Victoria Ground, located in Hartlepool.
(which is Jerk's way of saying;)
Saturday 15th January 2011 - Hartlepool United - Away
words by JerkFromTheCoach
As a football supporter, I love away fixtures. Its hard to say I love them in the same way as I love home games, but nevertheless I love them – and certainly not to a lesser degree. But, one might be excused for saying that the effort required to haul yourself to various unattractive parts of the country is far greater than jumping on a bus to the pub and then onto the ground and returning home on a Saturday in time for tea. These games are where the feeling of being the twelfth man really spring to life.
I set my alarm on the morning for a mind bogglingly early 6am, and finally awoke at 7am (whoever invented alarm clocks really needs a ticking off) just in time to throw on some hastily prepared clothes, and get out and on the road for what was to prove to be an epic, yet
fruitful slog.
By 7:30 I was out of my door and in need of fuelling for the journey up. As I was preparing to leave the petrol station I noticed the coach travelling over the A13 flyover toward Barking, and the hunt for them hastily began…and may as well have ended. Whoever was driving
that thing must have been doing some speed, because even at a 'snippet' over 70mph (read 70mph exact if you are a law enforcement officer….if you cannot be so kind as to do that, then my name is John Stimson, and Barnet FC can pass on my details) I was unable to catch
them. Our journeys must have parted, as I decided that I was bored of the M11 as soon as I got on it, and elected therefore to make my way along the M25, and onto the A1 after a cheeky stop off at South Mimms. Anyone who has travelled with me will know by now, that I have a bizarre magnet pull from Motorway Service Stations. This day was to
prove no different.
I decided that Peterborough was a fine place to have a short stop for breakfast, so my journey was broken there too. With Sausage & Egg McMuffin enthusiastically consumed, I decided against further stops at least until I had reached Gods own Country. To be perfectly honest, the service stops at both Cambridge & Peterborough aren't really up to
much for one main reason – lack of Rainbow Riches machines. 'Extra' Service Stations, take note – get this issue rectified!
It was shortly after setting off from Peterborough that I noticed the one major foreboding aspect of the day. The wind. Now, I have to admit, I love driving. I like to be in control of something I can travel in at speeds I was never before able to reach. I like the
nervous twitch that your belly does when you are passing a lorry that cant seem to stay in its own lane. I like seeing the other motorists and wondering where they are going, and I like to look out for odd cars – old ones, American ones, whatever isn't the standard norm. This wind though, was something else. My car was literally being pushed sideways by extremely strong gusts. Brief respite was afforded to me when passing lorries, but as soon as my vehicle was again exposed it was the same story.
However, I managed to travel as far as Wetherby before stopping again. This was to be my longest of stops, as I knew that beyond this was only around an hours drive further. Disappointingly this season, when driving to away games, I have noticed a lack of away supporters in Service stations – Wetherby was to be the exception though, as it was literally teeming with Altrincham supporters on their way to Blyth Spartans for their FA Trophy fixture, a game the BSP strugglers lost 2-1. Potentially a league fixture next season? I have fond memories of Altrincham in our non league days – if im honest, I don't like to see them struggling, but its becoming an increasingly often occurrence these days and in previous seasons they have hung onto BSP status only at the loss of other clubs for financial reasons and so on, and with the current crop of 'bigger' teams now plying their trade at that level, it looks likely they wont be able to hang on forever. Regardless, best wishes to them for their season, they struck me as a decent group of committed fans…reminded me of us.
The rest of the journey was uneventful, and after leaving the A1 for the A-somethingorother which was to lead me pretty much to the stadium thankfully the wind was behind me, so I was almost pushed straight into Hartlepool. Sadly though, it wasn't possible to avoid
Middlesbrough entirely. Some places are good, some places are bad – and then, there is Middlesbrough, the dirty spoon amongst the cutlery drawer, the grubby face of the impoverished child in a school photo where his classmates have all been cleaned up by a parents spittle on the corner of a handkerchief. Really, I cannot say enough about Middlesbrough. Its like a modern day polio colony – I say modern day, theres not a lot modern about Middlesbrough seemingly. I was pleased that the road took us up a height and over the city. What a dive.
I arrived into Hartlepool some twenty minutes after the coach (I did briefly overtake them as they stopped at Ferrybridge and I ploughed onward to Wetherby) and the site that awaited me was a little alarming, if not somewhat humorous. As the coach had parked up, the
driver had reversed it into a lamp post with an advertising board attached. Glass being glass, the window has shattered, and the driver was busy knocking the rest of the shards out. All credit to Swallow, and to those involved (Russell Elmes, Russell Powis…) for hastily
arranging a replacement coaches for the trip home. The Daggers away contingent were to be handed over relay-style at Ferrybridge Services to a new Swallow coach, after help from a Hartlepool based company. God only knows how they'd have all fit into my car…
So, to the actual point of the report – the game. Not too much to shout about really. The burgers were abysmal first off, but they were made more bearable when washed down with what was quite possibly the largest hot god to grace the planet. Not only was this huge, but it
was also a real steal at £2.50. Well done Hartlepool. As usual, there was a vegetarian option available from the taps in the gents free of charge. Those lucky vegetarians NEVER have to pay, its winding me right up…
The previous mentioned wind was playing havoc with the game, any long passes seemed to drift endlessly off of the field and into the Cyril Knowles Stand. Numerous times their keeper attempted a long clearance only to see it disappear into the seats. It seemed he was never going to learn. The Daggers fans were in full voice, making an impressive racket in the Rink End. It has to be said that the warnings we had received about the stewarding being OTT were thankfully not an issue. What we received were a couple of high spirited, decent, and sensible stewards who lets us stand up to watch the game without draconian seating policies coming into play. I think they enjoyed the renditions of 'Oops Upside Your Head', 'YMCA', and 'Lets Pretend We've Got Tourettes'. Half time came after not too much action, Hartlepool did have a couple of decent efforts, one coming crashing back off of the upright after about ten minutes. Much of the same it has to be said in the second half, plenty of banter for us to enjoy with Robbo, but the wind generally spoiling things (our usual sleek passing game should have been employed methinks…). The pivotal introduction of the
game has to have been Jon Nurse, whose ball on 86 mins found Gavin Tomlin, whose usual high work rate was today rewarded with his second Daggers goal. Particular mentions have to go to Scott Doe, whose defending was terrific throughout, and to Femi who could easily have been sent off early on had it not have been for a moment when the referee played advantage – he calmed down suitably and didn't receive further inspection from the short ugly bloke in black. Finally, a mention to Mr Monkhouse of Hartlepool – when in future you lunge out at goalkeepers feet first do not accuse them of doing the same, clean up your play young man, and stop crying when your reward is a foot in your own face (nearly!). After a bizarre decision was given to pay 4 mins stoppage time (my biased cap tells me that it was closer to 11 seconds) it was of great relief when the whistle was blown and it was certain that the three points would be coming back to Essex with us, for our third away win of the season.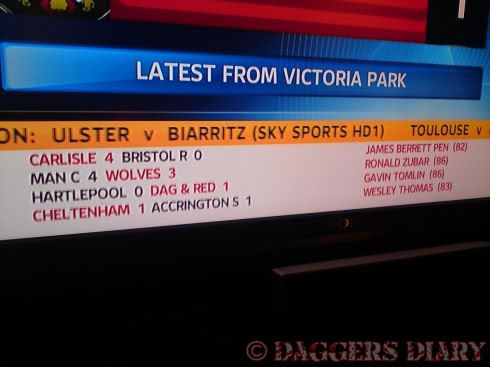 After shaking hands with my comrades and being wished a safe journey home, I made my way back to Dagenham in high spirits, my mood only dashed by finding out that Yeovil had also managed to win.
More of the same at home please now Dagenham – should it come to May and we go down, nobody can say the effort isn't being applied on the park, and indeed, on the terrace. We are fighting like we always do.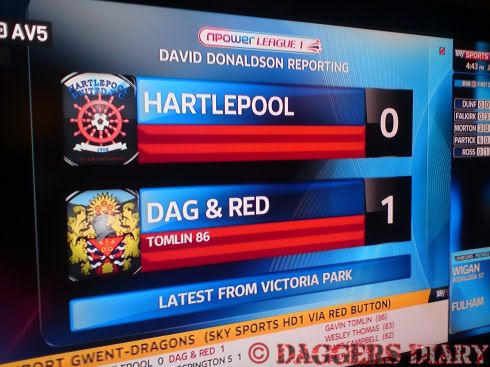 No surrender. Time to believe again!
JerkFromTheCoach
Next -
there's nothing quite like a MKdonalds