Today we have a special treat, the first in a series of interviews on this little site.
So we present to you ...Paul Benson.
Name - Paul Benson
DoB - 12/10/1979
Teams you've played for - White Ensign, Dagenham & Redbridge, Charlton Athletic
First of all, thank you for your time. It's great to have the opportunity to fire some questions at you.
How are you? And how are things going at Charlton?
Very good, enjoying my time at new club and so far, apart from recent ban, I feel I've acquitted myself well
How did you feel when Phil Parkinson was sacked? Were you worried for your place in the team?
Was shocked when I found out about his departure as we were 4th in the league! Yes I think everyone who's been playing regularly worries when a new manager comes in
What is the thing you will miss the most about Dagenham?
The family feel of the club, it felt like I knew everyone by the time I left, supporters included!
What were your best three Matches?
Rotherham play off final, nothing will beat the sense of achievement I felt at the final whistle
Oxford away conference winning year, a crucial point gained which effectively won us our place in the football league
Darlington away first year in league 2, to win and stay up coming from 2 goals down summed up everything about that daggers side
What are the Best Three Goals you've scored?
Chesterfield at home last season, took it on the chest swivelled and volleyed it into far corner.
Kidderminster away, volley from the corner flag!
Colchester away (for charlton!) overhead kick into top corner.
Which keeper did you find hardest to beat?
Kasper Schmeichel - any shot I struck he seemed to read where it was going a couple of seconds before I'd even hit it!
Best player you've played with?
Been lucky to play with alot of great players but for me Ben Strevens is the best of the bunch.
Best player you've played against?
Lee Hughes always causes problems whenever I play against him, although a highly unpopular player for fans, as a player there's not many better in the lower leagues.
Worst match you've played in?
Barnet away on boxing day a few years back, we lost 3-1 I smashed my face and ended up cracking my front teeth and I reckon the gaffer touched the ball more than me that day.
Least favourite away ground to play at?
Barnet! Never had a good game there never scored and never won there!
Any before/after game rituals?
None!
Why did you sign for the Daggers, was there anything in particular that sealed the deal for you?
John Still and Terry Harris! Terry was unbelievably friendly and welcoming to me and my family in the first trial game I played for daggers, that meant alot to me. John still made me feel as though the club really wanted me. After just one trial game I knew I wanted to sign for them.
What do you enjoy the most about being a pro-footballer?
The chance to be involved in the best sport in the country, if I wasn't a player I'd be watching it every week.
What do you consider your biggest achievements?
Two promotions with daggers, 2nd one in particular. On a personal level my conference player of the year award and conference top scorer award are special.
When you hang up your boots will you take another role in football?
I hope so, it would be a shame not to be involved in some capacity, I'd like to be involved in scouting looking for players in the lower leagues.
Best room mate on away days?
Peter Gain
Funniest team mate?
Peter Gain - 24/7 banter! had the ability to change my mood within minutes of turning up to training...one of my best mates in football.
Best XI from all the players you have played with, and brief reason why you chose each player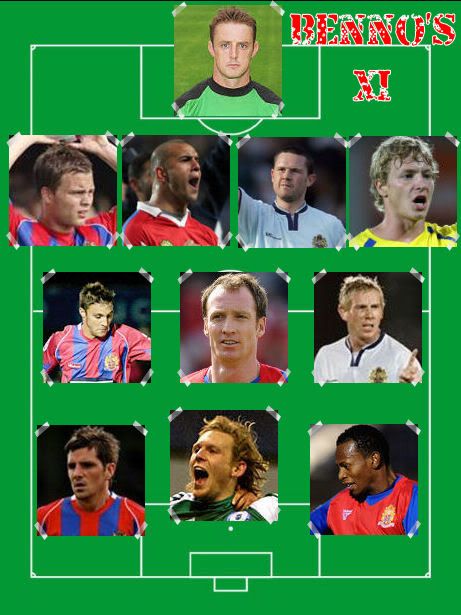 1)Tony Roberts - great pro, pulls of vital saves at vital times
2) Danny Foster - steady eddie right back underrated defender but loved by the players
3) Scott Griffiths - weird kid but great skill and loved his trademark marauding runs
4) Anwar Uddin - a leader who you'd want in the trenches with you
5) Mark Arber - on his day as good as I've seen in the league
6) Peter Gain - Every side needs a gainy will fight till the final whistle no matter what the score
7) Sam Saunders - the reason I scored so many goals at daggers
8) Glen Southam - technically one of the best I've played with
9) Craig Mackail-Smith - A player who has so much ability but still works harder than anyone else
10) Ben Strevens - Just had an unbelievable partnership with strevs, a great foil for me
11) John Nurse - Nursey will play anywhere and give his all while always having a smile on his face, a true dagger!
Favourite Film?
Scarface - love Pacino
Favourite Band?
Red hot chilli peppers
Shuffle your iPod, what are the first 5 tracks? (No cheating!)
1)Florence and the machine - dog days are over
2)Jordan sparks - battlefield
3)Michael Jackson - the lady in my life
4)Labi Siffre - Something inside so strong
5)Luther Vandross - Dance with my father
Team you support?
Southend United...but after my time at daggers I have two teams now!
What's next for you in football or life?
Hopefully a promotion with Charlton, I'm also looking into a partnership with a mate that sorts out tax returns for footballers
Any final words for the Daggers fans?
Keep believing! Daggers success has been built on being a team so everyone needs to keep positive and fight together and the dream will keep on going...oh and please don't boo me when I return with Charlton!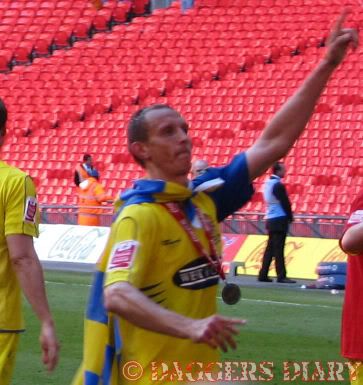 Once again a big Thank You to Benno for his time, and we wish him luck (apart from at Vicky road!)
FxMxD