So here we are at the beginning of 2011. But what of 2010? - A year which will be remembered by Daggers fans till the day they are 6 feet underground in red and blue caskets.
So what is everyone and their dog doing at the moment? Be it on TV, the interwebs or anywhere for that fact? Yep that's right! Making opinionated lists about various things and then demanding people pay attention to them. Well who are we to cast ourselves above such things?!
So we present to you...
So let's get started
On an away day the home team's crowd can really make or break a day. A good crowd can make a poor match great and a crap crowd can make a good match boring. So on our travels at the past year who has been the best fans to visit?
Best Home Crowd

And the winner is...

Southampton - Tuesday 2nd November 2010
(words by JerkFromTheCoach)
The Southampton fans were far better than I expected them to be. There is still an element of big club attitude there, but the way they responded to having a small group of supporters from a team usually much further down the pyramid was commendable. They shared some great banter with us throughout, and one of them liked us so much he somehow joined us, before being moved to the home section, and the turfed out altogether.
But what about the fans who are our guests at Vicky road? Who are the...
Best Away Crowd

And the winner is...
Morecambe - Sunday 16th May - League 2 P/O semi - First leg
(Words by FullMetalDagger)

This one's pretty simple, in what was possibly their biggest ever match (being a semi final, not necessarily playing away to the Daggers!) they fell apart and conceded 6 goals. Which meant before the second leg could even be played it was pretty certain there would be no Wembley trip for the Shrimps. So what did they do? They sang! They sang the whole game until the final whistle and showed true support for their team. Top fans.
But what of the places that hold the fans? Other than "the London borough of Barking & Dagenham Stadium" (of course)
Which venue gets the accolade of...
Best Ground
And the winner is...
Hillsborough
(words by FMD)
While it might not be the most picturesque or modern looking grounds. It cannot be denied that the home of Sheffield Wednesday is a proper football ground with buckets of character and history (and probably a few buckets of gravy destined for trays of chips). The roar of the crowd that accompanied any forward movement from the owls was deafening and a little intimidating. Although it has to be said that standing in the Leppings Lane end was more than a little eerie, I would happily go back there again and I would love to get a win there.


But where do we not want to visit again anytime soon? Where is the...
Worst Ground

And the Winners are...
Stadium MK & Darlington Arena
(words by Jerk')
I am afraid this is shared between Darlington and MK Dons. MK Dons stewards outnumber their fans by 2:1, and are heavy handed. They are very enthusiastic that you sit down, despite there really being no need. They also don't like foul language being used – even when the home fans (all 36 of them) are placed in a different time zone at various other areas in the ground. MK Dons also have a primary school aged manager. This doesn't make a different to the ground per se, but I assume that sometimes there are toys left in the player's tunnel which could be a potential trip hazard. Darlington, bless them, find themselves in a difficult situation. A crazy owner some years ago decided to move the team to a brand spanking new arena. This showed immense enthusiasm on his part, but also hid the fact that he was crazier than a crotchless tiger skin underpants. I believe he went to jail and then was killed by death sometime after. His warped enthusiasm (which saw an audacious bid for Faustino Asprilla) has burdened them with a ground they cannot afford to run. The bar is immense (a special mention to that later), the supporters are some of the friendliest I have come across, but the ground is clearly too big for them and is staffed by one of the Chuckle Brothers. After a hugely successful spell spent under the magical hands of Steve Staunton (I jest) the club now find themselves in the Blue Square Premier. The away section is now visited from such sides as Hayes & Yeading, and Altrincham (due respect to these teams, their away following won't be the highest seen). It is difficult to see the situation improving. It scored lowly due to its vast emptiness – a shame because it could be superb. A beautiful abomination sculpted by the mind of a maniac.
When stepping off of the Coach/Train/Car/Donkey that has taken you to an away game the first thing on most fans mind will be where a beverage of the alcoholic variety could be attained. So where is the...
Best Away Watering hole

And the winner is...
The Church - Rochdale
(words by Jerk')
Great days out are there to be had in Rochdale. That's what we Southerners have always been told. The California of the north. Palm tree laden streets, scorched grass banks, people walking about in shorts and sandals. Okay, that's a load of bollocks, it's a gritty northern town – but it's a ground I really enjoy going to. Part of the reason is the local pub (The Church) and the Rochdale supporters. I think we share a good relationship with Rochdale fans, I'd never wish their side ill – I was really rooting them to finish top so those jewellery thieving magpies wouldn't get a trophy, but alas it wasn't to be. The Church is a pub located right next to Spotland, and welcomes both home and away supports. Staff and fans alike are welcoming and friendly. It does get a bit busy, but I like to think that that is a sign of a good pub. The drinks are decently priced as you'd expect from anywhere outside of London, and they lay on a cracking evening of Karaoke to anyone who finds themselves still in Rochdale at 9pm on a Saturday night.
Special Mention
- A quick mention has got to go to the absolutely brilliant Sports Bar at Darlington. It's a real shame that more isn't made of the venue and that the locals don't go out in force to support their club. Presumably they are too busy following Newcastle and Sunderland to put in an appearance. These are top level facilities available to…well, I suppose top level non league now, but a crying shame. I hope we meet again someday.
Once pints, halves, singles and doubles have been drunk, chances are the pangs of peckishness will start to kick in. So where is the best munch to be found? What are the...
Top 7 Football Foods
Beef madras pasty - Southampton
Beef! Curry! in a pasty!! need we say more!!
Pasty - Yeovil
"What can I say? It was a pasty!" - Jerk' 2010
Burger - Billericay
See above just replace "pasty" with "Burger"
Burger - Torquay
See above
Footlong - MK Dons
A filling footlong, oooh err missus
Everything - Dartford
Seriously, everything they had to eat or drink was well tasty at Dartford and free roast potatoes and sausage rolls are NEVER to be sniffed at!

Burger - MK dons
When Jerk first had one he said it was the garlic mayo that made it on the return visit when I had one it was the garlic mayo that saved it!
So drinks drunk and food eaten, let's take a look at the actual matches starting with..
Worst Away Game

And the winner is...
MK Dons (twice)
(words by Jerk')

Both games away at MK Dons were absolute nightmares. I hate Milton Keynes. I hate driving there, I hate the team, I hate the ground – everything about Milton Keynes I hate. Apart from Paul Ince, watching him struggle last time round was pretty cool (no, I am not aligning myself with West Ham saying that; I just can't stand the man).
The first trip in 2010 was in the Carling Cup. I wasn't hopeful we'd beat our personal best of going out in the first round, but I went anyway. What I wasn't expecting was the be stuck in a traffic jam, causing me to arrive 20 minutes into the game, and having missed our goal. I wasn't blown away by the atmosphere in Stadium:SHITE, but then again whoever is? I am told it's great when…..actually that's a lie, I've never heard it called great. Even the MK staff hate it, and themselves are bussed in from far flung villages like Derby, Leicester, and China.
Our second game there was a league fixture. The attendance sprung up suitably (can't help think that the official figure of 7083 is however, a lie) for the game clearly attaches more prestige than a cup game. It was another defeat on the road for us. A 2-0 scoreline meant that all 12 of the MK fans went home in their usual utter silence. You can't lie that the set up isn't good there, there is an overpriced hotel well suited to third tier football, something I assume we'll be building at Dagenham post-haste? Tragically terrible games though, both of them. We didn't seem to turn up for the league fixture, our fans were quiet simply because it's like a Gulag in there and you have no option but to sit there and contemplate the joys of death. I hope I never go there again – but I know I'm not that fortunate.
Best Away Game

And the Winner is...
Yeovil - Saturday 13th November
(words by Jerk')

To me this is the stand out away game. Sure there were other candidates, Darlington and Morecambe (though, I didn't go) to name two, but I've gone for this because it was our first league win away from home in League One. The game wasn't the prettiest of spectacles, but with hard work in the last ten minutes we dealt the sucker punch and ensured we left CiderPastyVil with all three points, probably a game that toward the end of the season will become a real six-pointer. You can of course read about the game elsewhere on this page, so I won't bore you with details.
What about the best and worst from our own hallowed turf.
Worst Home Game

And the winner is...
Hartlepool - Saturday 30th October
(words by Jerk')

Gutting. Simply put. I think my chin is still grazed from scraping along the floor on my way out of The Sieve that day. This draw felt way more like a defeat than some of the losses we suffered in 2010. A few games really stuck out, and I guess they culminate in my head with the feeling of this one. The points dropped against the likes of Hartlepool, Walsall, Exeter, Tranmere, whether we like to admit it or not, would see us sitting with a reasonable gap between ourselves and the bottom four. But sometimes it isn't meant to be. I won't go too much into the actual events, as they can be read elsewhere on the page (perhaps FMD will work his wizardry and link?). The late goal was absolutely devastating. I've still not recovered. In fact I'm going for a Brandy…..it is wrong that I've stolen all of the offices Chocolate Courvoisier Liqueurs and hidden them in my drawer right?

If you really want to read about that "gutting" game again, click on Hartlepool in the menu to the left - FMD
Best Home Game

And the winner is...
Morecambe - Sunday 16th May - League 2 P/O semi - First leg
(Words by Jerk)

By far and away the best home game of 2010 was in my opinion the 6-0 drubbing of Morecambe in the playoff semi final. Having been to Christie Park weeks before to watch us suffer an agonising 1-0 defeat which meant hard work was needed to even reach the top seven, it made for very welcome revenge indeed. Morecambe fans were in buoyant mood and impressed me by their never say die attitude, even at 6-0 down. Facing Morecambe in this game, and the return when they were all but defeated before we even kicked off was something very special. I am glad we were the last team to face them at Christie Park – and I'd have loved to have been there again, but as I fell from the terrace step in a drunken state celebrating our second goal with enthusiasm only a drunk person can muster, and suffered a case of the old giant blue foot, I was unable to drive there or spend that long sitting on a coach. I have massive respect for Morecambe and their fans, and I cannot wait to see us at their new ground (though, if it means relegation, perhaps we can hold it off for a while yet!). Josh Scott was in perhaps the finest form he has ever been in over the course of the game, and between himself and Benno the Shrimpers were wiped out. Gutting for them, but as any Aspergers-suffering football fan will tell you, one man's pain is another man's mumble mumble.
As this list has shown; Life as a Dagger isn't all roses and sunshine, but what was the moment we saw no sun at all? What was the...
Most Disappointing moment of 2010

And the winner is...
Losing Paul Benson to Charlton
(words by FMD)

After the giddy ecstasy of beating all the odds to reach league 1 came this blow. Within a month of our first game in the league, after all of the rejected bids and all the speculation, Charlton "you came on a bus from Kent" Athletic prised our star striker from our grasp and then fielded him against us in the Paint Pot Cup. After a period of mourning and some new signings we still haven't quite replaced him. This is a disappointment that will hang over the club 'till someone starts banging away 20 in the onion bag per season! We all know the way it happened was the only way it could have happened and no one begrudges Benno a nice fat wage after all the service he gave us. Just a shame we're not the ones paying it.
Now as you all know, we are regulars on the Daggers forum (chances are you followed a link from there to read this) and while we love a good bit of banter and a heated debate about the issues of the now, there are some topics that need to be put to bed once and for all! So we present...
The Top 3 Things we don't want to hear Moaned about anymore.
(words by FMD)

1 - Losing Benno
Now this might seem odd considering the last paragraph I spent moaning about us losing our former star striker. But!!!! This subject has been done to death; should we have sold him? Would he have done the job in this league anyway? Why did we leave it so late to finalise the decision etc etc. all valid questions! But it's done now. Let's leave that behind and continue with the very fruitful "when will we get a decent striker?" debate. Oh wait they might be the same debate. Oh well.
2 - The Green Kit
I couldn't make it to the Carlisle game, so after listening to it on Daggers Player I was really looking forward to seeing our goals on The Football League show. After the League 1 highlights they cut to Lizzy who reads out the e-mails and she read one out from a Dagenham fan. Was this e-mail to congratulate the boys on what was only our second away win in a ground on the other end of the country? Was it her asking Jerk' to stop sending her inappropriate text messages? No, it was someone moaning that we still play away in green, need I say more?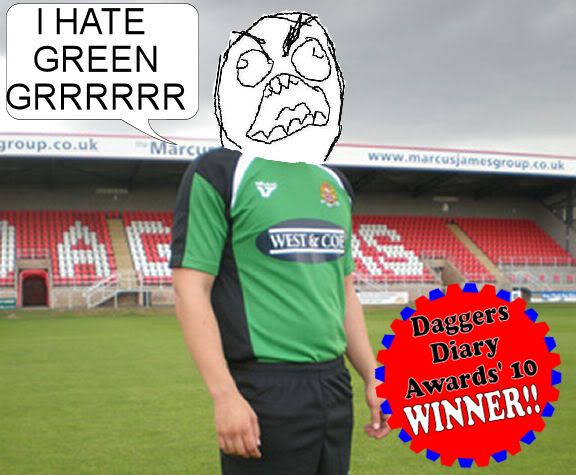 3 - "why doesn't [insert 2nd string player] ever get a go?"
I don't mean to sound preachy but I am of the opinion that While our Gaffer is not an infallible god-like man who will always be right, I am sure that he has a better idea of what these player we hardly ever see are like than us. A good example is Graeme Montgomery who when he would get a go looked promising but never seemed to actually break through. When questioned about this Mr Still explained that he didn't feel that Monty was pulling up enough turf in training and reserve matches to be given more of a chance and while I often wax philosophical about how without Monty we would have never got to Wembley (a valid point), I believe that if john says he's not ready he's not ready. And this extends to allot of players who haven't found a place in the squad yet. all of the above have almost created a mini religion amongst Daggers fans where Monty will descend from heaven wearing yellow (probably brining Benno with him) and lead us to the promised land (or at least out of the drop zone)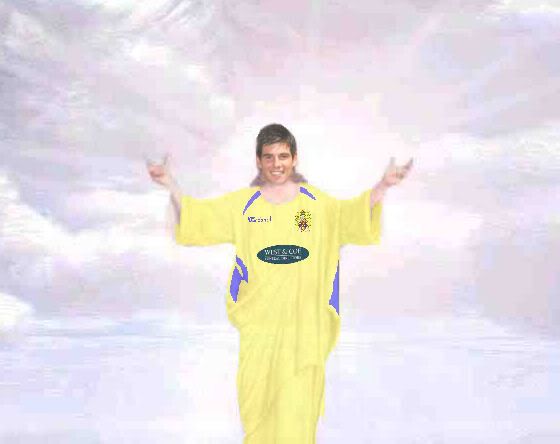 Of course the above is our own opinions and you are welcome to debate what you like, you are also free to point out our hypocrisy when either me or Jerk' writes "why isn't Ian Gayle getting a go?! He's the best Ogogo look-a-like since the man himself!"
Sorry I got a bit lost in my thoughts there, let's move on. What's next?

Ahhhhh....

What are the other moments in the past year of football that have stayed in our memories but havent really fitted in any other category
Top 5 other moments
1. The first time we heard "same league as Dagenham"
(by FMD)

Sheffield Wednesday away was as said before a big day for Dagenham. And Wednesday are a big club full of history, so when the chant of "same league as Dagenham, you're in the same league as Dagenham!" rose up, we had our song of a level playing field. Both teams in any of our matches were there for a reason and weather it was because the giants had fallen or the minnows were rising didn't matter. - FMD
2. Vincelot stands up at Colchester
(by Jerk')

It's never a good sight to see any player collapse (unless he is wearing an MK Dons kit….only kidding….it's not their fault they're stupid is it?) but when it is one of your own it hits home a little harder. Especially when it is your top scorer and your player in best form thus far collapsing immediately after scoring. I cannot remember how long the injury time was, but I'm seeing the figures 9 and 14, so it may have been 9 mins, it may have been 14 mins, it may have been neither. When a player is down that long you know it is potentially very serious. To see medics lying on the floor around him trying to provoke response from him is even more worrying. That he got to his feet and walked away from a serious incident is not unheard of for a Frenchman, but to have done so with what could potentially have been a life threatening clash of heads was a very welcome sight.
3. The Giant Flag at Wednesday
(By Jerk')

Our first game in League One was a baptism of fire at Hillsborough. Despite the scoreline, what a day it turned out to be. I'll certainly never forget it. A ground more used to staging the country's biggest teams, and in the past FA Cup semi finals, International matches and so on, was playing host to Dagenham & Redbridge. Before the game we were treated to the sight of the massive flag travelling its way up The Kop, quite a foreboding sight when you are outnumbered by around 23,500 people – its gives a bit of an impression about how well supported the club is. In true Dagenham style, someone in the Lepping's Lane end mimicked this by putting a small St George Cross above their head and passing it back a few rows. I expected that to be the end of it, but when I returned home the next day and took a look on the Sheffield Wednesday forums it seemed that they had somehow seen it from the other side of the ground – I think they appreciated the humour.
4. The Giant Flags at Wembley
(by FMD)

This was a great moment. Being at Wembley was a big enough thing, but I didn't really expect the great footballing powers that be to really make a big deal about the League 2 Playoff final (in truth I half expected them to tell us to just play the game at Upton Park and be grateful!). So when the giant flags floated up from the ground on their big balloon sausages I was pleasantly surprised. Combined with the confetti and the mini festival out in Wembley way it made the whole day feel like the biggest day in the clubs history. Which it was.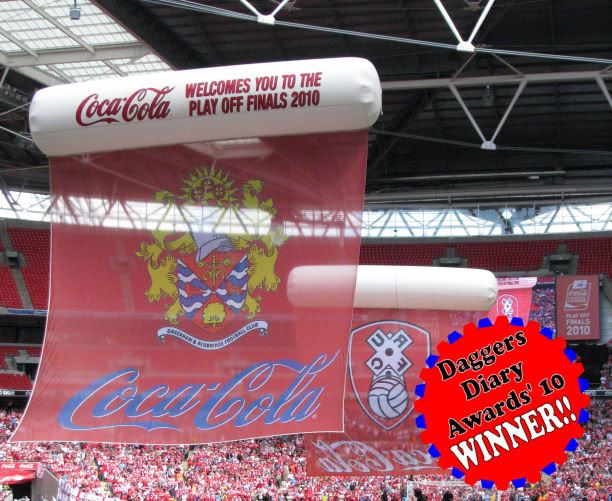 5."'ere for the Bovril"
(by FMD)

So it's the ESC, a reasonably strong Dagenham & Redbridge team has just not only thrown away a healthy 2-0 lead at Home to Canvey Island but also gone behind 3-2 in what must have been record time (about 3.1 seconds). While scratching our heads at the pure absurdity of it all when the crowd of pretty vocal "islanders" in front of us started singing "Here for the Canvey, you're only here for the Canvey!". well lads, as good as your "flash-bang" comment was at the time we would have felt it remiss if we didn't let you actually know that we were "Here for the Bovril, We're only here for the Bovril!"

So after all these moments; some good, some downright shite. We get to honour the players themselves

So in no particular order we give you...
Top 5 Players of 2010
Danny Green
(by FMD)

When the mass exodus of players occurred after the 08/09 season, daggers fans feared the worst. Enter Danny Green a nippy little cheeky faced kid we grabbed from Bishop Stortford. He was exactly the tonic we needed with his nippy runs and the ability to whack in a good ball. He could score a little too and in his first season netted 14 goals add that to the 13 assists he made and you realise quite how much of an impact he made. All of this culminated in a superb goal at Wembley. While it has taken him a little while to find his scoring feet in league 1 on his best day he can make himself look the best player on the pitch.
Romain Vincelot
(by FMD)



Now this is the story of a player who took a chance and ran with it. Originally signed as a right back, Romain got his first appearance at the 2-1 defeat to Shrewsbury and was brought on when Scott Doe got himself sent off. Early impressions of the lad where good, with many noting how well he could jump for a ball. But it was when he was called in to fill a hole in central we really saw what the man could do, which included a superb goal against Burton Albion from what seemed like the other end of Bury Road. Half a season later he is our top scorer with some awesome headers and also a very approachable bloke! I just hope we can hang onto him!
Paul Benson
(by Jerk')

A club legend. Influential. Paul is a real rags to riches story. Signed f…..wait one moment. I am sure I've read that before. If Paul was a rags to riches story by signing for Dagenham, now he must be lounging around all day being fanned by virgins and eating olives handed to him by neatly groomed spaniels in tuxedos whilst Johan Sebastian Mozartkovsky plays in the background. A terrific year from Paul, pretty much winding up with (an admittedly biased view upcoming) one of the best goals I've seen scored at Wembley and a fantastic personal move to Charlton. Obviously, after such loyal service we all miss him – I think we always will, but the final thought I have on him is his part played in the achievement of promotion at Wembley. Even having had at times an up and down season Paul was one of the stars. Sorely missed, never forgotten, and welcome home anytime. Just wipe that South London muck off your feet before coming in, please.
Tony Roberts
(by FMD)

Shortly after our 2-0 victory over Carlisle last month a friend of mine (not a dagger himself, but keeps an eye on the scores) commented on his FaceBook status that he had just seen the highlights from the game, and along with commenting on well taken goals he praised Robbo for his saves saying "a 41 year old has no right making saves like that!". Well this is just one of the things that makes our Welsh shot stopper so awesome, no wait, so fucking awesome! Apart from being a very good keeper, the way he carries himself, the banter with fans both home and away, the dancing and the voice that can be heard in Becontree, all go into making a genuine club legend. If you don't believe me, go watch his interview on the Wembley dvd, it is the stuff of legend! The day that man retires is a day that football loses one of its true characters and in a world of whiney overpaid kids and boring po-faced analysis it will be a sad day indeed!
Mark Arber
(by Jerk')

An absolutely superb year from the captain. He has had his critics since promotion (then again, pretty much everyone has) but as with Benno, a shining light in the clubs achievement in promotion to League One. Superb performance after superb performance at the back, and an awesome partnership formed with either Scott Doe or Will Antwi sees him as one of our stand out players for the years 2010. I don't think there is anyone at the club who'd make a better captain.
So there we have it.

These are just our views, but feel free to throw burgers at us if you disagree, after all, all this writing is hungry work!

T'ra!
Next - New years day at Griffin Park whilst still a little "merry"