+++WARNING - if you have not seen the film "Fear and Loathing in Las Vegas" some of this report may not make sense to you - +++
"Raindrops on roses and whiskers on kittens
Bright copper kettles and warm woollen mittens
Brown paper packages tied up with strings
These are a few of my favourite things
"


We were 2 miles outside of Basildon when the night kicked in, I was buried up to my neck in leather couch, all around me children of all ages (some as old as 50) we're playing with laser pointers, the beams of light cutting through the smoke. Dancing on ceiling. My lawyer lent out from a cloud of smoke and said "What the fuck are we doing man, we must me fucking mad!" I realised we must be, here we were on a new-years cocktail that only but the few truly experienced warriors of the mind could handle, and we were already past the point of control. Despite our obvious chemical handicap we had a mission, an absolutely stupid idea, the kind of idea a sober person makes!
It was way back at the beginning of the football season, as I perused the recently published fixture list I was hit but inspiration. "Now that's a fucking idea!" I turned to my lawyer, "we have Brentford away on new year's day! We're going to that game!" my lawyer looked up from his list looked at me and looked back at the paper in front of him "you're fucking crazy man" he was right, or maybe he was wrong, because here we were I looked at the clock on the wall, it said 4am "Sunglasses!!" "We need sunglasses, and Acapulco shirts!" My lawyer burst out laughing, but I was adamant couldn't he see my point, if we were going to be Hunter S Dagger and his lawyer we were gonna have to do it properly but I knew finding an Acapulco shirt between Pitsea and Brentford on new year's day could be a hard task. I sipped from my beer and felt my neck start to give way. In everyone when partying there is a little voice or a little nugget of consciousness that witnesses all the imbalanced and ludicrous things done when under the influence. This tiny watchman of the soul can only take so much, at this point it has to relinquish all control. I had reached that point!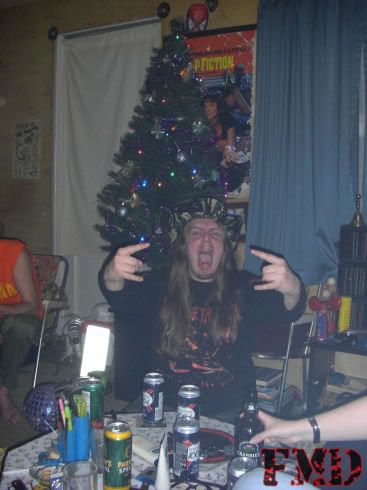 PARRRRRRTY ON!!!!!!

I closed my eyes and let the darkness swirl around me.
I opened my eyes some time later, I hadn't slept but I hadn't been awake. I needed tea, going to the kitchen the host of the party offered me a giant mug, I put 3 teabags into it and made the strongest tea I could. Walking back to the front room My Lawyer reiterated "dude, we must be fucking crazy". Yes my friend we must be! Time moved much like it does in these kinds of nights, in fits and starts. I looked up at the clock, "7am!" I thought, "I must organise" I drank the rest of the barrel of tea and rallied my group, MrsMetalDagger was now awake after a short sleep and my lawyer was leaning over the sink, expelling some foul demons.
We ordered a cab, cleaned ourselves up and put our team colours on. and what a fine state we looked, apart from the missus, who seemed largely unaffected by the night, mainly by using her powers of restraint, something Me and the man giant I call my lawyer know nothing about. The Cab arrived and we said our goodbyes, I was feeling more awake now. As I sat in the front seat I turned round to my lawyer whose name was Nikos, "I think, we might actually be able to pull this off"! With a short ride to Pitsea station we were on the platform waiting for our train. All around me pale faced corpses stumbled about shivering wearing the satisfied smile of a human being that has partied itself into the ground. Dr Gonzo "the doctor of journalism" Hunter S. Thompson wrote about trying to find the American dream at a cross country motorbike race in Las Vegas. I was on a similar mission I was travelling to Brentford to find the Dagenham dream, 3 elusive points to start the year off, all the while resisting the urge to chew my own shoulder off.
looking about 100x more composed than we actually were!
The train snaked its way into the station and we got on, it was the slower service but that suited us fine we didn't have to be at the match for another 5 hours and apart from the fact we would need to eat at some point, we were in no rush. Nikos rang our contact in Dagenham, she was to meet us at barking station and bring bottled water and chewing gum, something to rehydrate and something to channel the gnawing instinct into! The next half hour or so were spent staring out of the train window. We met Gemma at Barking, we sipped gratefully at the water and each put 2 chewing gums into our mouths, much to the delight of our rubber teeth. We changed onto the Jubilee line at West Ham the deeper we got into London the more awake everyone else seemed!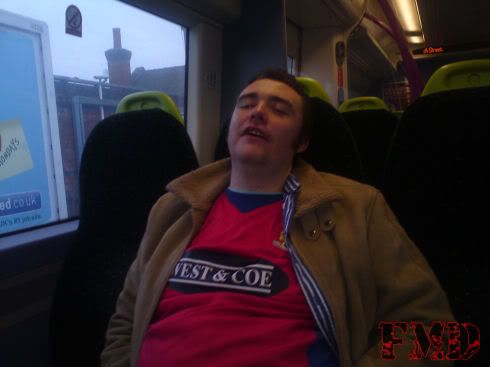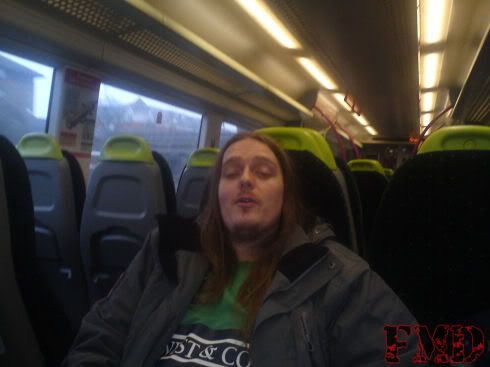 We rolled into waterloo and stumbled into the main forecourt. We needed food, I wasn't hungry but I was convinced I would need to fill my stomach to make it through the day. We came across an eatery/bar called "sloe" it was very clean, full of people and played terrible music but they served what looked in the menu to be a good English fry-up. It was quite tasty, but my stomach was delicate and couldn't handle the portion that my eyes demanded. Looking around there were other casualties of the night before trying to catch some sleep in the relative security of this overpriced yuppie bar. Then another group of daggers walked in, "what the fuck are we doing?" said one whose name was Daniel, I shrugged and laughed, football does strange things to otherwise normal people, "where's Jerk?" he inquired. This was a good point, last time I had checked he was still in barking waiting for someone or something that I had forgotten, but he was nevertheless on the way.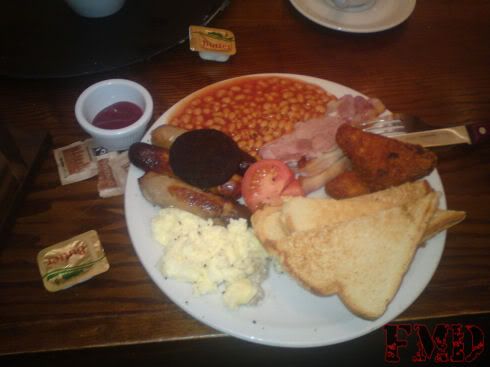 after food and a few pots of tea we headed towards the giant wall of information that would tell us which train to get and what platform it would be on, still in need of hydration I bought 2 bottles of coke, I would have got a sprite, but it wasn't in the 2 for one deal when I inquired as to why I couldn't have one of each the cashier said "you just can't" arbitrary rules that only exist for the sake of themselves are stupid!
But I digress
We boarded our train in a carriage full of Daggers, but no singing was done, it seemed we had all had heavy nights and a quiet train journey was in order. I closed my eyes and half listened to the conversation of the people in the ties who I often see at away days and I assume are in someway associated with the club. Once again the night before had left me tired but unable to sleep so I meditated behind my eyelids until the train rumbled into Brentford. We dragged ourselves onto the platform, I followed the crowd of daggers and my little mob followed me. I was sure if I just followed the crowd they would lead me to the ground or a pub, either would do!
The first bar we found was packed out and I was relieved when the snake of people we were a part of moved onto a different one, I don't think I could have taken that claustrophobic atmosphere. It is well known that Brentford's ground has a pub on each corner; I hoped all of them wouldn't be as cramped as the one we had just passed! The second pub we found was much more penetrable and as Nikos ordered drinks I found a table out the back. Light beer was the order of the day now; Corona would sit on the stomach nicely enough. We sat at the table watching the Man U game as more people filed into the small building making the air thick. Lee Wilson and Anthony arrived and we chewed the gristle till it was time to leave.
By now I was feeling as close to normal as I was ever going to, We walked back round the houses that hide Griffin park till we reached the away end, after turning out the contents of my backpack to appease the security we headed into the lower tier of the away end that the Brentford fans called the wendyhouse. There was already a nice amount of Daggers in the terrace as we weaved our way to a good vantage point. The noise was swelling well, despite the lack of sleep and partying done the night before, the Red & Blue army were well and truly up for it. Looking around from our vantage point in the Brook Road end, Griffin Park looked a decent ground, it reminded me of a bigger Vicky Road and like Vicky Road it seems the away end is the best for making the noise!
The teams came out and the away end filled with the noise of fans starved of football for nearly a month! The team had a few changes with our Gaffer Arbs suffering the flu and Kaydlen injured Doe and Billy Bingham were filling in the gaps. The match itself was a very back and forward affair and Danny Green forced a save from Richard Lee early on but when Scott Doe slipped on the rather wet pitch leaving Charlie MacDonald unmarked for a Sam Wood ball, with Robbo drawn towards him MacDonald passed the ball to Robbie Simpson who tucked away and easy goal. 1-0 to the Bees. As Dagenham were trying to organise, Sam Wood came in late on Solomon Taiwo, clattering straight through the midfielder and into the advertising boards, the away end snarled in righteous indignation because while no one likes to see someone hurt the feeling was he could have seriously injured Solly. After a while lying on the floor Wood was stretchered off the pitch. When I got home Sam's cousin (a good friend of mine) told me he had broken his arm. Medy Elito continues to look like a whizz kid and a ball from him was headered over the bar by Savage, another close call.
After some more back and forth Taiwo thwacked the ball out to Greeny who smacked the ball first time across the face of goal and into the path of our top scorer Romain Vincelot who tapped it into the net. 1-1!! The home team nearly got another when Toumani Diagouraga took a shot from outside the box which whistled goal wards only to hit the top corner and out for a goal kick, a cheer of "hands up if you thought they scored" was followed by a terrace of raised hands, Robbo turned to face us with a wry smile on his face and raised his hand, he knew how close that shot was! The whistle blew for half time and I went in search of a toilet. Things we're looking positive.
The second half was very even with both teams rushing the other teams' goals and coming very close to scoring, our best chance came when Vincelot nodded the ball to Elito with a run at goal, he only had Lee to beat but his shot swung out wide, so very close! Billy Bingham (who himself had had a pretty good game) nearly got his debut of the net for Daggers with a fine shot but Lee just got over to save it. And then Bingham again put one just over the bar from a corner. The Bee's had their own chances, MacDonald ran at the box, tipped it over Doe and shot forcing another good save from Robbo. As time ticked on it looked like we were going to leave with a well earned point but when we failed to get the ball out of our box Nicky Forster crossed the ball for Gary Alexander who headed it past Robbo into the goal.
2-1 in the 87th minute, the writing was on the wall and the cheers that rang up from the three stands we didn't occupy left a bitter taste in the air. But even at the very last the Daggers went down fighting, Elito tapped the ball to Femi who danced into the box only to put his shot agonisingly close and the wrong side of the post. The ref blew his whistle for full time and brought an end to what was actually a very good local derby. Despite the result we took a good noisy crowd and the team played some good football. On another day if the ball had fallen differently we could have walked out with 3 points. I would welcome another trip to Griffin Park any season.
We filed out of the ground and the accumulated tiredness of an all-nighter party and a day at the football hit me like Robbo clearing a ball, sideways! (Sorry couldn't resist!) That combined with empty pockets lead to the decision to head straight to the station. After 40 minutes waiting we boarded the train and I fell asleep in my chair until we got back to waterloo. We got home, had dinner and then I had one of the earliest nights I'd had in a long time!
So close yet so far
FxMxD

NEXT - Disallowed Goals, Penalties not given, not that they needed the help! Yep it's Southampton!