Me, Jerk', MrsMetalDagger and the rest of our little mob are sitting in The Bell in Rainham after losing in a drab game to Rochdale (sorry for the spoiler there). I looked up from my pint "so who's writing this one up then?" Jerk' looked at me with a face that said "do we have to?" I held out my fist in the international sign that this would be decided in a game of "paper, scissors, stone"
1.2.3 Both played paper
1.2.3 Both played scissors
1.2.3 I played rock, Jerk' played paper, paper beats rock.
...bugger it!
Saturday 8th January 2011 - Rochdale – Home
I was tempted to just post this picture as a report


my text to Jerk summarising that Saturday


But I like to think I am a tad (and I do mean a tad) more professional than that...maybe.
This story begins where it ended, at the pub. I was running a little late but got to the bell with about an hour to get some drinking done. I was handed a pint and watched the arsenal game on the big screen. A lot of the talk turned to our new signing Marvin Morgan who had endeared himself to a lot of Daggers before even setting a foot onto the pitch by wishing death on Aldershot fans. There was definitely a feeling of this being a "must-win" game, but we knew it wouldn't be easy. Rochdale have acted like the champions of league 2 they should have been and have held their own well in league 1. Arsenal drew 1-1 with Leeds to take the tie to a replay at Elland Road, this was our cue to down our drinks and head for the bus stop. We waited for the bus and sang songs at the council contractors that were taking down the Christmas tree, the 103 arrived and it was off to Vicky road.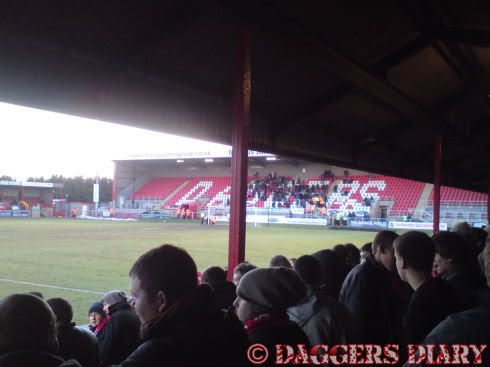 Rochdale fans in the MJ
After a short bus ride we were walking through the gates, I grabbed a programme and walked to the back of the Sieve. Looking around it seemed there was a little drop in attendance though this could have been down to a relatively small away crowd. The match itself was a little frustrating, Gavin Tomlin had a really good chance in the opening minute when Danny Green put a lofted through ball to his feet but Josh Lillis came out well to smother the ball. Rochdale's resident predator look-a-like Jean-Louis Akpa Akpro received the ball on the edge of the Daggers box but put his shot wide but Robbo was forced into making a very good save when he tipped Nicky Adams dangerous long range effort over the bar. Overall the first half was looking like a bit of a bust, until the last 10 minutes when we could have scored about 5 times. Gavin Tomlin nodded the ball past the 'keeper and Savage just got a toe to it, for it to bounce just wide. When the Whistle blew to end the half there was an air of confidence in the crowd, maybe we could come out of this with some points.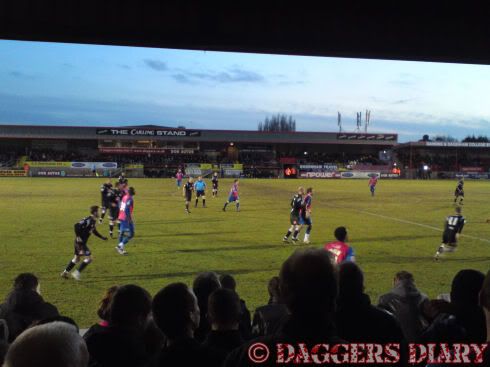 Conceding late goals has been our weakness this season and sadly it would prove to be the downfall of the Daggers once more. The goal that would deny us any spoils came in the 74th minute and it was delivered by Chris O'Grady who dashed into the box and shot from an angle that I'd swear always produces a goal. I think we all knew, we don't tend to comeback after conceding that late. We had a couple more goes but nothing came of it. Special mention has to go to Robbo who came up for a late corner and managed to get his head to the ball, but sadly it looped over and a little wide but still closer than some had come that day! The final whistle came with numbing inevitability and we moaned and groaned our way out of the Sieve. I think everyone felt like they were starting the long walk back to league 2 (even just for a moment). On a good note Morgan looked like he puts himself about well and hopefully we'll be seeing him hit the net soon.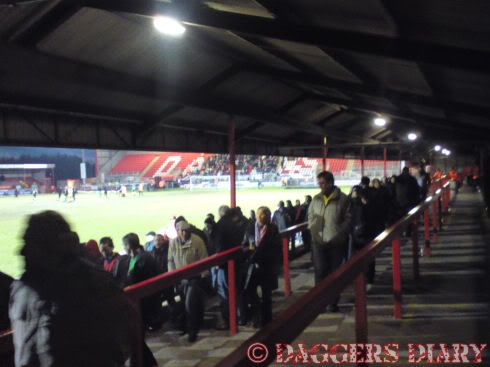 We trudged out and jumped onto the bus back to the pub, where we sank pints and ate chips.
And now our story has come full circle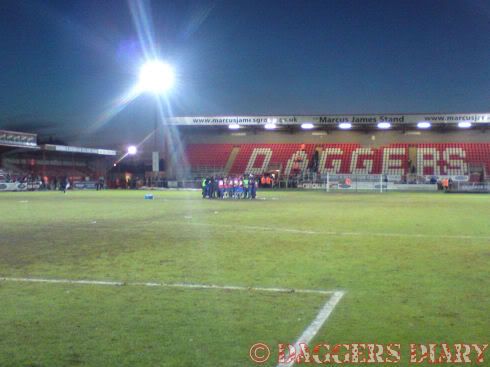 Keep the faith people!
FxMxD


Next - Jeff Stellings face is a picture!