Let's face it, September wasn't the kindest month to the Daggers. A string of sub-par performances had left the mood in the Daggers camp decidedly grim with one shining beacon of hope being that thrilling shootout at Orient. Words like "Conference" and "Kettering" were being muttered and grumbled around the sieve.
Our away Performances at Hereford and Rotherham while troubling did not really hit home as the start of a genuine wobble because we had 2 home games coming up. The first of which was against our old conference rivals "The Pox" of Oxford United! So after work a trip to The Bell was called for and after the couple of mandatory pints with Ant and Jerk' we jumped on the 103 to face our fate.
Tuesday 13th September – Oxford United - Home
And let's be honest this match didn't go that well. The whole time it felt like we should have been getting something out of it and the chants of "we won the league at the Kassam!" were at best, bittersweet! The first half saw both teams battling to get an edge. We started a bit slowly but picked up soon and Nurse nearly headed home Femi's cross for it to bounce the wrong side of the post. Nurse's time on international duty at Barbados seemed to have done him some good because he had another chance but slammed it into the side netting.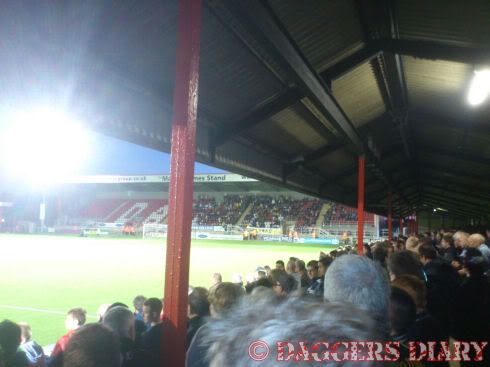 Oxford's James Constable should have put the visitors ahead when he skied Asa Hall's cross over the bar. Looking around me most of us had our hands up; we knew we just got lucky! A mixture of luck and some superb keeping from Lewington kept us in the game for so long before the luck ran out. United's low free kick was picked up by Hall who shot through our defence past Lewington and into the net. 1-0 to Oxford. And sadly that was the way it stayed. Despite Femi having a go at lobbing the keeper from outside the box and a few attempts from corners the Daggers lack of firepower was again our undoing and we were lucky not to go two down after Alfie Potter walked all to easily through our backline before missing his open goal in favour of the bar.
That result left a definite sour taste in most mouths and a lot of expletives. I ain't gonna go into the whole twitter affair but to say it was symptomatic of the bad mood and infighting occurring in the Red and Blue Army. I for one was a little worried, it seemed my little family club was falling apart at the seams and negativity was threatening to tear us apart. The next fixture didn't exactly fill me with confidence either. Rotherham had already claimed their revenge and Morecambe's run (which saw them strutting their stuff at the top of the table) looked set to let the ghost of our Play-off glory well and truly come back to haunt us.

Saturday 17th September - Morecambe - Home
The away stand didn't exactly look as impressive as it had on that glorious day when we finally "pulled a Merge" but that's ok because neither the game nor the score line were really impressive either. This was a game (and I know we say/hear this a lot) that we really should have won. But The Shrimps were really up for this one and our confidence was low.
Daggers peer into the rain
Today our downfall wasn't so much a lack of goals scored but the softness of the goals conceded and it was the second half when the first Morecambe goal finally came. The first half had been a fairly scrappy affair with the best chances coming from Morecambe. I actually missed their first goal going in, I can't remember what I was looking at but I missed it. Watching the highlights it seems the long ball landed at Danny Carlton's feet, beating Arber before he slotted into the far corner past Lewington. The second goal I did see and it was all too easy for the Shrimps when Lewington palmed away Laurence Wilson's tight angle shot from the left. The ball fell to Drummond who kicked it into the right hand corner before Lewo' could get back into position. Now I think Lewington has stepped up to be the main goalie very well but I can't help but feel this wasn't one of his better moments. Saying that, I'm sure he'll learn from it and the way he buried his head in his shirt tells me; he doesn't want to let one in like that for a long time! By now the mood in the sieve matched the pouring rain that hammered the roof above our heads. The only real lift was a superb free kick from Olly Lee which he buried in the goal. The daggers looked to have a chance to snatch a point from this match but with our next best effort cleared off the line it all felt a little bit too late. Everything that day (including our spirit) was dampened.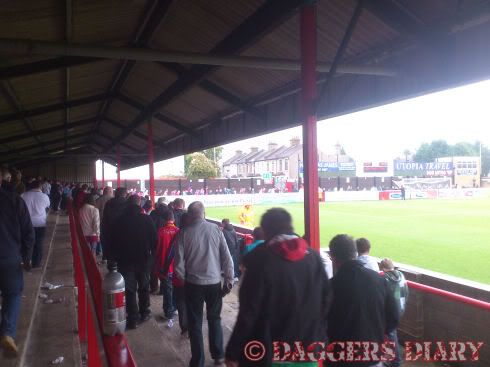 With both home and away form not being particularly up too much, I have to admit I wasn't going to go to the Northampton match. Instead I was going to meet up with my musician buddies with a view to starting a new project that shall tear the London metal/punk scene a new one!
So much to Mr 'FromTheCoach's dismay I declined my spot in the car for that Saturday. Until Friday night, when my guitarist and long-time partner in crime messaged me to say he had caught some kind of flu/cold/bug thing and therefore we had to call the jam off. So I did the only thing I had left to do, I rang Jerk and reclaimed my seat; Northampton here I come!!


Saturday 24th September – Northampton - Away

It's amazing; no matter the result I always enjoy an away day. So no matter what I thought the outcome of the match would be (and for the record I thought we had a good chance of winning) I jumped into the car looking forward to another day out with the Daggers. Northampton have a nice little ground, we were allocated the South stand and we had a nice little group of us. It goes to show; even when morale is low we can get ourselves to an away day to support the boys!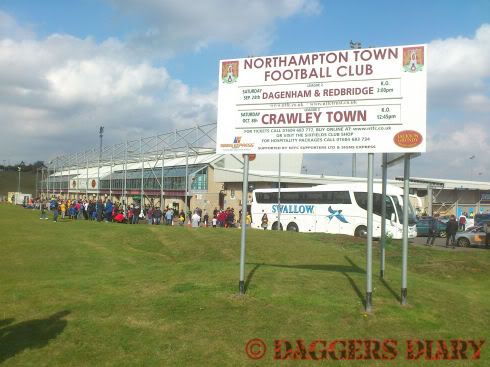 The first ten minutes of this game we looked really good. The next 20 minutes we looked amazingly poor and it was in that spell we conceded our first goal of the day when a Cobblers corner just couldn't be cleared and the ball finally sat at the feet of Arron Davies who's shot hit the underside of the bar and went in and three (until that moment silent) stands erupted with cheers. 1-0 to Northampton. From this point till half time it was quite painful viewing, or at least that's how it sticks in my mind, I do remember Lewington making a fantastic save however!
The second half the Daggers really came out fighting and tried to make their chances count but almost inevitably the Cobblers got a second; Mark Arber's backpass left Lewo' under pressure to "get rid" and his clearance landed straight at a Northampton players feet. They past it around as the Daggers desperately tried to regather their shape before a cross met the sizable head of Adebayo Akinfenwa who nutted it home. Bollocks 2-0! Once again the silent stands erupted and once again grumbles of discontent swelled around me. In this game in total we managed to get 18 corners for ourselves but none of them yielded a goal (not for want of trying though! Arber nearly scored but for the bar). Our consolation goal came when Olly Lee smacked home a Johnny Nurse cross for his second goal of the season, both of which sadly couldn't save us any points.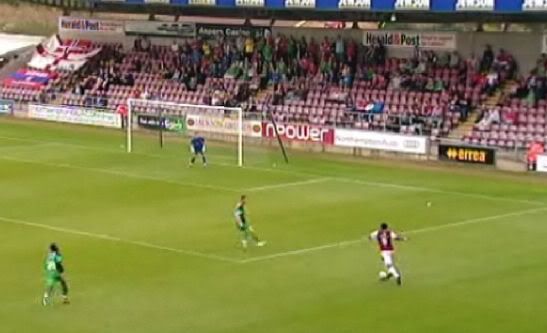 The Away-Day Daggers
So once again it was a lack of goals that lost us that match. As I walked out someone came up to me and said "don't clap them!" "Pardon?" I said, not hearing properly the first time "don't clap them, not after that!". While entitled to his opinion this was not an opinion I shared. We didn't just roll over and die and for most of the game we had played really well. Peter Gain had worked his arse off and nearly scored, Williams nearly scored from Lee's free kick and that's just the ones I can remember now. Sadly Northampton have a natural hard worker and goal scorer in Akinfenwa and (for me at least) not taking anything away from the rest of the Northampton squad, Bayo' was the real difference maker and he tipped it for them.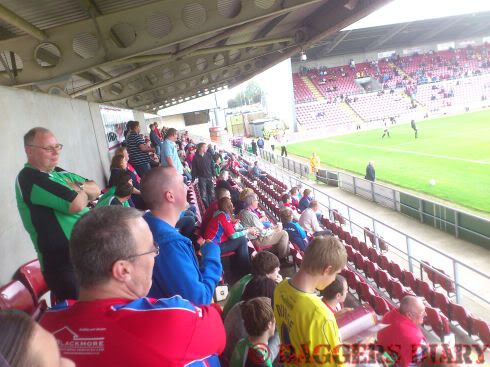 So with no points to speak for we got back in the car and before I had a chance to reflect on the match just gone I crashed out on the shoulder of the missus. I woke up about half hour later with a banging headache and a blocked nose. "YAY!" I had caught my mate's cold. Luckily my waking had coincided with Jerk' pulling into the services, giving me the chance to go to Costa for a massive coffee! The rest of the journey home was a lot more comfortable for me and lot more noisy for my companions because a massive Latte tends to bring out the chatty housewife in me! I got home and slept through till Monday!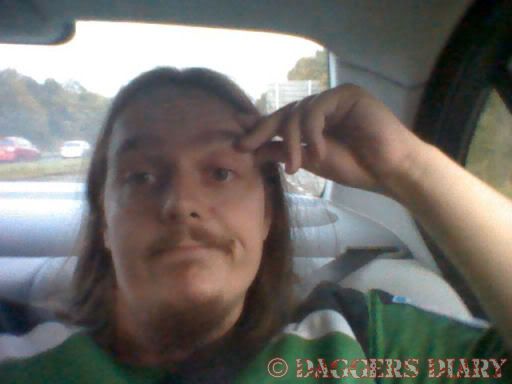 Chin up FMD!
There was no midweek game, so next up was a home tie against Crewe. A match many were viewing as a do or die moment.
But that's a story for the next blog
FMD
Next – A late win at Crewe!