Monday 3rd January 2011 - Southampton - Home
words by JerkFromTheCoach
Back into action almost straight after the final whistle was blown at Peter Griffin Park, we were jotted down to play who I consider are by far and away the best team ever to play at this level – a view furthered since the 4-0 destruction of us back in one of those other months that come before January (well, really it's after January, but in a football seasons terms…..yeah). I cannot say I was full of optimism for this one, but knowing how hard it can be for teams to come and get a win at Victoria Road (also known as The Artist Formerly Known As Victoria Road But Now Known As The London Borough Of Barking And Dagenham Stadium) I was edging cautiously on the side of hoping we'd take a point against them.
Immediately after kick off it became apparent we were to face the uphill struggle we'd anticipated. Southampton fans were vocal in the Michael Jackson Stand (owwwwwww) yet barely trotted to a gallop when it came to being able to outsing our usual flat home atmosphere – why can't we emulate our loud vocal support away from home when playing at home? It's a Mystery! An almost 100% full away end and a few stragglers in an unofficial away section in the sieve leaves me believing that we may well have been outnumbered in our own place. For a big team like Southampton I guess this is to be expected when you are a club our size. Certainly this season has felt imbalanced in that we took under 50 to Plymouth on a Tuesday night, but have seen some of the biggest away attendances we have experienced coming to ours. Makes you take notice the fact that we are really a tiny club up here. Minnows in a pool full of Carp (I'd have used Pike if Grays or Gillingham were involved).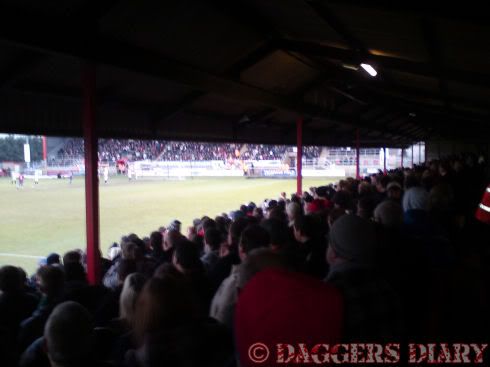 To be fair to Southampton, the stats don't lie – and whilst we could have stolen a point (potentially more if the penalty calls were given and the goal that never was happened to be allowed – more about these in a moment) you can't in your right mind say that we matched them on the park. The players they have at this level are phenomenal, and they will be going up this season as Champions – I say that having yet to see Brighton (for the record I also see them going up), but I just cannot see Brighton impressing me as much as Southampton.
Getting to the actual nitty gritty of the game itself, as mentioned we were outplayed and outclassed by the bigger team – there really is no shame in that. However, a cheeky mention goes to the steaming pile of monkey crap the FA decided to give us to masquerade as a ref (I take it I am allowed to say that, as a fan, unofficially linked to the club?). A referee can get decisions wrong, we all get things wrong –but to consistently do so is unforgivable. If I made as many errors in my job, I would be publicly flogged whilst stripped naked, as seagulls circled above me making that laughing sound and crapping on my face. We had, from what I could see, two cast iron shouts for penalties and a free kick which looked to me, to the home support, and to the Dagger's on the field as though it went in – the free kick taker (Gavin Tomlin) even started celebrating what would have been his long awaited first home league goal. Further, the third and final Southampton goal smelt a little of offside, though I may be wrong with that (I have yet to see the goals played back).
The opening goal from Adam the Llama was well taken. The second goal came 28 minutes later, and was scored by Southampton's on loan Brazilian ace Guly Do Prado. When a club can afford to take off a bright young star like Alex Oxocube Chamberlain (controversially I believe he is the lovechild of Helen & Alec Chamberlain – who we all know are secretly married) and replace him with Lee Barnard, you know you aren't in for an easy day. Lee Barnard is a player I'd love to see at Dagenham, yet Southampton have the luxury of sitting him on the bench alongside one of my all time favourite players David Connolly – another player easily capable of hitting 20 a year at this level, despite his now advancing age. Strength in depth is what is needed, and anyone that denies that Southampton have got that for this level must live in a box, encased by concrete. I'd go so far as to say that next season they'll be pushing at the top of The Championship.
A big congratulations goes to Josh Scott for grabbing his first of the season for us, and also for re-shaping the game, along with Peter Gain following their introduction. I miss Peter Gain's presence in the team, I count him as an extremely underrated member of our side – whether he is in the twilight of his career or not. Surely Josh and Peter must now be knocking on the door for a return to action. I try not to be overly critical of our players, but I just don't think Solomon Taiwo has had the desired effect since returning on loan from Cardiff.
A bad day at the office for us then score wise, not a lack of effort on the pitch by any means.




Fair play to Southampton here today – a deserved away win.
Jerkus Maximus Fromus the Coachus
NEXT - Rochdale in a game that at its best could be described as "frustrating", on the bright side we have a report about a win after that!