Tuesday, 22 February 2011
Another first here at daggers diary, a video interview with Dagger's skipper; Mark Arber
.
FxMxD
Tuesday 1st February - Brentford - Home
Words by JerkFromTheCoach
The bible is open to interpretation, and also, since being forced as a
child to study it I have to admit much of it I have forgotten, so I
shall have to fill in the blanks as I go along, please bear with me.
The book is also comparable to Dagenham & Redbridge in some ways.
Mainly because I have a beard and can walk through puddles without
drowning (rumours I catch fish and share my sandwiches out though are
unconfirmed), but also this little known tale below
Daggers 1-2 Shrewsbury - 2nd May 2009
The year was an unholy 2009, and The Daggers had ended the season in
8th position having gone into the final day needing only a draw
against Shrewsbury to cement a place in the play offs for promotion to
League One. The aim had not been achieved, Dagenham went down 2-1 at
home and Shrewsbury pipped us into the final play off position (and,
it is worth saying, managed to screw it up for themselves afterward
s too). Nevertheless, after the previous seasons late escape from
danger, the season had been a remarkable turn around for a club run on
a shoestring budget, the mood was of disappointment (you're never
going to get that close and not feel disappointed) but also of great
optimism for the future after such a good showing. As supporters,
little did we know that the next time we had a home league fixture,
the squad would look remarkably different.
the old Pondfield end
Come summertime, the family was broken, and certain members left for
pastures new. The most significant change to the squad being the
three players who moved on to Brentford for a total fee of £0 two of
whom (Ben Strevens, and Danny Foster) have since transferred again, to
Wycombe. So leaves our prodigal son of the tale, step forward please
Mr Sam Saunders.
Whether you liked him, or he frustrated you (I never really got the
latter myself, but you do sometimes hear it said) there is no doubting
the ability of Sam Saunders, and likewise no doubting the countless
shifts he put in whilst wearing Dagenham colours. Without him (and
the likes of Matty Ritchie), I don't think we'd have not gone into the
aforementioned final day fixture aiming for a play off place.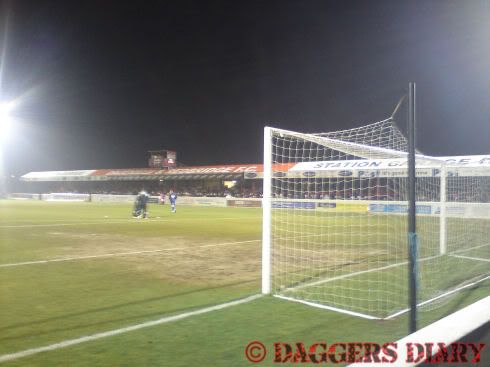 On the 1st February 2011, it was our chance to say hello to Sam
Saunders again. The return of the prodigal son! He'd missed the
Boxing Day fixture with a broken nail, but I was pleased when it
happened to be that his first appearance coming back from injury was
to be at The Artist formerly Known As the London Borough Of Barking
And Dagenham stadium. And what a game it was for him to return to!
Our home form this season has been frustrating when stood on the
terrace. We've not often played bad, but we have been hit by late
goals generally robbing us of points – and there have been occasions
when many spoke of a curse on us scoring at a certain end of the
ground. Myself, I think all this superstition is rubbish, but well,
some people cant help but put their left sock on before their right in
case their Nan has a coronary (weirdos!). I therefore think that a
big win for us in front of our own fans has been long overdue, and
what better way to get it than in a derby against a team that includes
one of your old players?
When it comes to the actual game, Brentford were appalling from start
to finish, and its easy to see why their supporters were so frustrated
with how things were going. After a worrying start to the season
which saw them in the bottom four they'd picked themselves up and made
progress for a couple of months, but at the time of this game were
sliding back towards danger. The kneejerk reaction since to sack Andy
Scott was, in my opinion, not the best move for the club – but I guess
the people in charge think they know what they are doing. Easy to
forget the achievement of promotion in 2009 followed by survival the
following year it would seem – survival being no mean feat, as im sure
our supporters can testify that League One is far from easy.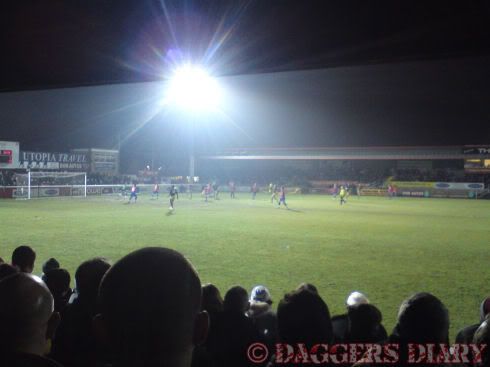 Sam Wood, managed to rob himself of the chance to play a number of
games this season since he broke his arm in the reverse fixture back
in December, and was still absent for this game. Shame really, would
have been nice to see his happy smiley "I cant tackle for shit" face
trotting around during this heavy Brentford defeat. It'd certainly be
a huge disappointment if he missed out on the Paintpot Trophy final,
perhaps he could invest his time that day studying tackling
techniques, or working out ways not to do a mischief to himself when
advertising boards are nearby.
The deadlock was broken on 20 minutes when the ball seemed to strike
Jon Nurse and roll in. Brentford stand in keeper Simon Royce looked
every bit the player I remembered him to be. Numerous chances came
and went, but come half time the two sides went in with the score
remaining 1-0, we should have been out of sight but it wasn't to be –
it can be nerve wracking as a Dagger being 1-0 up this season at home.
Thankfully come the second half femininely named Karleigh Osborne
decided he felt great sympathy for the Dagenham cause and scored for
us, which was nice. Cheers 'Carly'…Jon Nurse made it 3-0 ten minutes
later scoring his second of the day in a little more convincing style
following Damien Scannells ball in. What victory this season is
complete without a headed goal from Romain Vincelot? One wonders just
how difficult it will be to keep hold of him come the end of the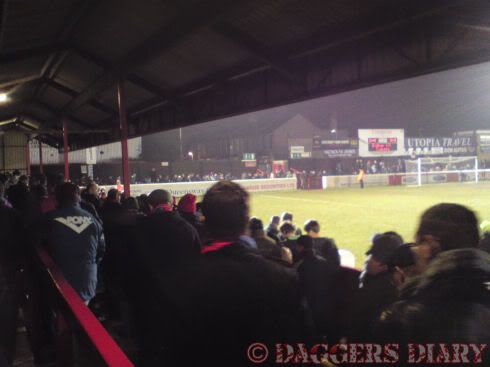 season. Just a minute after the third, Vincelot pretty much assured
victory with his goal. Disappointingly Charlie MacDonald grabbed a
consolation at the death meaning we missed our chance of a clean
sheet, but this was the only down side in an otherwise fantastic
night, other than the paltry attendance of 1,907. For a local team,
this really wasn't great. Brentford's travelling support was very
insubstantial – but then, if you had to watch that every time your
team went away, its got to be difficult to motivate yourself into
going if you aren't a die hard supporter.
In 'The Prodigal Son', the young man returns home a broken man after
wasting his fathers money, and he is welcomed with open arms and
generously looked after. But there was to be no ending like The
Prodigal Son here for Sam Saunders, in fact the only thing biblical
about this one is that someone ended up being crucified – and it
wasn't Dagenham.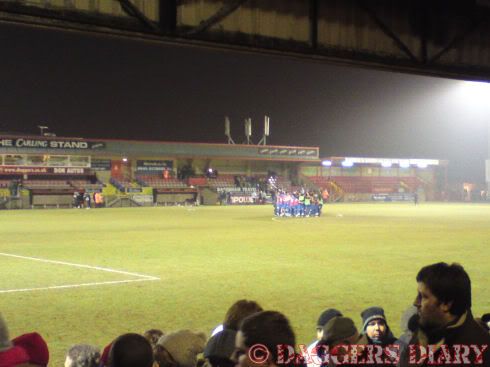 JerkFromTheCoach
NEXT -
An adventure in Oldham.
Friday, 11 February 2011
Saturday 22nd January 2011
-
MK Dons - Home
words by FullMetalDagger

The day started as most football Saturdays do; I dragged my carcass out of my bed and refuelled with tea whilst watching soccer AM. I was looking forward to this game and not just because it was a chance to finally get something from a match with the franchise and not just because the missus was bringing her father along for a family day at the game, no, the main reason I was looking forward to this match was I had a ticket to sit in the Marcus James stand for only the second time since its completion because today was the "no segregation" experiment and cheap ticket day!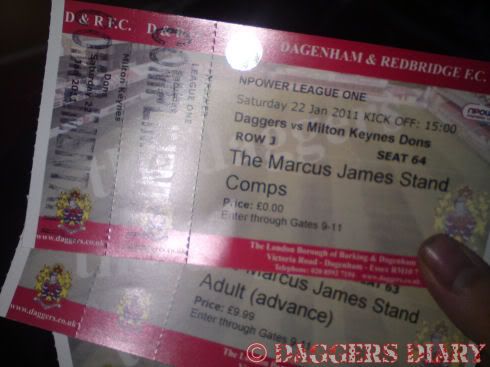 Now I ain't gonna bring up the old topic, but I really like the MJ; it has comfy seats and a bar. I have a theory about the MJ stand; I think it's better for making noise, I'd put this down to the shape of the stand and it's flatter shed type roof which all combines to project the noise made by (usually away) fans where as the sieve has gable roof and I feel that while inside we could be hosting a concert by Disaster Area (generally held to be not only the loudest rock band in the Galaxy, but in fact the loudest noise of any kind at all.) but the noise would get trapped and no one outside of our north terrace would be able to hear anything. Ok maybe that's a little tinged with hyperbole but you know what I mean!
MrsMetalDagger's Mum kindly gave us a lift down to the ground and dropped us off at Pondfield Park. We made our way up the newly laid ramp towards the car park. I grabbed a programme and ducked into the club shop after picking up a nice new wet jacket I took a peek inside the supporters club bar and it was *ahem* "rammed to the point of buggery" but not to worry I had found out from my former college buddy in the shop (hello Dave) that the MJ bar (heeeeheeeee) was open and waiting for my custom. We went in through the turnstiles and into the bar. It was empty; I've seen more people at the first round of the ESC. I can only assume that everyone had squeezed themselves into the club house while me the missus and the father-in-law propped up the bar. I sent a text out to Jerk and the rest of our little mob telling them to meet us in the sparse bar. Chugging down my ice cold beer in the ice cold bar I did feel a little jealous of away fans, it might be freezing in that bar but it has beer!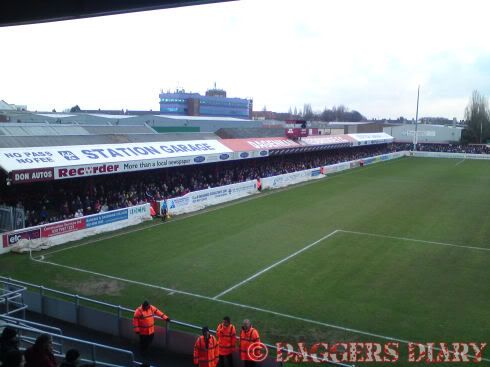 With everyone now present talk turned to the match ahead, I think we were all quietly confident, I have no idea why because MK are somewhat of a bogey team for us but as a Dagger you have to remain positive! We downed our drinks and made for our seats. I do enjoy the view from the MJ and it's amazing how close to the ground the rest of the ground looks from up in the ivory tower of the away end, but the new stand does have its downfalls; for one it can get very cold up there, being the tallest stand makes it very open to the elements and I for one will laugh on a cold windy day as we huddle together in the sieve for warmth while the away fans slowly freeze themselves in the footballing equivalent of cryogenics. The second downfall of the MJ is you don't feel as close to the action, the thing I love about the sieve is how close to the pitch you are and if every stand was like the MJ we would definitely lose some of the intimacy that makes Vicky Road so special.
The teams walked out onto the pitch and the ref got the game underway. Early on we had a good chance when Marvin Morgan wrestled the ball off of an MK defender in the box then put a low cross in front of goal looking for Tomlin but MK defender Mathias Doumbe cleared it for a corner. Shortly after Mark Arber put a long ball forward and once again Morgan battled past the defence to peel of a shot which was parried away by MK keeper David Martin. It was around about this time, like a little kid asking to go out and play, I enquired to the missus and her dad weather it would be considered rude if I buggered off to the back of the stand with my mates as I was feeling a little isolated from the noise. Once told I was free to go, I scampered to the back climbing over seats. Once I was there I was glad I did, the view was about the same but I could see the Dartford crossing! Which leads me to believe the MJ is the highest point in Dagenham. At the back of the MJ in the middle is what I can only describe as a pulpit and being the loud mouth attention seeker I am, I planted myself there and proceeded to lead some "digger dagger" chants. Back to the game, we were really taking it to MK and looking like we really wanted the points and as the Whistle blew for the end of half time I was convinced we should come out with points, I should really learn to tell my brain to stop thinking, because it's cursed! (I remember the same feeling at county!)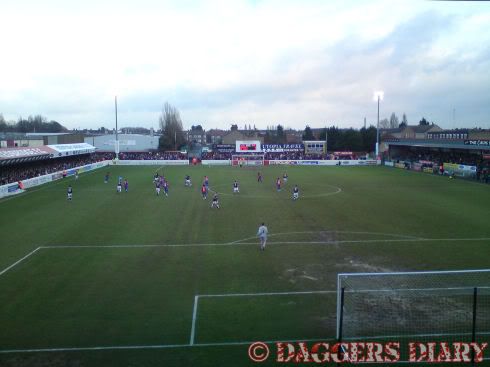 After a quick pint in the MJ bar (luxury!) we filed back into our seats (which were never actually sat in! props to the stewards for that!) the second half was a little less impressive than the first but we still looked sure to get something out of it and our mob were enjoying the atmosphere up in the back of the MJ. Mk had their first proper attempt at goal when Chadwick made a sweet back-heel pass to Peter Leven, who took a swipe which came very close. At the over end of the pitch Daggers were awarded a free kick, which Danny Green Dually smashed into the first man and then (out of what I can only guess was frustration) lead into the MK defender with his elbow. He was carrying a yellow already and even from the other end of the pitch I could tell he was going off but I thought it would be with a second yellow. Jerk nudged me "it's a straight red! He didn't get another yellow". I feel for Greeny I really do, he has a lot of pressure piled on him and I think it got to him a little and he snapped. That was the reason I and the others around me clapped him off the pitch, he is one of us and despite his mistake, he is appreciated. The red card made what had been a very average MK turn up the heat a bit and Jabo Ibehre's ball across goal should have really been met by a foot for a goal.
The Daggers weren't done yet though! And a cross from Johnny Nurse just missed Morgan's head and Femi's foot! Robbo made a very good block to keep out an Ibihre shot when the ball just wouldn't get out of our box, but sadly the lot of a goal keeper is "hero one minute, villain the next" and when Mark Carrington took a speculative shot from somewhere in Hornchurch a nasty little bounce and maybe Robbo diving a bit early saw the ball awkwardly flop into the net, 1-0 to the Dons in the 93rd minute.
Bollocks!

as soon as the ball went in it appeared we were surrounded by MK fans, who had been pretty quiet throughout (that's not a dig, I think the lack of segregation left them a bit unsure of themselves) but now they were cheering, this included a little mob in the sieve was too far away to see what happened but it looked like it got a little rough in there. I don't mean to put a dampener on the no segregation idea but people don't like having people rub a loss in their face right next to them, especially in the sieve.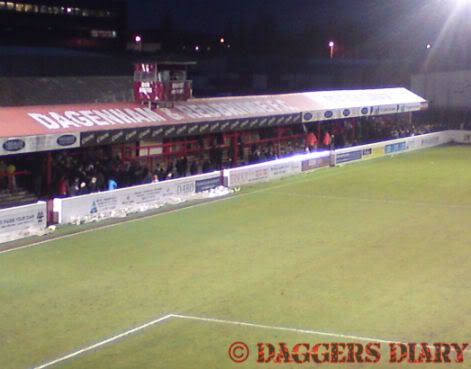 The final whistle blew and that was that, another game where a late goal was our undoing against a team that didn't really deserve the result, well definitely not all 3 points! We grumbled our way out of the stand and into the club house, where much grumbling was done. But overall I had had fun, I had been the preacher to the converted from my little pulpit and a day at the football is always better than no day at the football!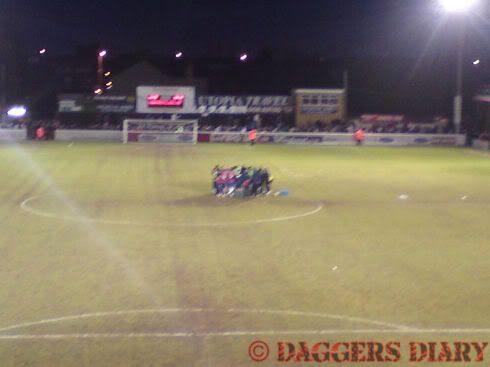 So the next match was Brentford at home on a Tuesday night and I ain't gonna lie, I wasn't feeling confident. But luckily I'm quite often wrong eh!
FxMxD

Next - The best result in front of the lowest attendance, funny how things work out!