It's Interview time once again here at Daggers Diary, and today it's Mr Sammy Saunders (doo doo, doo-doo).

thanks to Sammy for this pic
Name - Sam Saunders

DoB - 29/08/83

Teams - welling, Ashford (Kent), Carshalton, daggers, Brentford

How are you? How are things going with Brentford?
Just recovering from a hamstring injury, it took a while for me 2 break into the team finally got a run of games and was really enjoying it. So hopefully be back fit and playing soon.

What is the thing you will miss the most about Dagenham?
Easy the boys! Every player would give u everything every week the conference winning year was one I will never forget, the boys were so tight that's what won us the league. Miss them all
What were your best three Matches?
Game 3 York away we turned up at 3.15! Went 1-0 could of crumbled but we dug in grafted and won 3-2 remember finishing the game running straight into the showers and then straight to the train station so we never missed the train home, remember sitting on the train on the way home thinking only at Dagenham this would happen, loved every second of it!
Game 2 Darlington away 2-0 down at half time we looked doomed to get relegated somehow won 3-2 remember waiting on the pitch with all the boys and staff by the travelling fans waiting for Mansfield result to come in. The buzz when we found out they lost and we had stayed up was unreal that was a good journey home!

Game 1 Aldershot at home to gain promotion never wanted to win a game so badly the build up was unreal all the hard work was down to that game are dreams of becoming league footballers become reality
What are the Best Three Goals you've scored?
Goal 3 Free kick home to Yeovil for Brentford it was my 1st goal for the club was a frustrating season and my celebration showed it. I hadn't scored all season so it was a relief

Goal 2 Notts county got in on the right wing remember hearing Gainy say 'go on go at him' so I run inside taking him on and curled it in the top right hand corner with the left from 25 yards

Goal 1 Away to Southend overhead kick with my left foot it got me on soccer am Christmas Special showboat so I was buzzing with that!

Which keeper did you find hardest to beat?
Schzhney (don't know how 2 spell it) when he was on loan to us from arsenal unreal goalkeeper in training unbeatable

Best player you've played with?
very tough to pick one player would say CMS (Macca) would just nick it unreal energy strength and now has added goals season in season out great attitude to the game works hard doing he's extras deserves everything he gets out the game.

Best player you've played against?
Nicky Bailey, 1st come up against him when I was at Carshalton and he was at Sutton. Mutual respect for each other he has done really well

Worst match you've played in?
Carshalton away to maidenhead lost 4-0 massive hill trains going past every 5 mins cold wet horrible horrible day never wanna go back!

Least favourite away ground to play at?
Accrington pitch stadium atmosphere and the changing rooms never had a warm shower there!!!!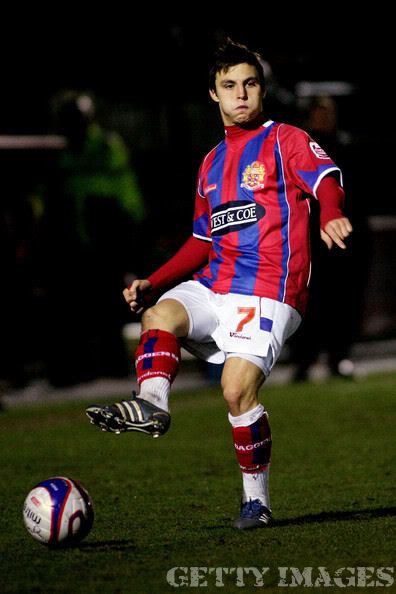 Any before/after game rituals?
No

Why did you sign for the Daggers, was there anything in particular that sealed the deal for you?
Well it wasn't the money that's for sure! Haha just john still giving me a opportunity to train every day and improve that sold it for me
.

What do you enjoy the most about being a pro-footballer?
Saturday at 3.00 the buzz and day in day out doing what u would do for free with all your mates
.

What do you consider your biggest achievements?
Easy the promotion, we was just a pub team from Essex after all

Best roommate on away days?
Danny Foster; my best mate in football

Funniest team mate?
Gainy one word for him 'legend'

Best XI from all the players you have played with, and a brief reason why you chose each player
GK - Robbo ever reliable good character
RB - Danny Foster Mr 7 out of 10 underrated but not from the boys and the management good pro loved playing in front of him
CB - Anwar Uddin was the leader skipper driving force in the conference winning season great lad
LB - Scotty G great ability when he's not away with the fairies got a lot of time for Scotty
RW - Myself just so I could play with the lads again!
Centre Mid - Dave Rains' great driving force good in the dressing room big reason why we won the league (penalty taker)
Centre mid - Glen Southam great ability left or right foot technically best in the team just edges out peter gain who deserves a mention
LW - Matty Ritchie hammer of a left foot scores and creates goals
In the hole - Ben Strevens great football brain links play well good awareness enjoy playing with him works he's socks off too
Striker - Mr rags to riches Paul Benson cracking goal scorer right place right time, work rate and gets on with all the lads, funny guy, did u know he was 3 years into a 5 year accountancy course? Haha
Striker - CMS pleasure 2 play with infectious work rate nightmare for defenders!

When you hang up your boots will you take another role in football?
Yes would love to be a manager. Love watching attacking football

Favourite Film?
Snatch
Favourite Band?
Kings of Leon

Team you support?
Spurs
What's next for you in football or life?
Hopefully have a good few more years in football and do my coaching badges
Any final words for the Daggers fans?
Don't boo me when I come back! Haha
thank you very much to Sammy for his time and good luck in whatever he does in life
FMD
once again thanks to Simmo and eveyone at Digger Dagger for the photos