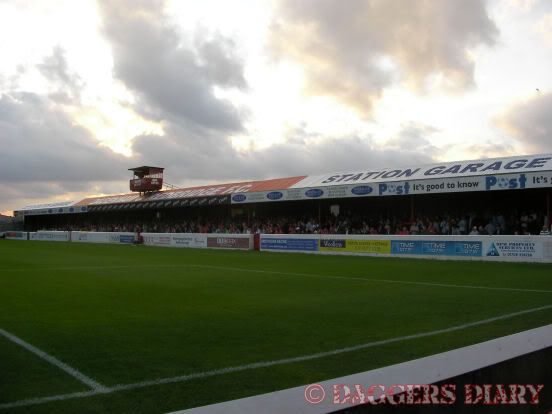 I think it's fair to say
the mood in camp was at best mixed and at worse, hysterical. Maybe.
The loss to AFC Wimbledon had left a cloud over Vicky Road and a bit of a division in our fan base; pessimism vs optimism, ambition vs contentment. Despite this I was surprisingly optimistic about our chances in our next match against fellow league 1 dropouts Swindon Town. You see I have noticed a pattern with Daggers (especially last season); we seem to be a mirror for the teams we are playing. If we play a good team we step up and play well, if we are playing a less skilled opponent we'll play sloppy and concede soft goals (the only exception is cup matches were all bets are off). Even though Swindon had Paolo Di Cannio now installed as manager and should be aiming for promotion they were in the same boat as us with 1 win and 1 loss and like I said, I had a good feeling.
Tuesday 16th August - Swindon Town - Home
I wasn't as organised as I would have liked so I decided with time running short I would forego a trip to the Bell and just have a quick pint in the clubhouse before kick-off. I got the tube from Upney to Daggy-East with the missus and her mate and we took the short walk to the ground. The car park wasn't amazingly packed so with 20 minutes to 7:45 I was optimistic I could get in the clubhouse and sink a nice cold Grolsh before kick-off. I marched off to the bar but just before I got to the door I realised no one had followed me. I walked back a short way to find MrsMD and Co' queuing to buy 50-50 tickets "arrrrrrgggghhhhh!". Now while I wholeheartedly support the 50-50 scheme and often participate (anything that gives money to the club is good in my eyes) but anything that holds me up from a pre-match beer is an inconvenience that must be eliminated. The clubhouse wasn't too packed, so a beer was acquired and imbibed with relative ease.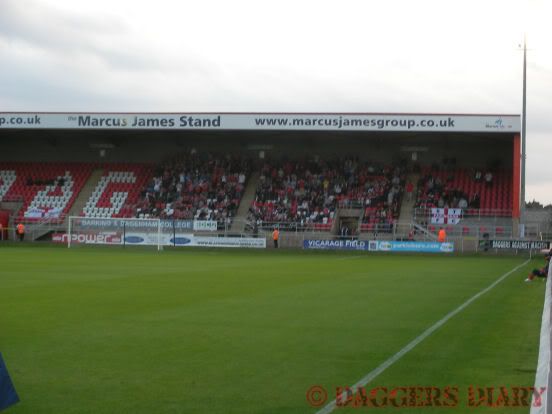 Walking through the turnstile into the familiar air of the LBB&D Stadium I looked at the Marcus James which was about a third full. Not bad for a Tuesday night. The teams were just coming out as I found my usual spot.
Early on Ollie Lee flashed a shot wide and new boy Brian Woodhall fired into the Swindon Keeper's waiting arms. The Sieve was in good voice and ex-Hammer Di Cannio in the away dugout and Ex-Dagger Matt Ritchie on the pitch banter was aplenty. Town midfielder Etiënne Esajas fired from way out but rising star Chris Lewington collected nicely from a dive.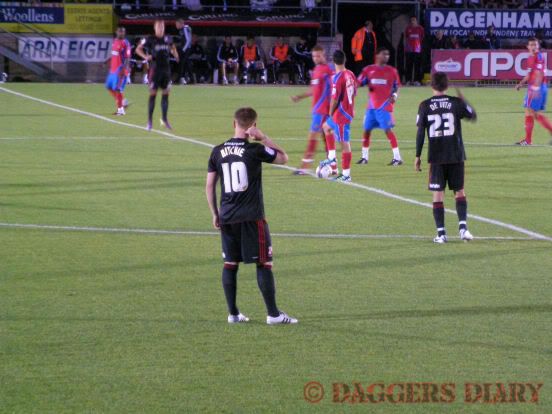 Alan McCormack passed to the feet of Raffaele De Vita whose curling effort went wide of the far post. At the other end of the pitch Johnny Nurse whipped in a ball but Brian Woodhall's header flew high over the bar. De Vita received the ball in the box and looked odds on for a good shot until he was brought down by Scott Doe. De Vita, Di Cannio and the Swindon fans all screamed for a penalty but the Ref waved it away as a fair tackle, looking back at the replay it could be 50/50 at best, at worse he got the man then kicked the ball away, so maybe a lucky escape. In response to Di Cannio's outrage a rousing chorus of "Fuck off Di Cannio!" filled the air, that and a lot of bad Italian accents! "babba da booopi!".
We had to wait till the second half for a goal and it seemed like it would come from Woodhall who latched onto Nurse's pass and drove the ball low, hard and (only just) wide. The opening goal eventually came from a penalty; Tomlin received the ball from a throw on and made a dash into the box only to be tripped by Paul Caddis. The Ref pointed to the spot and Mark Arber Marked his return as the penalty taker with a nice clean strike into the net. 1-0 to the Daggers.
The Robins desperately tried to fight back and I thought they were sure to score when we just couldn't seem to clear it out of the box and it was nearly matt Ritchie who buried it, but instead he smacked it into Doe but not before handling the ball and conceding a free kick.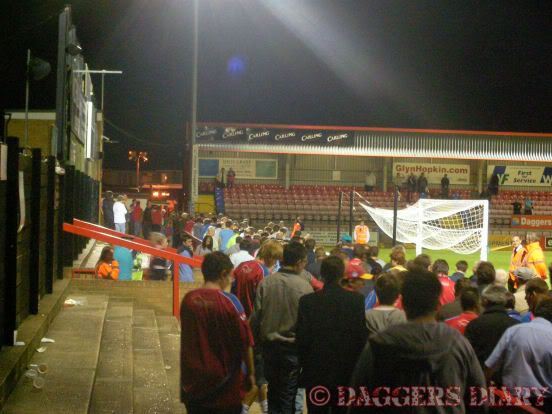 As the final whistle blew a cheer rose from the sieve. The kind of cheer we all needed, teams and fans both. As the red and blue mass shuffled toward the exit the team came round to clap the fans and we rewarded them with applause. My little troupe made our way to the bell for a celebratory drink and we encountered an amazingly drunk woman who told us her life story (a story of great riches, crippling poverty and arsehole children!).
2 wins out of 3 ain't bad. Now all we needed was a goal from open play!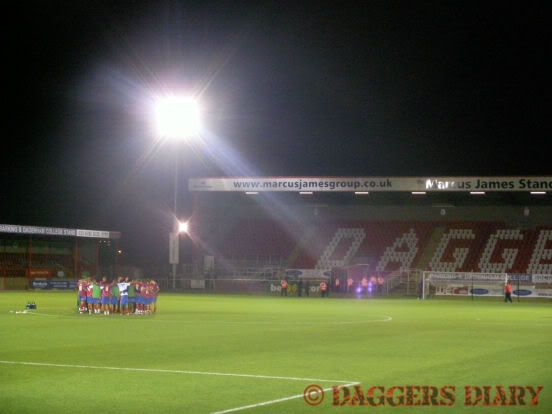 Come on you Daggers!

FMD
Next – We get drunk with some Torquay fans!