I suppose that this offering may be quite brief as for the life of me I cant remember that much about the day, let alone the game – and mores the point, I wasn't drinking. Not that I can recall at least…i hope not anyway, because i drove!
I love Tuesday night games, there is something particularly special about them. Saturdays are all well and good, but it's the rush home from work, the anticipation of going to the match during the working day and giving me something to look forward to and so on which really make it feel special. We all hate work, don't we?
This fixture was no different. Though we are locked in a relegation battle, Huddersfield are at the extreme opposite and fighting for promotion…as usual. And fair play to them, Huddersfield (as we found out last season in the FA Cup) are a very useful team. Decent performances this season have seen them at the right end of the table with the end of season approaching, as well as a cup run ending at The Emirates against a load of French-African guys in red with a man who looks like a duck as their manager…..Arseholenal I think they are called, anyway that's not important. What is important, was their game in 'Theatre of Screams' – The Londinium Boro Ein Barking Und Dagnam Ztadium.
I expected us to walk into this game very nervously. I have to admit i wasn't confident that we would walk away from this one with anything further than our dignity. But, I was wrong. Huddersfield are a strong team, with a credible turnout for such a long distance on a school night. This may have something to do with
the tickets having already been purchased when the game was meant to have been played on a Saturday (it was called off some months ago when white powder was falling from the sky), but I have a feeling the
attendance would have been decent anyway.
To say that we were outplayed would have been a dishonour to us. We're showing fight at just the right time of the season, and we showed that here. A blatant penalty was denied to us early on when Lee Peltier handled in the box. Another poor decision - one has to start to wonder about the eyesight of referees thesedays. I know it's a long running issue, but these are the guys in the top few divisions of our country – there needs to be something done to address this and it needs to happen soon. I am definitely of the opinion, shared by others, that referees should be made up of ex-professionals. This season has been disastrous referee-wise. BUT….our time will come…
On 28 minutes Tom Clarke finished Joey Gudjonsson's mishit shot, and we found ourselves a goal down. Up until that point, though we had looked okay, the running was definitely being done by Huddersfield. On 30 minutes Femi was hauled off and replaced by Damien McCrory. Ive missed Damien since he was dropped prior to the Plymouth game. I think the issue this game with Femi was one of dropping confidence perhaps a little. Definitely a player that needs to be polished, but the potential is there.
Half time came and went and we were treated to the usual dynamic entertainment on the pitch. At one stage I counted as many as thirteen people on the pitch kicking balls around in the interval. This makes a change from the usual fourteen players we see doing the same thing week in week out.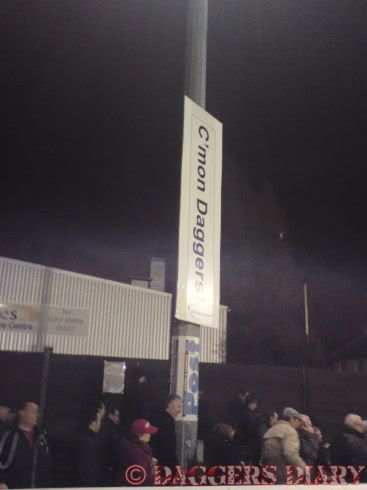 It was during the interval that it struck me that we perhaps aren't making ideal use of the space in the Sieve now. With the jump in divisions and the extra fans that this has resulted in, I think the tea bar at the back of the stand has had its day now. The queues stretch far beyond the exit at the back and often block it entirely.
With not much room to play about with, as soon as one of the heavyweight fans (I myself being one of them) begins to trundle their way toward the toilet area it becomes clear there isn't enough room for someone to walk the other way. I wonder perhaps what could be done with the space outside the back of the sieve…you know where I mean, the area where we should be allowed to smoke cigarettes and purchase alcohol from. I would hate to see this become a health and safety issue, and for us all to be told we need to attend games in high-vis jackets and hard hats in future. Seriously though, it just seems there is some room out the back which could be used – especially now since the building of the new stand means we are unable to walk round the ground (should there be no segregation in future is our meteoric rise up the league goes catastrophic and we find ourselves aced with the army-like away support of Leigh one day again) the area at the away end of the Sieve could be used better – perhaps a home supporters bar….just throwing my ideas out there!
Onto the second half. We came out looking bright, and looking like we wanted to make something of the game. On 58 minutes, our earlier calls for handball were rewarded (should have been two penalties though!) when Mr Scott spotted a handball by Lee Peltier. Up stepped Danny Green to even things up for us. This is how the score remained despite a late rally from Huddersfield, we can again be grateful to
the superb Tony Roberts between the sticks.
Looking to the future, and the fixture at The Galpharm in a few weeks, i am convinced we can go up there now and get a better result than the hammering last season which we received. Huddersfield are a decent side, but we are holding our own up here more and more as the season progresses - vitally at the right time. Other sides such as Oldham and Sheffield Wednesday have gone into freefall just as we are clawing our way out. Whatever happens between now and May, its sure to be an exciting time to be a Dagger.
JerkFromTheCoach