Name -
Shane Blackett
DoB -
23 June 1981
Teams -
Dagenham & Redbridge, Peterborough FC, Luton Town.
How are you, and how are things going for you at the moment?
"yeah things are going well at the moment just on way back from a
groin injury, the team's in a good position aiming for promotion and
got a wife expecting in April."
What is the thing you miss the most about being a Dagenham & Redbridge player?
"The club in general as it was a very close family club but mainly
the Banter with the lads was unreal - we used to call ourselves the
family!"
What do you consider the best three games of your career?
"Daggers - Playing away at York when we turned up late on the train,
nicked a 1-0 win then had to run to the train station to get home. Was
like a proper robbery!
"Peterborough - Pre season friendly against Man Utd, playing against
some of the biggest stars in the game was unreal"
"Luton - Away at Stevenage won 1-0! The rivalry between the two clubs
was unreal but to go to their gaff and win felt great!"
Who do you consider the best player you have played with?
"Andy Drury - An all round talent well worthy of championship status"
And against?
"Carlos Tevez - Quick, strong and never stopped running!"
Worst match you've played in?
"Travelling all the way up to Gateshead (playing for luton) and having
to come off after just 10minutes with an injury!"
What is your least favourite away day?
"Accrington Stanley FC"
Why?
"So far to travel and has a really poor pitch with the worst dressing
room with only one cold shower!"
Do you have any before/after game rituals?
"Not really, just like to prepare myself as much as possible for 3pm
on a sat afternoon"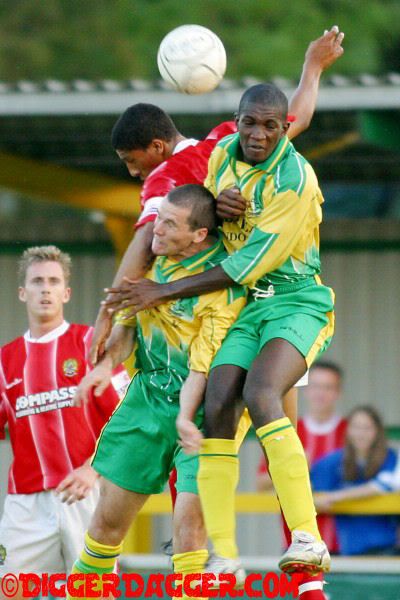 Why did you sign for the Daggers? Was there anything in particular
that sealed the deal for you?
"I was approached whilst playing for Arlesey town and always wanted to
play at the highest level I could at the time, and talking to John
still about the club's aims and prospects made me sign"
What was your reason for moving on?
"an offer came in from peterborough which suited all parties involved
and it was a chance for me to challenge myself at a higher level"
Are you happy with how you career has fared since leaving?
"Very happy, been involved in winning promotion in two successive
seasons from league 2 and league 1"
What do you enjoy the most about being a footballer?
"Doing what I love most for a living and being able to have the banter
with the lads all day!"
What do you consider your biggest achievements in the game?
"Gaining 3 promotion medals, many players go through their career without any"

When you hang up your boots will you take another role in football?
"May do some coaching with local kids initially but will have wait and see"
Best room mate on away days?
"Keiran Charnock - we got on so well and had a lot of things in common"
Funniest team mate?
"Anwar Uddin - would crack me up with some stuff he would come out
with and make training a pleasure!"
Funniest moment in football?
"After a great victory at the daggers when Sam Saunders decided to do
some crazy dancing and then jumped head first into the bin in the
changing room - I filmed it and think it's on you tube somewhere"
Best XI from all the players you have played with, and a brief
reason why you chose each player
This is so difficult as played with so many good players. The whole
daggers team wouldn't be far off but here goes:
Gk: Mark Tyler (Luton) -
They don't call him safe hands for nothing,
best consistent goalkeeper by a mile with soft hands, unlucky not to
be playing at highest level.
Cb: George Pilkington (Luton) -
the most steady and consistent centre
half I've partnered with two great feet, should be playing a lot
higher level.
RCb: Anwar Uddin (Barnet) -
My formidable centre back partner at the
daggers. We had a great understanding and kept many a clean sheet.
Great leader for the team, very strong and commanding.
LCb: Shane Blackett (Luton) -
What can I say, I'd love to play in this team!
Rm: Sam Saunders (Wycombe) -
His right foot is just magical when out
wide, his crossing is outstanding an any striker would love his
service, also likes to mix it up a bit not as clean cut as he looks!
Cm: Keith Keane (Luton) -
Fellow Luton lad who has bags of experience
at such a young age at almost every level. Called a "dogger" as gets
around the midfield and breaks up play well, very hard worker will
give everything for the team.
Cm: Dean Keates (Wrexham) -
Small but big package, gets up and down
the pitch all day long with decent left foot and contributes with
goals. Great leader to have in the team.
Lm: George Boyd (Peterborough) -
So talented it's unreal, got a wand
of a left foot and ties up full backs in knots.
Hole: Andy Drury (Ipswich) -
Special player, got everything with two
great feet and can pick a pass anywhere.
St: Craig Mackail-Smith (Peterborough) -
Workrate second to none with
blistering pace, also creating goals for strike partner.
St: Aaron McLean (Hull) -
Pure goal machine, rootless in front of goal
and surprisingly good in the air.
Fave Film?
"Too difficult but Anything with Robert De Niro, Will Smith or Denzel
Washington in it"
Fave Band?
"Boyz to men"
Fave holiday destination?
"Las Vegas with the lads and Hawaii with the better half!"
Shuffle your ipod, what are the first 5 tracks? (no cheating!)
"house of pain - jump around"
"ub40 - Kingston town"
"Rhianna - What's my name"
"Jay Z - Change clothes"
"Michael Jackson - Billie Jean"
Team you support?
"Arsenal - hoping for some silverware this year!"

What's next for you in football or life?
"Next thing in life is to become a dad in April which I'm very excited about!"
Thanks to Shane for taking his time to do this interview, we wish him the best in all endeavours. More reports soon!
-
FMD