Tuesday 15th February 2011 - Walsall - Away

As a club, I really have little against Walsall. Their fans have always seemed down to earth and realistic about their clubs position. I don't have much positive to say about The Banks' Stadium however. In a modern age where there is no need for supporting columns restricting view in newly built stands/stadiums, why was the cheaper option taken? What could be a decent little stadium is hampered by a poor view at times. Altogether, quite frustrating. Nevertheless a very decent and welcoming clubhouse exists at the stadium, numerous local beers on sale (such as the Hannibal Nectar) with hot and cold snacks available too.
The trip began with a morning taking photographs of various squirrels bottoms (I kid you not) and looking into a lake that had been drained. No away game is ever normal – why should this be any different? After our group of three had met up, we set off nice and early in the hope we'd arrive in Walsall to experience some of the ultra interesting things it has to offer, such as Morrisons and Comet – neither of which we bothered with in the end…I cant help but feel we missed out somehow.
The drive up was thankfully largely traffic free, which makes a nice change from the usual M6 nightmare. This meant that after attacking Guitar Hero at Toddington, and Paul touting for business on toilet doors, we arrived so early that the car park behind the away stand hadn't even been opened. Being the experienced driver, Don decided to drive into it anyway – a wise move in the end owing to how busy it became afterward.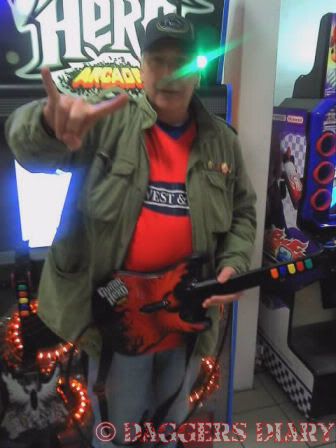 Walsall. The coldest zone in the least popular of the Teletubbie themed football hotbeds, Poland. Also known as Birmingham. Walsall has never been an area ive associated with the word 'interesting'. After a brief look online for interesting facts about Walsall, I found nothing. Literally…other than the fact they have a giant sign next to the M6 – the worlds busiest road. Wow. It seems to have a slightly melancholic edge to it, not just around the stadium but in general. The sky was grey, and a strange wet residue was falling from it onto our heads. This was solid evidence we had gone some distance North. I was well out of my comfort zone at this thought. Its bad enough knowing that the North of England exists, let alone having to actually go there. At some stage peoples voices change n dey awl tawlk loyk deeees. It can be frightening at first, but you soon get used to it. Something was said to me about a ticket for the car park whilst I was having a cigarette outside the clubhouse, but im not sure what it was as I couldn't understand the fellow and wasn't listening anyway.
Just prior to kick off, news had reached us that our Spartan-like away following was deemed so insubstantial we were to be relocated to the corner of the Walsall Bite Size Stand rather than housed in the Dains Stand usually offered to visitors. The latter is located opposite what is easily the most impressive stand of the four, complete with (I'm told) a decent bar in the middle level – which may explain why we didn't see that many home supporters in the clubhouse we were in.

I have to admit, I didn't sample any of the food on offer at the ground. The usual seemed to be on offer though, pies, burgers, chocolate bars – and the standard vegetarian option was available from the taps. Its always nice to see clubs doing their best for
vegetablists.
The game was a bland affair. A disappointing Daggers performance and another late goal saw that we left Walsall with no points. The rain had made playing conditions a bit treacherous, and it looked at time as though there was a chance that if the rain didn't ease the game
could have been in danger. Walsall deserved their win, it has to be said. It appeared we came out too negatively, as if we were looking for the draw, and the good run we had had prior to kick off was put right to the back of our minds in the 81st minute when Grigg scored
the winning goal. Walsall had threatened all match, despite my obvious bias there is no way I could hand on heart sit here writing this report and say that the game should have ended any other way. As far as the result seemed to effect the standings at the bottom of the table Walsall continued to make decent progress in their attempts at avoiding the drop and things still appeared glum for The Daggers.
not actually written by our Paul BTW
Still, onward and upward!
JerkFromTheCoach
Next -
A spirited encounter with Huddersfield