Saturday 26th February - AFC Bournemouth - Home
Previous seasons have found us both
, as clubs facing various ups or
downs - i remember a game a couple of years ago when a decent crowd
came down for a game which was seen as a turning point in their
fortunes - for a 1-0 win for them at our place gave them hope they
could stay in the football league after a point deduction of 17 was
administered before the season kicked off.
Then, looking at last season too, a great season saw Bournemouth
promoted as runners up under the management of Eddie Howe, a ginger
bloke who got sent to Burnley for stealing fruit buns...at least,
thats a more friendly spin (read 'lie') on how things happened. The
corresponding fixture ended up with The Daggers running out as 1-0
winners. As we know, it transpired that both sides were promoted at
the end of the season.
This season Bournemouth have been flying high at the right end of the
table, an amazing achievement considering that they only have four
players and an elderly Yoda-like figure (Mr Fletcher). Indeed, they
gave us a bit of a spanking back in the days when the sun existed, i
think September it was. That ended up as a 3-0 home win. Fair play
to them, it was deserved when looking back. In contrast we have, by
no fault of our effort or performances, struggled to find our feet. I
blame the occasional lack of concentration toward the end of games,
and the worst bunch of match officials in history for our plight.
With due respect to Bournemouth, i just dont think they are that good.
Obviously the table doesn't lie, but i cannot say ive ever been that
impressed with them - especially when considering who else is in this
division (Southampton, Brighton, Huddersfield to name but three). I
was therefore hopeful that we would be able to exact some form of
revenge in this game.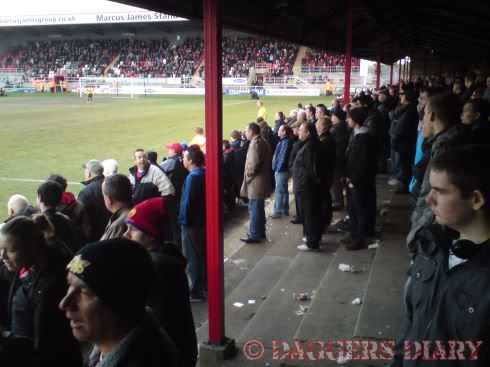 A notable change on kick off was Romain Vincelot starting the game at
centre back, and a lack of Scott Doe. Obviously the fact that Romain
is the leading scorer means it'd be favourable to have him playing
further forward, but needs must - at least we have a player capable of
filling in at times like this.
Jon Nurse opened the scoring on 48 minutes, and it seemed as though
maybe we were to get that revenge, in fact the best chance before that
fell to us when a Danny Green free kick was fumbled by the usually
reliable Shwing Jalingling - but it wasnt to be, goals from Ings and
Robinson ensured the points went back to Dorsetshire. Worth
mentioning is the manner in which we conceded the winner - another
late goal, we really must put a stop to this if we are to remain in
the division. Another even game lost to a late goal, and a brief
appearance by a very aggressive Steve 'Yoda' Fletcher (Foul you i
will, pull your shirt i have hmmmm). One really must look at these
games and note that we are STILL missing a 20 goals a season kind of
player. Where we'd be if we had one is anybodys guess.