Firstly I would like to make an apology. Sorry this report is so late (I know you're all used to it by now) but I have recently started a new job and am finding less time to write than before. And if I'm honest the spare time I have found has been spent asleep because it is taking me a while to adjust to my new routine!

So, The Johnstones Paint Trophy.
That name doesn't tend to get the most awe inspiring reaction out of people. Quite often all you will get is a little groan and a mumbled something about it being "tinpot". But the thing is I love all cup competitions, all of them! As many of our readers know I have a particular soft spot for the Essex Senior Cup and I have to admit I have a similar feeling for the JPT. While it is not always the most glamorous competition and can throw up a fixture that no one of either side of the crowd segregation care about (MK Dons away anyone?) sometimes the good folks at Soccer AM pull a classic out of the bag. Last season for example; an away tie against Charlton which produced a narrow 1-0 loss, a great atmosphere and was a nice appetiser for the league match where we battled for a well-earned point at the Valley. Also the biggest reason to get behind the JPT is; it's a competition we have a chance of winning and to win it you have to go to Wembley! And with "big" clubs like Sheffield Wednesday bailing out in favour of the league the odds are better for another day out at Wembley for the Daggers.
So this year I was very happy to see we had been picked to face Leyton Orient away. Yes I know ANOTHER away fixture in a cup! But to be fair Leyton away is nearly as easy to get to as Daggers at home (for the more local Daggers anyway, myself included). Our preseason friendly against the O's had been at best a non-event and at worst a reminder that were it not for one point we would have been sharing a division this season. But a chance to dump them out of a cup certainly whetted my appetite for a little revenge for last year's FA Cup defeat.
Wednesday 7th August – Leyton Orient - Away – Johnstones Paint Trophy
My alarm rudely awoke me from my party induced slumber and I found myself glued to my guitarist/best friends leather couch. Sadly I would not be able to just chill out all day till it was time for football.
My aforementioned new job actually started off as a voluntary position that I had put myself forward for after doing a 2 day course with the company. My plan was to make myself as useful as possible in the two days a week I was working there that I would be missed on the remaining three. And it was obviously working as I had been begged to come in for a couple of hours that morning to help with the rush. I had said this was fine as long as they realised I was not going home the night before and would therefore be a little worse for wear.
So I dragged myself into work (in a clean shirt lovingly dropped off for my by the missus) and completed some Action Plans for our customers. With my promise to my potential employers completed I returned to my friend's house with some nice fresh Gregg's baked goods and played some Xbox and chatted for a couple of hours. MrsMetalDagger was finishing work at 5 so at about 3pm I went home, showered and changed into my Daggers shirt and waited for the clock to reach half 4. My mother in law then gave me a lift to MrsMD's work and we made for Rainham station.
At the station we bumped into Lee Wilson and his friend and we chatted as we waited for the train. Neither of us were particularly optimistic of a result that night as it has to be said we're not exactly having a prolific time in front of goal. We alighted the train at Barking to change onto the Gospel Oak line, leaving Lee and Friend to go a different route via Stratford. I decided to give this route a try this time as I had gone via Mile end before and wanted to compare the two. It turned out that Lee should have come with us as the train we had shared was not stopping at West Ham and him and his buddy found themselves on route to Fenchurch Street (DOH!).
We got off at Leyton Midland and walked down to the Coach and Horses. I think this route takes a little longer than the other but with Lee and co getting lost along the way we had no real comparison. We ducked into the mini Tesco for a sarnie then into the Horses for a pre-match drink. Our little crew which today consisted of Mikins and Gemma (Jerk was working overtime) would be meeting us in the ground so with our drinks drunk we walked the short distance to Brisbane Road.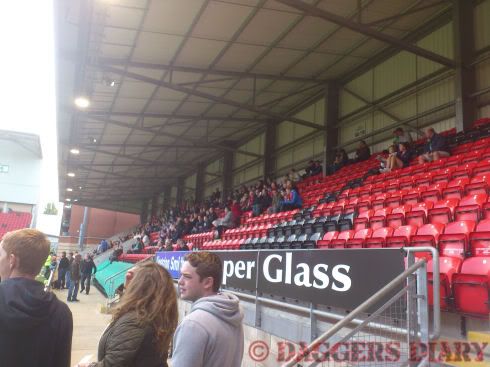 the Daggers start to fill the North Stand
Today the Red & Blue army (in green) had been allocated the North Stand, which I have to say is a nice little stand about half the height of the Marcus James. And while it might not have the old school feel of the East stand, the view was unrestricted and it was nice to be close to the pitch and next to the home crowd, who were today in the odd looking west stand. As I made for a spot with the noisy mob I gather with I noticed we had brought a fair few. It was nice to know that no matter the competition a chance to stuff the O's was something many Daggers will flock to. At first glance it seemed we had nearly as many fans as the home crowd did (and it couldn't have been far off).
The game kicked off and instantly our mob was in good voice. No, better than good voice. We were making ALL the noise and within 5 minutes I realised I was having the most fun I'd had so far in this short season. It seemed the noise we were making was really spurring on the team; they really seemed to want the win. The home crowd were nearly silent apart from a small crowd of about 20 in the corner of the West stand nearest to us and I say "good for them!" I really did feel for them as they tried to whip up an atmosphere amongst a crowd of people sitting on their hands. I was having so much fun singing and chanting at the home crowd I nearly forgot there was a football match happening but I was shaken back into the game when Peter Gain hit the post with a lovely strike from the edge of the "D".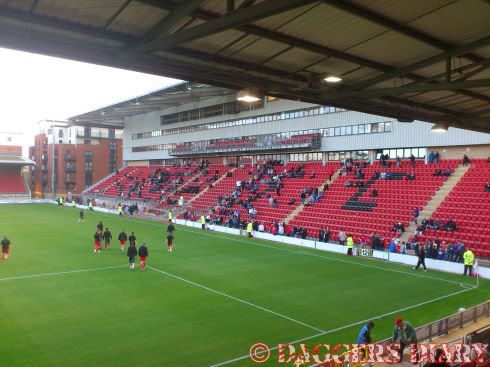 Orient slowly file into the West Stand
The unused East Stand
Despite the atmosphere we created Orient were far from just rolling over and letting us stroll away with a win. Their league campaign was off to a poor start and I think this game was not only a nice change of pace but also a chance to gain some confidence by getting a win over their smaller neighbours. Say what you want about the O's, they do try and get the ball down and play some passing football and it was a nice example of this that nearly rewarded them with a goal were it not for David Mooney's shot taking a deflection before being tipped around the post for a corner by our Gooner for hire keeper James Shea. Everyone's favourite Orient player (read; sarcasm) Dean Cox fired in a cross for Jonathan Tehoue only for him to head it neatly into Shea's arms.
Orients keeper Lee Butcher started to show the first signs of being a little suspect between the sticks when he couldn't hold onto Ollie Lee's shot from outside the box and must have been grateful when it was hooked away by one of his defenders. He must have also been grateful when Damien Scannell's shot caught him on his heels only to zip past the far post! With the pangs of hunger setting in (after all I had only eaten a sandwich all day) I made for the food bar below the stand just before half time to try and beat the rush. I didn't have to wait long to get me and the Missus a hotdog each before returning to my seats in time for the half time whistle. So far I have to say I was having a brilliant time and was really looking forward to the second half. I couldn't help but feel we deserved the win for our support alone!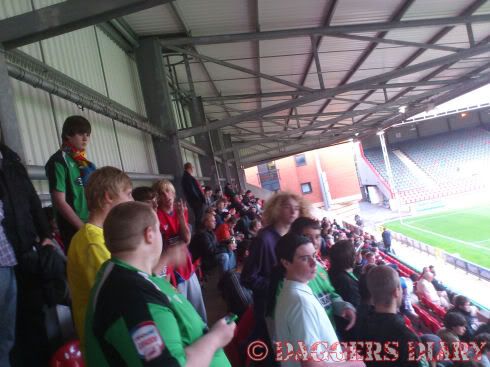 The second half began and the banter picked up exactly where it had left off. Both teams were well up for it and there was a feeling in the air that pride was on the line. I thought that Orient were going to open the scoring when Mooney's flick across the box was parried by Shea into the path of Jimmy Smith who would have been dead on to shoot and score if it wasn't for an excellent bit of defending by Femi who got his body in-between the Orient midfielder and the ball before spinning round and clearing his lines. Defending like that deserved a payoff at the other end and we got it. Scannell ran down the wing to the edge of the box his first cross was blocked but fell straight back to his feet and he whipped it in again with his left foot, the ball hit the back of Sam Williams head, rolled down his back and flew into the net off of his arse! And the travelling Daggers including myself went ballistic! And after the screaming and cheering died down we found ourselves doing the Poznan! Yep that's right we were celebrating a goal in the first round of the JTP like it was the FA Cup final! And what of it? It felt good! 64 minutes Orient 0 , Daggers 1!
It was very nearly 2 when Billy Bingham (who impresses me more and more each time I see him) dribbled through the O's midfield and fired from about 25 yards out only for Butcher to spill his save over the top of himself but luckily for him it rolled out for a corner. Then Orient caught the break they so desperately needed; Porter chased after the long ball and ran it to the goal line then crossed it low past Shea and into the path of Mooney who's hard work all game was finally rewarded with an easy tap in from 5 yards. 88 minutes in, it was now 1-1 and all of a sudden the West Stand woke up and the 20 hardcore fans around their drum were finally joined by their Orient brethren.



A part of me really resented this sudden bolt of enthusiasm, it wasn't as if Orient had been playing badly but it had taken a goal for 90% of their support to actually give a toss. If we were to lose this game on penalties (and a shoot-out was looking a dead cert with only 2 minutes plus injury left) I would have felt pretty crappy to have them rub our faces in another cup loss in a game that only 3 minutes ago they started to walk out from!
The final whistle blew and it was time for the inevitable penalty shootout. Now I know this has been a long report so far and I thank you from the bottom of my heart for sticking with me till this point but I want to tell you a quick story. As a child I loved the penalty shootout, for me it was the height of adrenaline in football and this feeling was at its peak during Euro 96. When England beat Spain on penalties in the quarter finals it was the greatest football rush ever and I was convinced that with Seaman in goal there wasn't a shootout we couldn't win. So when we faced Germany in the Semi's there was this part of me that really wanted it to go the distance to penalties as I was convinced it would secure us a place in the final. Well as we all know I was wrong, very wrong! And it hammered home a very healthy respect and fear of the shootout that I hold to this day.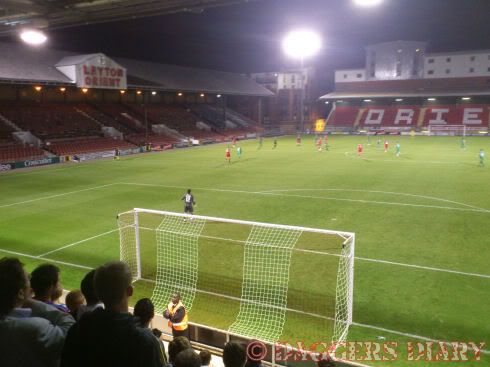 So needless to say I was very nervous about this shootout, but I could feel that childhood adrenaline building. What was to follow was the longest shootout I have witness both live and I'm pretty sure on the telly too! It went thus;
Phil Walsh - Scores,
Charlie Daniels – Scores. 1-1
Richard Rose – Scores,
Dean Cox (to a chorus of boos and a "W*nker W*nker!" chant) – Scores. 2-2

Ollie Lee – Scores,
Ben Chorley – Scores. 3-3


Damien Scannell – Scores,
David Mooney – Scores. 4-4
Now it was sudden death!
Sam Williams – (even though I thought he'd put it over!) Scores,
Leon McSweeney – Scores. 5-5

Scotty Doe – Scores (and gives the Orient fans a nice "Shhhhhh!"),
Marc Laird – Scores. 6-6

Dom Greene (making his returning debut as a Dagger) – Scores,
Terrell Forbes – Scores. 7-7

Peter Gain – Scores,
Jimmy Smith – Scores.8-8

Billy Bingham – Scores,
Lee Butcher (their goalie) – Scores. 9-9

Femi (our crowd let out an audible "gulp!" #FemiFacts) – Scores,
George Porter – Scores. 10-10

James Shea (I'll admit to being nervous before this one) – Scores,
Moses Odubajo – Scores. 11-11
Phil Walsh (with an absolute belter) – Scores,
Charlie Daniels – Scores. 12-12


Richard Rose - Scores,
Dean Cox (in spite of more taunting) – Scores. 13-13

Ollie Lee – Scores,
Ben Chorley – Saved by Shea!!! 14-13
And after 15 minutes of penalties the Daggers had done it, we had dumped Orient out of the cup. The players celebrated on the pitch as me and a horde of my fellow daggers ran down from the stands to the edge of the pitch to rub the home supporters face in the dirt and celebrate our win with another Poznan! We exchanged high-fives with the players and gave them a round of applause before doing a Conga back down the tunnel. I met back up with my little group and us and the rest of the travelling Daggers marched en-masse to Leyton station singing all the way. Then the smaller groups split off in their separate ways and the mob I was in on the District line sang all the way home! What a thoroughly enjoyable night!
Oh and I forgot to mention; the weekend before this match the draw for the second round had declared that the winner of this match would get a home tie against Southend! Bring it on!

In conclusion of this essay of a report I would like to mention a thread I saw on the Orient forum, it was questioning why we celebrated the win so much. And one of the O's on there wrote
; "Because they really, honest-to-god hate us and think we have an actual rivalry. Clowns."
To me this stinks of "it isn't a rivalry because we don't care if they beat us" well that is bollocks. Local bragging rights are the very foundation of a football rivalry (or one of at least) every time I pass an Orient fan in the street we both know what happened that night and we both know that for now the bragging rights sit with us. And that my bitter Orient friends is why we celebrate so much when we beat you. Because we love our team!
I went to bed that night a very happy and tired man with zero voice left. And the next morning I was woken by my manager offering me a fully paid job at the firm I had been volunteering with!
All in all I had an amazing 24 hours!!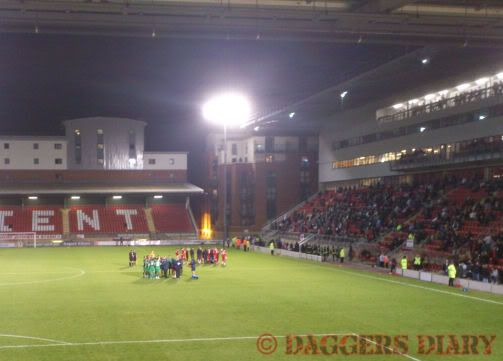 We love you Dagenham, we do! Oh Dagenham we love you!
FMD

Next – Have we ever won at Rotherham?