Saturday 10th September - Rotherham United - Away
So, we find ourselves facing Rotherham again - the first time since
the fantastic memory of defeating them 3-2 at Wembley in the Play Off
Final. All ghosts have been put to bed since then, both sides having
lost a number of players (in fact I believe only two starters for the
hosts played in the game, a very big turnaround!)
My weekend was to prove eventful, but i wont bore you all with the
extra trivia - nobody wants to hear about me listening to news reports
of 9/11 on my drive home in terrible wind, after all! What happens on
away days, stays on away days (unless we choose!!)
Anyhow, the day started with my usual plodding along, getting nowhere.
Seeing as i used to live up there, I figured I knew how long it'd
take me to get there, and what with my habit of being late for
arriving places (yet seldom missing a kick off!) this was a bad
combination, especially adding the roadworks, and a dodgy car into the
equation.
At the end of last season, I got rid of the old faithful Rover [and don't I fucking know it! - FMD], and
replaced it with another BMW Driving Machine. I did not know that by
Driving Machine, they meant massive oil leaks, and vents that blow
smoke into the car when they feel like it. But, these things are sent
to try us, and when the smoke started feeding its way into my lungs
somewhere near Huntingdon on the A14, I decided to pull up and
investigate (I say investigate, I mean I ate a sandwich before
continuing my trip).
The rest of the trip went better than expected, I think the wind must
have been behind me, because i arrived a full hour before kick off,
had a reasonably lengthy discussion with Brian Woodall's father, and
sat in the pub for a while (I elected to drive past my hotel for the
night because I am a fool).
Then came 14:50, and I made my way into the ground.
Now, I've never been up to The Donald Duck Arena to see a game, and
what I had heard was that it was a poor venue with a bad pitch, but
honestly, awful atmosphere aside, the rest of it wasn't too bad! The
view, though lengthy, was good - far better than The Withdean last
year, and the pitch looked in decent shape.
However, upon kick off I stopped caring. Having visited Hereford on
our previous away match, I was hoping for something more entertaining
from us, but unfortunately that isn't what we got. Within 8 minutes
we'd gone a goal down. I have to say, Rotherham, though not
appearing to need to get out of first gear, look a good bet for
promotion this season, we on the other hand look like we will
struggle. I hate saying it, and I am more than willing to be wrong,
but it appears so.
Scott Doe forced in an equaliser on 21 minutes and it seemed we may
have a game on our hands, but come the 29th and 38th minutes, the game
was already done and dusted, The foot was off the gas as far as
Rotherham were concerned, and it was game over. We did pick up in the
second half with the introduction of Jon Nurse and Mark Arber (great
to have him back!), but Rotherhams effective game ensured that again,
the travellers were to go home unhappy.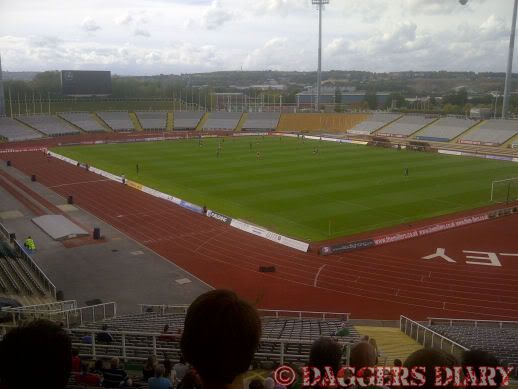 Overall I did enjoy my Don Valley experience, its always nice to see a
new ground, especially one where you wouldn't expect to find football,
and the second half was made all the more delightful by the artistic
skills of Gina Bowd and the unfortunately unsuccessful attempt by
Mitchell Bowd to scale the hill behind the goal whilst the game was
being played.
I don't wish to dwell on the actual game too much (we did hit the bar
though through Oliver Lee, i believe), i never do when we lose.
Sour grapes? Fucking acid my friends, acid grapes!
JerkFromTheCoach

Next -
FMD sums up September and looks to a fresh start in October