Knowing i'd be missing the midweek game away in the Far East (at the
Matchstick Stadium, Leyton) for a game in the Dulux Super Cup I
figured that i'd best sort out my football fix with a trip to glorious
Hereford, a place known for its cattle more than its football.

Saturday 3rd September - Hereford United - Away
....and looking at Edgar Street its easy to see why. I practically
had to grease myself up to fit through the turnstiles, and when i did
was presented with the worlds slowest tea bar, and toilets which were
nothing more than a groove keyed from the floor tiles, and a badly
placed sink. In addition, they stunk. Welcome to Medieval Hereford.
The Mappa Mundi wouldn't have looked out of place framed on the wall
in front of aforementioned floor groove.
Our stand was a true beauty to behold. The Arthur Scargill Stand
(Cargill...) was slimmer than some of our supporters (myself included)
and is made up of a lower tier of terracing, and an upper of 5 rows of
seating. The lower tier view is obstructed....i say obstructed, its
obstructed in much the same way a coffin obstructs ones view of a
corpse. There may as well have been a wall built an inch in front of
our faces it was that bad. In fact, the only decent-ish view was to
be gained from an area which they had painted yellow markings onto the
floor of, and of which it was a crime to stand in. I dont know why
common sense cant be applied when a club that takes such small numbers
away from home are playing. Anyone left in the ground long enough to
die in an emergency when the rush outside consists of a queue of 13
people and a hot dog, in reality, deserves to die. So, we had to
stand behind the pillars to try and view the game.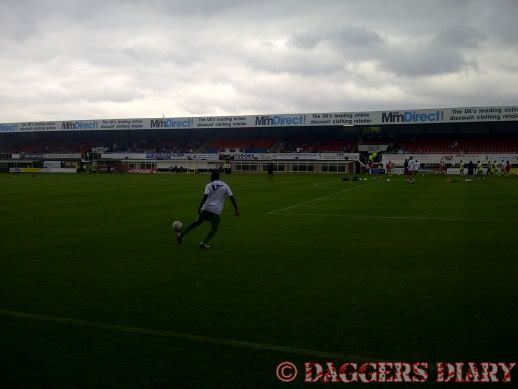 During the pre-game warm up and indeed after the whistle, it could be
noted that there was absolutely no atmosphere whatsoever. The home
fans are appalling, I dont think i even heard them until around 20
mins from the end. Still....rather Edgar Street than a soulless
flatpack like Shrewsbury Town - as when the supporters did bother, you
could hear them.
I really didn't get to see much first half, and it was largely
uneventful nevertheless (what i could see anyway). The only point of
note was a penalty shout for us, which seemed to see the linesman call
for a spot kick, only for it to be refused by the referee and see us
given a throw in. Not quite sure what went on there, but, shocking
officiating - as usual. The sides went in 0-0, and for the second
half we decided that we'd sneak upstairs into the seats to actually
watch the game.
...I wish we hadn't have bothered. I wont pretend we looked useful in
any way, and in my opinion the bright point came with the introduction
of Jake Reed. This game had all the feeling of two sides who come the
end of the season will be struggling at the wrong end of the table,
looking through their anus's at the bottom two places. Why do we come
out so negative away? After 60 minutes or so, i spent much of the
game staring into the distance at Hereford Cathedral.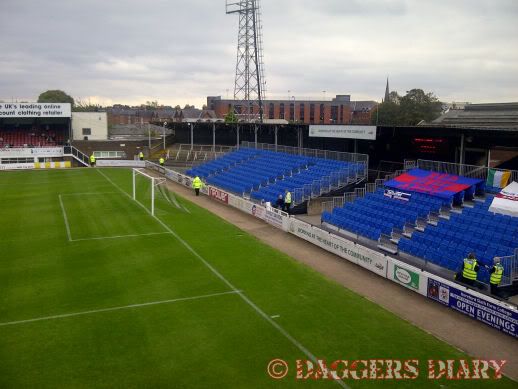 On the other hand, when looking at the teams, it can be noted that we
were missing the likes of Elito and Arber, who will be influential to
how we finish come the end of the season. No sign of Dominic Greene
either - for reasons I am not aware of. Jon Nurse was away on
International duty.
So roll on 85 minutes, when a weak Hereford goal made the score 1-0,
thus giving them their first league win of the season, and ensuring
our record of conceding late goals lives on. It's frustrating,
because we could have so easily had something from this game -
Hereford were bloody awful. I wouldnt be surprised to see them go
down this season.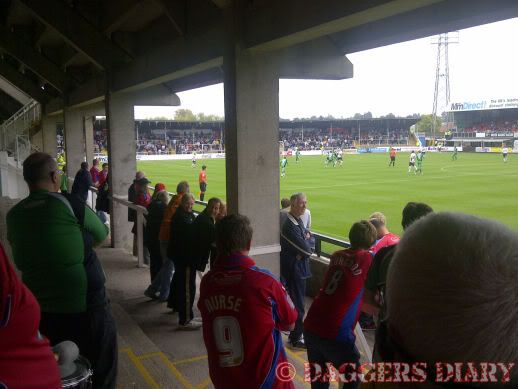 JerkFromTheCoach

Next -
A Game no one cares about, apparently!