Disclaimer – When leaving for this match I completely forgot my camera and the memory card on my phone was full, therefore I have no photos from this game. But fear not, I shall replace the photos with shite stick-man drawings! YAY! – FMD (sorry)
"Are you coming to Romford with us then?"
There are a couple of scenarios that ran through my mind as I that sentence reached my half asleep ears. The first scenario I envisioned saw me peeling myself from my comfy bed, crawling into the family car for the journey and then walking bleary eyed around Romford's many shops (stopping for a Subway sandwich along the way) and then being dropped off at Vicky road in time for a pint.
The alternative saw me planting my face back into the warm crater I had imprinted in my pillow, falling back to sleep for about an hour, dragging my carcass to the couch to watch Soccer AM (on an hour delay due to the delights of Sky+) and then… well that's as far as the plan went.
"Would you mind if I didn't" I mumbled before rolling over and falling back to sleep.
Bed 1 – 0 Outside world
About an hour later I was sitting on the couch watching SoccerAM and enjoying a cup of tea when my phone rang. It was Jerk' finding out if I was going down to The Bell for a pre match drinky because someone he'd spoken to on "footballforums.net" was going to be there and what's more he was going to drive down there and did I want a lift!
"Lemme finish my tea and put some pants on!"
Saturday 27th August - Torquay Untied - Home
The previous weekend had seen us take all three points from Bradford so I was quietly confident that we could do the same against the Gulls.
At The Bell I met the Torquay fan that Jerk' knew (Alex) and his friend Paul (who I shall call "Torquay Paul" to save confusion between him and our Paul), both of whom were already well into their days drinking. Not wanting to be left out I got my pint and chatted with the two. I found both to be very good company and the banter was free flowing. Torquay Paul commented how we were the first metalheads he'd met on his many away days to which I said "count yerself lucky, Barking and Dagenham aint exactly swimming with us!"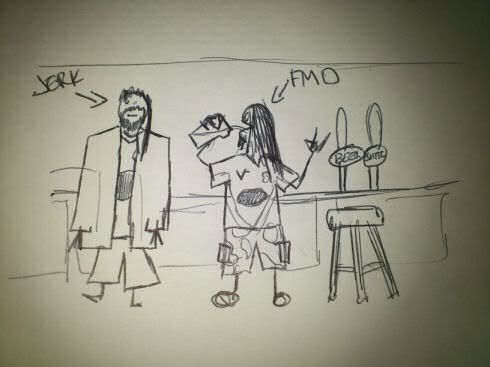 After about 4 pints and a shot of Vodka (courtesy of Torquay Paul) it was time to catch the 103 to Victoria Road. The bus rocked with the sound of 7 drunken Daggers and 2 drunken Gulls as songs were sung at each other and anyone else who dared get on the bus! But the bus driver was very understanding about the whole thing and even gave us a wave in response to "driver, give us a wave!" top bloke!
As we got into Fortress Victoria our yellow wearing guests made for the Marcus James and we made for the sieve. The game itself (as many are) was a game of two halves. Two very distinctive halves.
The first half saw us controlling the game but not finding that all important end product. I thought Tomlin was going to get his first of the season when he picked up Abu Ogogo's deflected shot, sadly he fired it at the keeper who smothered the ball. It was Sam Williams who opened the scoring, Gavin Tomlin put the ball into the box for Nurse who lifted it on to Williams whose whipped header curled into the far corner. 1-0 to the Daggers. So far it had been a solid showing from the Daggers and a lovely little bit of link up between Williams, Tomlin and DJ Green nearly culminated in DJ getting his first but for a save , the ball made it back to DJ who took an ambitious cross/shot which Robert Olejnik just managed to tip it over the bar. During the halftime break whilst eating my burger I realised I was developing quite a nasty headache, not good!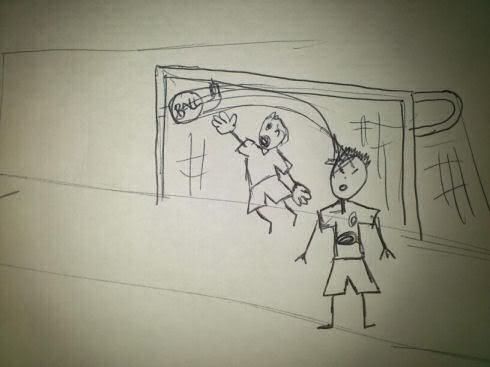 The second half was a completely different matter, I don't know whether Torquay came out of the traps or if we run out of steam or a mixture of the two. Whatever it was the second half did not make for comfortable watching. We started brightly enough but within 10 minutes Torquay started to box us in and Chris Lewington really came into his own with a couple of saves to keep us in it.
Then the almost inevitable happened; Mark Arber tripped Billy Bodin in the box and the Ref pointed towards the spot Rene Howe stepped up and converted. 1-1. At this point I could honestly see us conceding again, maybe it's just the cynic in me. But despite this we held on for the point. I hate to cast shadows over points but walking out I couldn't help but feel it was two points dropped.
In hindsight points are points and I shant moan.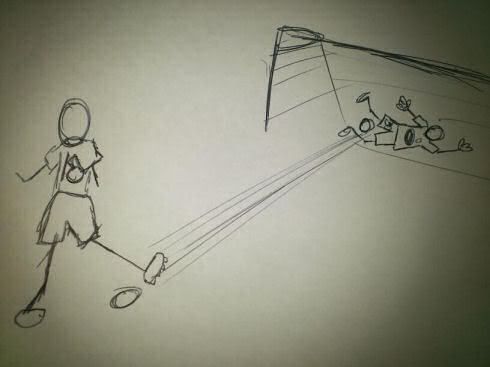 We met up with the Torquay boys in the car park and jumped on the 103 back to The Bell and after a quick pint I decided that the pain in my head was too much to bare and I went home and quite literally laid down in a dark room and fell asleep.

COME ON YOU DAG….
(shhh I have a headache!)
Come on you daggers!
FMD

Next – The land of Milk and errrr Beef! Hereford!