I woke up hung-over from the night before, well I say the night, I mean the morning before. After going for dinner and drinks to celebrate MrsMetalDagger's grandmothers 90th birthday, I had found myself wanting to continue the festivities or more importantly the drinking! So as anyone who is my friend on FaceBook can testify, I sat up drinking Jagermeister and coke, listening to loads of awesome music on my laptop whilst talking bollocks to anyone who happened to be up as late as me! So when 9am rolled round, I was a little bit... errr ...shaky! I slid out of bed like some kind of spineless sloth and dragged on some clothes.
Saturday 30th October - Hartlepool - Home
Once downstairs I decided having food now was a bad idea and could only lead to the same said food meeting the deep pile carpet in the front room. So a large bucket of tea would be my breakfast. I switched SoccerAM on, Dave Goreman was on (all of his shows have been awesome, the astrology one not so much) Tea drank, highbrow sports reporting watched, I was ready to leave. Me and the Missus walked up the hill and straight past Upney tube station. Today's plan was to meet Jerk' and a few others in the pub, so to the bus stop we went. At the bus top my stomach felt decidedly gurgley and I knew I was gonna need some food to settle it. I was half way through that thought when head looked over from the other side of the cemetery wall and said something, it sounded like "I like your shirt" but I thought I'd make sure, The Cemetery man repeated himself "I like your blog!" and the penny dropped it was then I noticed the Daggers badge on his chest. I thanked him and he went about his day. A minute later he came back (this time on the same side of the wall) and asked us if we were going to the stadium now and did we want a lift. I explained we were pubward bound but thanked him anyway. So Chris if you read this, Thank you very much for your kind offers!
Just after Jerk' rang my phone and told us that he was 2 stops further up the route on the other side of the roundabout, and also enquired as to what was taking our bus so long. Another 5 minutes passed, in the distance I could see the 287 peeking over the horizon. We got on the bus and 2 stops later so did Jerk, like naughty school children we sat at the back of the bus and discussed the merits of stringing up monkeys.
We alighted outside Rainham's Tesco and my need for some food kicked in, so I dashed inside and grabbed a chicken and bacon club sarnie which I split with the Missus. Stomach now lined, it was pub time! We stepped into The Bell, a nice little pub with friendly staff and Kronenbourg on tap. Inside with other fellow daggers we chatted about everything from today's football game, to the upcoming Crowbar and Black Label Society tours. With drinks drunk and time moving fast, we left for the bus stop.
The 103 got us to Vicky Road in good time and we went through the turnstile and headed for the already packed Sieve. The match had already started and looking at the pitch I straight away noticed Solly Taiwo in the midfield and he did seem to be working pretty damn hard. The first half was pretty good, considering we had lost both Danny Green and Peter Gain to suspension. We seemed to be moving the ball about quite well and making chances. Sadly none of them went in. Scannell had a near dead on chance but the keeper tipped it away and Taiwo tried from out side the box only to clip the top corner of the bar as it went over. The first half ended with the scores level, 0-0. The air in the Sieve was optamistic, a pretty good showing in the first half had us upbeat.
The Sieve - Pretty full
The second half started with much promise, just 4 minutes in Phil Ifil put a ball into the box which was deflected past the Pool's 'keeper by Peter Hartley, The sieve went nuts! 1-0 to the Daggers! From the middle of the sieve it seemed we were making a nice amount of noise and everyone around me was in a singing mood. But the tide on the pitch was starting to turn as Hartlepool started looking for an equaliser and we seemed determined to help them get it! Some unsure defending lead to Robbo being the hero more than once as well as Hartlepool missing a couple of shots by only inches. Gavin Tomlin managed to catch their left back in possession and snatch the ball away, he made a nice looking dash into the box only for the resulting shot to be tipped away by Jake Kean who was doing well to keep our few chances out. Shortly After Andy Monkhouse took a shot from the edge of the box which took a nasty looking deflection beat Robbo but luckily hit the post and bounced out, but this match was far from over yet.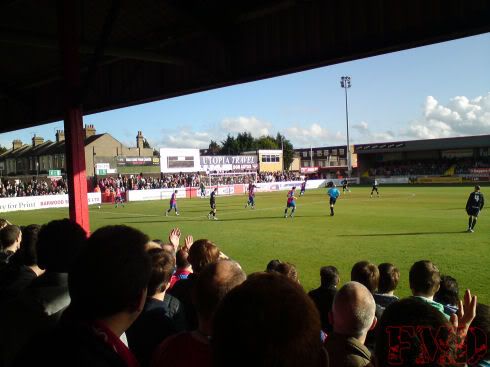 McCrory tried to clear a loose ball over our own bar but sliced it and nearly looped it into our own net but it bounced just wide. For the second time so far a chant of "Hands up, if you thought they scored!" went up as did many hands! just after that a long ball follwed by a cross found a 'Pools attacker who headed the ball accross goal and in an attempt to clear the ball for a corner Mark Arber hit our own crossbar!! Despite all this, with the clock counting down the atmosphere in the home terrace was tense but still upbeat, we just had to hang on Substitute Bas Savage nearly gave us something to cheer when we gained the ball near the corner and charged into the box, but his shot flashed wide.
As the last minute of extra time rolled round, it happened. A long ball found a Pools player in the box who passed it to someone else, who when closed down passed it to Gary Liddle who shot, the ball was low and hard and took a deflection off of Mark Arber, this left Robbo (who had already made a dive) to watch helplessly from the floor as the ball trickled over the line. The sieve went dead silent, not even a groan. I swear I couldn't even hear the Hartlepool fans. I could see them jumping happy to have snatched a point we somehow held onto for so long, but I couldn't hear them.
The terrace empties
As the air of disbelief cleared and reality kicked in, people started to leave, I think I was still in too much shock, I just stood there. "10 more fucking seconds" I thought, I probably said it too. I looked round and Saw Jerk' who's face was a mirror of my own. Somewhere in all of this the final whistle blew and the Sieve was half empty. We headed for the exit and clapped the boys as they came round. I queued up to by my ticket for the Southampton game outside, everyone I caught eyes with did the same thing, wry little smile, shake the head and sigh. I bought my ticket and Jerk' insisted we go to the pub again. I have to say I'm glad we did a few drinks later and I was having fun again and looking forward to leaving for Southampton the next day. The Pub was showing the Man-ure vs Spurs game on the telly and seeing the goal that United put past spurs did make me feel a bit better, at least we didn't concede that goal! (Hmm 2nd time this season I've said that!) With more alcohol drunk and a need for some food creeping in we headed for the bus stop, and then went our separate ways. Once home Pizzas were ordered and more drink was drunk
.
So yes the mood in camp after that match was not what you could describe as positive. Decisions were questioned and blame was laid. The second half was poor and the Gaffers statement of "we need to hold onto these 1-0's" was never more evident than Saturday! But I feel we're in a time of experimentation. Things are being switched around new loan signings are on the horizon!
As I write this I am sprawled on a giant airbed in my cousins front room in Southampton, I am looking forward to the match but I am not confident, but it's matches like this where we can pull a surprise, so yes doom and gloom is starting to creep into the air, remember it could be a lot worse! We could support Grays! And like the title says "Well, at least we ain't bottom!"
Chin Up Daggers!!
FxMxD
Next - Well I'm already in Southampton, where are all you lot?