So I finally managed to pull myself away from Football Manager 2011 for a few hours to get this done. I was looking forward to the trip to Southampton not only for one of the biggest away days of the season but also because I was staying with one of my cousins and getting to see some family I hadn't seen since I was about half the size of Matt Ritchie.
I awoke that Sunday with the weight of the disappointment of the Hartlepool game, alcohol and a kebab pizza on my mind and stomach. I had decided to give myself two hours to get to Victoria coach station for the 12:30 coach to Southampton. So I dragged myself up and packed the final bits I needed into my bag and left. Being a Sunday, and Sunday being in a weekend, meant that the tube was playing silly buggers again. So rather than sitting on the District line and taking a nice ride from Upney to Victoria, I had to go a little bit round the houses. First it was 1 stop on the District line from Upney to Barking, Then onto the rather packed c2c from Barking to West Ham then the Jubilee line to Green Park and finally one stop on the Victoria line to Victoria Station. Despite the roundabout route I actually made pretty good time, and once I had walked to Victoria coach station I found myself with just under an hour to kill. After a Spicy Tendercrisp and a little walk around it was time to get on the coach.
Pink eyes of the tired and hungover!
After exhausting my laptop battery using the coaches' onboard wifi, I put my iPod on, rested my head on my rolled up hoodie and slowly fell asleep to the sounds of Deftones "Around the Fur". I awoke as we pulled into Southampton University and what was quite a packed coach suddenly emptied leaving me and about 10 other people to travel the last 15 minutes to Southampton coach station. I rang everyone back home and rang ahead to my cousins to let them know I was near before I ducked back into the safety of my iPod and watched the scenery go by listening to various loud shouty tunes.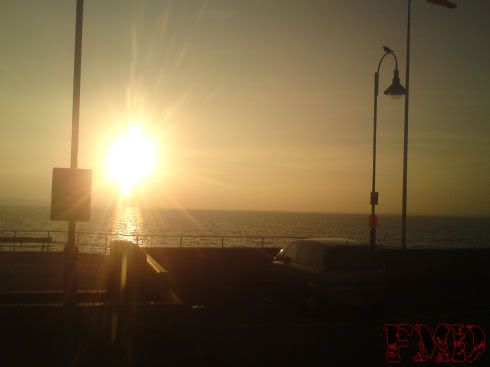 Down at the beach



The coach dropped us off at the surprisingly small coach station, which consisted of a small coach park and a hut with toilets and a ticket office. My uncle picked me up and took me to my Cousin Jessica's flat. Later that night my other cousin James, my uncle and his Girlfriend came over for dinner and we spent the night getting reacquainted and a little bit pissed. The next day we went out to the beach in my uncle's camper and we walked the dogs and I took in the views of the beach and beyond.
Looking out over the beach from the camper
But you didn't click on any links to read about my family reunion now did ya?
Tuesday 2nd November - Southampton - Away
I woke up on my very comfy double airbed to an empty flat, my cousin being the high-flying executive type had to call me to say she couldn't make our lunch plans. So at a loose end I got down to writing up the diary entry for the Hartlepool game. That done I had time to kill so sat down and watched some of the classic kids TV game show "Knightmare". Later my other Cousin James came over with some beer and we chewed the fat. I had been in contact with Jerk all day and he was headed to where I was staying to park his car. He arrived with a couple of hours to spare before the game. We called a cab and made our way to St Mary's. As soon as we got across the itchin bridge I could see the stadium lit up. We pulled up outside and I have to say it did look like an impressive stadium, the lights outside blinking in the night. After Jerk bought himself a ticket we headed for the turnstiles.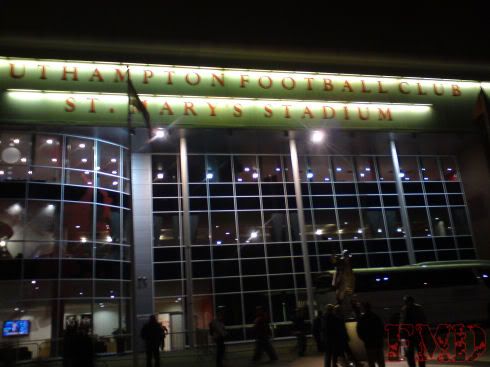 I pulled out my ticket from its home for the past week in my wallet and entered. Inside it wasn't as welcoming inside as out, the concourse was all breezeblock and concrete but that is pretty standard. What was welcoming was the smell of hot food and the thought of beer. Jerk( in his own personal tradition) went for a burger, which was a sorry object, especially when compared to the fine burgers at Vicky road and the three rings of onion squashed into the bun did nothing to help its case. I opted for a hotdog and a lager and then later on the recommendation of Mr Jerk (who like me was counting this culinary treat as dinner) I decided to sample the beef madras pasty and it was very tasty!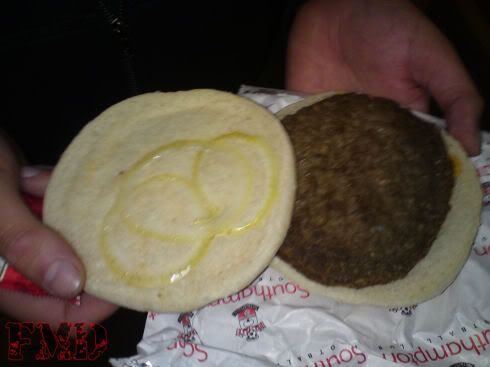 a sorry meat biscuit
Fed and watered we headed for the stairs leading up to the away end. Today we had been given a corner in the Northam stand and our mob squeezed into one block quite easily. It started to circulate around the crowd that Robbo had been sidelined with an injury in warm up and Chris Lewington was gonna be between the sticks. Now I am a bit fan of Lewington but I had to feel for him, to get his league debut in an away match to one of the biggest teams in this league must have been nerve wracking!

After a minutes silence the match got underway and it took 11 minutes for the Saints to do what we were all so sure they would, Alex Chamberlain ran down the right wing and crossed in a ball that went straight over Lewington's head and into the net! 1-0 to the Saints. Despite this our crowd sang our hearts out, it seemed we were never silent. A few minutes after their first goal the young Chamberlain put another ball into the box which was headed only just wide of the mark by Adam Lallana. This bombardment woke up our boys in green somewhat and they knuckled down and tried to push for an attack with Gavin Tomlin coming very close with a shot from the left edge of the box.

For the moment, when we had the ball, it didn't seem there was so much of a gulf between the teams. Sadly whenever Saints had possession they showed they intended to use it to full effect. But after missing a few they certainly could have put in Southampton's young winger Chamberlain scored with almost a carbon copy of the first goal as he put in a long lob from outside the box and this time I think he meant it. 2-0. Despite the score the Red and Blue (and green and black) army we're singing for all we were worth and showing the relatively quiet saints fans how it was done. Don't get me wrong, when Southampton had a ball in a good position an almighty roar filled the air, but then again it's easy to sing when you're 2-0 to the good! The whistle went for half time and as I headed to get a beer I wasn't as down as I probably should have been, despite the score I was having a good time and really enjoying being part of this small group of loud football fans, who were going down singing!
A beer later we filed back to our seats, which I have to say (with all credit to the stewards) I had not once been told to sit in and had stood happily singing and jumping about all game! The game continued much like it had before, we had little chances and made the most of what we could get, but Saints showed what a big budget team like them in this league can do. Within 10 minutes of the restart Lallana burned down the left skipped past Ifil and passed a low ball for Lee Barnard to tap in. 3-0 to Southampton. But still we sang, good banter was had with the home crowd and a few timed we were applauded, I don't know if it was genuine respect or sympathy but it was nice to be acknowledged for doing more than sitting there miserably watching us lose.
At some point during all this I had noticed some commotion below me towards the front of the stand as everyone was now pointing at a man in a blue striped top asking "who the fucking hell are you!" very soon it became apparent he was a home fan who had crept into the away end, I don't know how he was sussed but as soon as he was he crept out again. A minute later he was spotted no more than 20 feet away from where he had been sitting with us, but in the home end, well this didn't sit kindly with us! So after a lengthy chant of "chuck him out!" and some explaining to the nearby stewards we got to cheer and sing our farewells to the double agent as he was lead by stewards from the stand.
By now I think most of us were keeping only half an eye on the game as the result was now clear the only thing to be decided was the score. The fourth and final goal came at about 70 minutes when once again that man Chamberlain whipped in a ball that was headed into the net by Jose Fonte. 4-0 but we didn't seem to care so much at that point. One thing that we did care about was when Scott Doe went down from a heavy challenge from Lambert and had to be taken off to be replaced by Phil Walsh. But still like the band on the Titanic we were going down playing, well, singing. And as we cheered goals that never happened and kept ourselves amused the game ran its course with the only bright spot being a free kick from Danny Green that came so close we thought we had scored. We left just before the whistle to see if we could get a cab, which turned out to be a useless idea as a bad couldn't get down to St Marys until the police opened the roads again. So outside we chatted with our fellow daggers as they boarded the coaches back home.
With a little time to kill we went and stood by the team coach and chatted with the various staff about and showed our support to the players as they exited the stadium. After we waved the Boys off us ordered our cab home. Once back at my cousins Jerk got back into his car and made for London as I chatted with my cousins and then put myself to bed watching "Mystery Science Theatre 3000" on my laptop.
So overall a pretty shit day? A night to forget? Well that's the weird thing. I actually had a brilliant time! And it's mainly down to my fellow Daggers, the singing, chanting and general good humour honestly made the night one I shall remember. I mean if the Saints chants of "you'll never play here again" are to become true, at least I can say I was part of the crowd that out sung nearly 20,000 Saints fans on the night we went down by four goals. I came away from the Hartlepool game in a much worse mood than this game and we got a point from that! Maybe sometimes going into the unwinnable battle with our heads held high and a song in our heart is the best kind of local pride.
So once again I say "Chin up boys!" and "up the Daggers"

Because we are the Red and Blue army!
FxMxD
P.S - Here's a vid of the Daggers crowd at ST Marys doing us proud. As a bonus Danny Greens near miss is at the end of the vid.
Next - Booze, Goals, the FA Cup, local rivals and a bust up in the sieve!? Orient come to Vicky road!