Saturday 13th of November – Yeovil Town - Away
Words by JerkFromTheCoach
Another weekend, another game of football to report/retort on. The 13th November saw a bright and early start for a trip to the West Country to see us tackle our former non-league colleagues Yeovil Town. First off, I'd like to say that such a small club similar in stature to our own should be commended for not only holding their own in League One (as we are struggling, we know how hard this is) but for also pushing the boundary a couple of seasons back by reaching the play off final and being a game away from becoming a Championship team.
However, currently things aren't all pastry-wrapped potato snacks and cider for Yeovil Town at present, as they struggle currently at the wrong end of the table with ourselves. This match was a real 6 pointer, had we have come away with yet another away defeat we'd have been in serious trouble. It's no longer early days, and time is getting on for both clubs. Yeovil went into the game three points ahead of ourselves and around one million and seventeen points ahead of Walsall, whom we seem to be bouncing up and down on in 23rd like a fat man wearing a rubber ring rolling down a hill.
After a brief whipping by the boys in blue (who were horrified to find out I was legal to drive the vehicle of choice to Yeovil) my journey to meet the fellow travellers for the day (Paul, Dave, and Chelsey…or Chelsea….I don't actually know the correct spelling) began. Around 9:15 we were all in place and ready for the drive which I for some reason thought was going to take longer than it did. To say the journey didn't have its strange events would be a lie. By around quarter to ten we had reached the bridge at Dartford, and the traffic was for once free flowing. After paying the usual £1.50 at the toll booth and pressing on just as we were almost approaching the national speed limit section (can anyone give me a good reason why it isn't immediately 70mph after the crossing?) a dog decided it would play a deadly game of chicken (what game do chickens play in the road?) with us. I swerved to avoid at 60mph, and fortunately I can at least say I didn't drop the scythe upon its life, and I didn't see in the rear view mirror anybody else strike it either – so fingers crossed his gamble paid off, and he made it to wherever he was going in good time – obviously it was very important, maybe a dog meeting, or some sort of job interview for a biscuit company. Shook up a little, I ploughed on toward Yeovil.
I don't recall any further incident en route, no traffic jams, no suicidal dogs – nothing. And we made it there by a very healthy 12pm – even before some of the stewards. I had made a gross miscalculation on the time, so I left the others to drink (responsible driver ahoy) and went to visit a friend I have who lives just behind the ground, and managed to persuade him to come along and boost our numbers for the day (cheers Kato!).
As we were bringing a small number, we were informed that the terrace would not be open to us and that we'd have to sit in the Carrot Cruncher Stand with the rednecks. I suppose this helped with the acoustics a little – not that you'd have known we were there when watching back the highlights, as when the goals went in barely a peep could be heard from us. Open terraces are fine too, providing it isn't raining, and whilst no rain was predicted, the sky did look a bit threatening.
I have to admit to feeling optimistic all day about getting out first away win under our belts, and in the end it transpired that my optimism was well founded. Thankfully, the ominous 'Gillingham syndrome' has now been avoided, though sadly the same can also be said for Leyton Orient who also chalked up a win on their travels for the first time this season at Bristol Rovers. We are still putting in the fight, and it was a superb place to get our first win on the road – just what the doctor ordered. What bothers me is that we look a little shaky at the back this season. After taking the lead through Will Antwi (good to see him back in the picture after a lengthy lay off) we managed to hold on until the very end of the first half when our defence was opened up and they got an equaliser through????????????. Mood around the away section of the Carrot Cruncher Stand was a little deflated in the interval, as can be expected. We'd looked a bit like the proverbial dog in the headlights toward the end of the first half leading up to their goal, and clearly Yeovil were experiencing the upper hand. We'd even managed to lose our drum after the drumstick broke, and was turned into a pink gloved homosexual (am I allowed to say that?) sex toy. So off I trotted in seek of the burger talent. I did not find one. Choice seemed limited to Hot Dogs and Pasties. The pasty, I can say at least, was top class.
(FMD - At this point i was sitting indoors with a beer and with only one hand's worth of fingernails left. Giving away an equaliser so close to half time had left me more than a little worried. So i cracked open another beer and listened on, for the next 20 minutes i had the displeasure of having the Yeovil onslaught on our goal described to me kick by kick, via the Daggers Player.)
Onward to the second half. A fairly even start lead to a bright twenty minutes or so of Yeovil attacking. Good for the home fans – a little tense for us looking on from the far corner. After loanee Medy Elito was brought on however, business picked up, and Yeovil were made to pay for their strikers missing a number of very good chances – though all credit goes to Chris Lewington, who despite playing out of his skin I hear received a rating in the newspaper of '5' which I consider an insult, when he threaded a neat ball through to Abu Ogogo who kept his composure to strike it past the Yeovil stopper, who bizarrely went the wrong way.

(FMD - As this happened I jumped out of my seat, ripped my headphones out of my ear threw them across the room, screaming "f*cking get in you dirty bastard!" (the ball, not Abu) then punched the armchair. needless to say I was happy. then i took this pic
)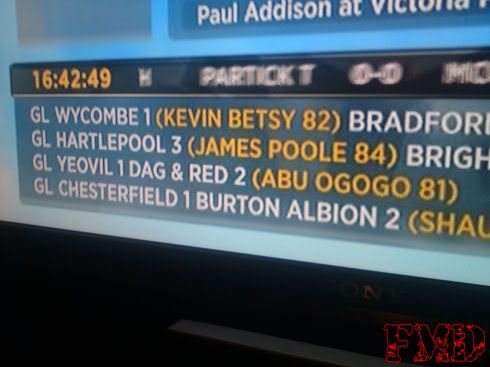 Beautiful, ain't it!




The Yeovil head's dropped, a number of their fans left the ground or were leaving when Medy Elito ran through to make it 3-1 close to the end, striking the hammer blow to any chance they had of coming back. A superb debut performance from the lad, he looks to be a talent wasted on Colchester who cannot even recognise (yeah, I know it is early days in his spell here and he could prove me wrong) his obvious skills and ability to run with the ball, and move into space. A very warm welcome to him based on that performance. When the ref blew up, seemingly most Yeovil fans had already gone. I know how they are feeling this season, it can be soul destroying to see your side sat at the bottom – but I hope that both of us manage to avoid the drop and continue to fly the flag for the smaller traditionally non-league clubs in the dizzy heights of League One.
So we'd done it, a win on the road. Let's hope we can push on from this and get a few results together in the league now and maybe climb out of the bottom four.
JerkFromTheCoach
Next - Orient cup replay, a definite game of two halve!