So the night before the replay,
I've decided to write up the first match. Sorry for the spoiler there.
Saturday 6th November - Leyton Orient - Fa Cup 1st Round (home)
Now I can't actually remember what I did between waking up and leaving the front door, which is probably why I should have written this sooner! But I imagine I had a cup of tea as well as the normal early morning bathroom routine that males like myself go through, you know what I mean, a mixture of foul noises, foul smells and bad breath.
So with Daggers shirt on and a nice knew pair of combats (yes, the same combats MrsMetalDagger bought for me when I was watching us play MK dons!) We left to make our way to The Bell, which the landlord had most graciously agreed to open a bit early so we could really get our drinking on before this local derby cup tie. We got on the bus outside ripple cemetery and it whisked us towards Rainham. We got off at Tesco's so I could line my stomach with half of a (very tasty) Tesco own brand Chicken and bacon club sandwich. Which has become my pre pub sandwich of choice. So the Tesco "Chicken & Bacon Club Sandwich" has the FMD seal of approval. And if you are like me and appreciate a good sarnie why not become a fan of it
here
So we walked from Tesco to The Bell, munching our T.C.B.C.S, at the pub drinking very much started and we watched spurs getting a bit of a pasting on the telly. The mood in our group was a very tentative one; having beaten the O's last time they came to our gaff the idea of them being able to get a measure of revenge against us wasn't very appealing. Our form had dipped a little since the last meeting and we were coming fresh off of being hammered into the very well kept pitch at St Marys. But on the other hand, if we knocked them out it would be very sweet.
More alcohol was consumed and much merriment was had, but time and team wait for no man so to the bus top we went! The short bus ride from the Bell to Vicky road is just long enough to get ourselves ready with a bit of singing but not so long the driver gets sick of the loud drunks at the back of the bus!
We got off the bus and made our way to the turnstiles, a big turnout was expected and the Bury road turnstiles had been opened to ease getting everyone onto the terraces. Making our way into the ground, I could see already it was pretty packed; we made a beeline for the middle of the sieve and parked up with the familiar smell of fried onions and burgers floating from over my shoulder. A minute later Nikos and Gem showed up and it was time for kickoff. Just as the game started I noticed that there was a group of maybe four Orient fans right next to me in colours and everything. So when a chant of "ORIENT, WANK WANK WANK, ORIENT, WANK WANK WANK!" went up I was amused by their disapproving faces. If you don't want to hear our banter, go in your own end, simple!
With the match underway the atmosphere was good, much singing was done and I think the fun attitude from the Southampton game had come back with us. Today the sieve wanted to sing. Looking at the pitch there had been some changes since we last saw our beloved Daggers Abu Ogogo was back from injury as was "The Biggest Willie in the League" Will Antwi, Johnny Nurse was being given a go up front, Chris Lewington was back inbetween the sticks covering for the Injured Robbo and Liverpool loanee Victor Palsson made his debut.
Lewington was called into action almost immediately when Alex Revell had a shot from the edge of the box which Lewo kept out. Orient came out of the traps looking for a win and Revell had a couple of good shots. Taiwo nearly put us in the brown stuff when his errant back pass had to be cleared out by Lewington, my nerves were starting to shake a little, But slowly Dagenham warmed up, Vincelot had a header saved (Orient are sick of those going in I think) and Danny Green floated in a free kick from the edge of the box that Bas Savage nearly managed to head into goal only for it to flash wide of the far post. A little later a lovely bit of holding plus a well placed high ball from Savage set McCrory free, whose shot skimmed the crossbar as it went over.
Although a scrappy game both sides had had some pretty close chances and bar a couple of hairy moments I was quite happy with 0-0 as it approached half time. So when a deflected ball found Revell in the box, which he deftly put through Lewington's legs to score, 1-0 on 45 minutes! I have to admit my heart sank a little. What didn't help was the Orient fans next to me started cheering and jumping up and down!
Well it doesn't take a rocket scientist to work out that football is a passionate sport and acting like that in the home end might rub people up the wrong way, and it did. I saw some shirt Pulling, incoherent shouting and people stated pointing for them to be (quite rightly) ejected for being in the wrong end. But then something happened, we were given a free kick within seconds of the restart, everyone stopped looking at the interlopers and instead looked at Danny Green who was now standing over the ball in front of the left corner of the Orient box. He ran in and kicked the ball which curled onto the post hit the goal keeper and went in! 1-1 at 45 (+2) minutes!! And the sieve went nuts!! But in the middle a large circle had formed around the misplaced Orient fans as everyone in the vicinity pointed and screamed "who are ya! Who are ya!" right in their faces. Well this didn't sit well With one or two of the O's scouting party, who started to kick off a little bit and I'm pretty sure I caught a swing from someone, because I had a sore chin for the rest of the game. The police came in and removed 2 people and we sung them our goodbyes. Left in the sieve was one lone young Orient fan dressed head to toe in O's colours and very much sticking out. It's safe to say I didn't envy him!
Somewhere in all of that action the half time whistle blew and now we were feeling slightly more confident and the small incident in the sieve had fired us up somewhat. It has to be said, I was enjoying myself!
The teams came out and got in position for the second half, with the whistle blown both teams picked up where they had started off. O's keeper Lee Butcher made a fine save when a ball flicked on by Savage was met By Romains toe. Alex Revell carried on leading the Orient charge as he fired just wide and then got passed a slipping Arber to put in a low ball which Dean Cox couldn't convert into the certain goal it looked to be when somehow Lewo saved it with his foot. The atmosphere was still buzzing in the Sieve and songs were flowing freely as we willed the team onto victory and we thought it had worked when Romain Vincelot tried reproduce his awesome goal against Burton last season firing from twenty yards out only for it to fly over the cross bar by about an inch! Revell again had a chance to finish the game off in the 89th minute when a corner flew over the box too his feet for him to shoot it straight at the post for it then to be cleared away. Before we knew it the Ref blew the final whistle and it was official, 90 minutes wasn't enough to decide this epic battle! So another 90 minutes at Brisbane road is the desert of our football feast!
So all in all not too bad a result and although our away form at the time had me worried about the replay, our result against Yeovil last Saturday (sorry more spoilers) has given me (and many in the Red and Blue army) a little injection of confidence. And with an away tie against non-league Droylsden our prize, it would be great to finish the job at the housing estate Orient call home.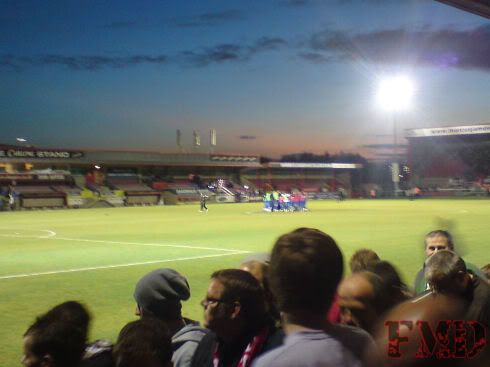 COME ON YOU DAGGERS!!!!!!
FxMxD
Next -
Jerk tells us why he and I have to shave off our beards, its Yeovil away!