"call it half eleven man", "no problem dude" "poxy call of duty lol" this was the text conversation between myself and Jerk as i waited for him to get his hairy arse in the seat of his car to drive me and the missus to the land of cheese and cider. "Im now running even later due to no hot water... ...wont be too late mate, just sorting my stuff out" "lol yeah yeah, enjoy your xbox time" at just before midday the bearded one pulled up outside our house and we loaded up the car with the supplies for a weekend for a weekend in the west country.
The journey up was pretty uneventful, but nether less filled with with all the classic witty and bollocks filled conversations that typify our road trips. The roads weren't to busy and the sun was bright in the sky, sunglasses were the order of the day. We stopped off briefly for some grub in the form of fried chicken at South Mimms services and stopped off for a game of Rambo and Guitar Hero further up the road. Today the main Musics for the road were some Burzum, some Dethklok and whatever my ipod shuffled up. The night before i had stayed up putting all my music back on the little silver box as it had recently crashed and corrupted all data. well it seems all this had been in vain as my little box of Steve Jobbs excrement was well and truely on the fucking blink! skipping songs half way through and refusing to play others.
We arrived in Weston-super-mare around five-ish and parked up in the Tesco car park. Jerk was spending the weekend with friends there but our journey still had one more leg. MrsMetal's cousin, Andy picked us up to take us to our destination in the small medieval city of Wells (the town they shot "Hot Fuzz" in) after an hour or so journey on the winding country roads we arrived. After some catching up Andy and his Dad took me out to participate in the local sport of skittles.
Todays skittles match was an away tie for Andy's team (top of the table) "Mendip Casuals" so we travelled to Shepton Mallet Town AFC to face (bottom of the table) "Cider Lads". For anyone who has never seen skittles it it like bowling without holes in the balls, gutters at the sides and everyone gets drunk, in short, it's pretty fekkin awesome. tonight I was an extra, thus was allowed to play but my score would not count towards the actual match. it was great watching everyone play with they're own individual styles and quirks and the atmosphere was friendly but competitive. When it was my turn to step up, a mumble went up as everyone wondered who this long haired Londoner in an ice hockey jersey was. in my first shot I took out most of the pins and after my three throws had scored a respectable 8, from then on every time i stepped up i was treated to shouts of "Come on Barking!!" (good to know if i ever join the team i have my nick-name already!) sadly the Casuals lost in a close fought game, but I set my self a personal record of 38, 2 points shy of (Andy's brother) Phil's personal record.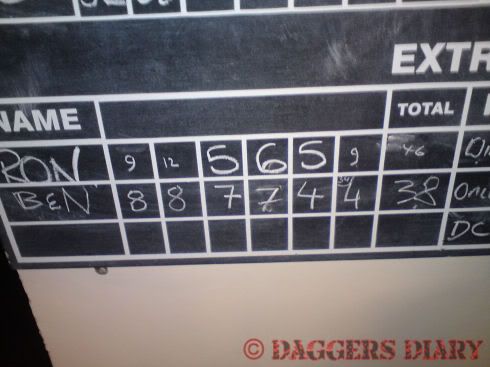 "Barking" King of Skittles!!!
after the game we sat down for cheese, bread and preserves to soak up the vast amounts of alcohol. When the locals found out I was a Dagger the first thing they all asked about was local boy Luke Wilkinson, i explained that what i had seen of him was pretty good, but at the moment he was on loan to boreham wood. we then left for home, where more beer was consumed and i embarressed myself by playing a dance game on Kinect then sang "My Own Summer" by the Deftones on Rock band. all in all a good night, but tomorrow was a very important game!
Saturday March 5th 2011 - Bristol Rovers - Away
I woke up at 7:30 with a very dry mouth and a banging headache, the lake of lager i had drunk the night before had taken its toll. I downed the rest of the ribena i had taken to bed the night before. In need of more liquid i made for the bathroom, where I sat on the toilet drinking glasses of water and willing my headache to go away. Back in bed i opened up my laptop and perused the forums and facebook untill everyone started to wake up. I went downstairs in search of a paracetamol to kill this forsaken headache, Phil and Andy's mum Kathy presented me with a much needed cup of tea and a huge breakfast which was most definitely needed. With breakfast done we left for Bristol, our group consisted of; Me, the missus, Phil (rovers) and Andy (city) and thier dad Gary (also Rovers).
We caught the bus from Wells bus station into Bristol, ipaid £7 for an "all day rambler" and a nice relaxing hour long journey through fields and villages later we pulled into Bristol bus station. A short walk to another bus station and then a nother short bus and we alighted close to the Memorial stadium. We ducked into The Royal Oak for a pint, then found out that all the daggers were heading to The Wellington just up the road. So we downed our pints and headed up the hill to meet our fellow Daggers. At the pub i introduced my adopted familys to eachother and we drank. Phil and Gary then said they're goodbyes as they wanted to get into the ground, Andy stayed with us because as a city fan he decided to join us in the away end and be a dagger for the day. With drinks finished we made for the Mem'.
Me & "Dagger for a Day" Andy
I picked up a programme and we walked round the back of the Uplands stand to the far end of the open air terrace that is designated as the away end. The ground itself is definitely not a souless bowl, it's a bit of a melting pot of designs and looks a bit more like a rugby stadium (which it is) than a football stadium. In front of us was the DAS stand which bore a resembelence to Orients main stand.the terrace we were standing on stretched in front of the uplands stand, those of us who didnt want to stand where seated in one of the temporary stands next to the portaloos at one end of the pitch along with some Brizzle fans oppasite them was the Blackthorn stand, which is where Phil and Gary would be.
the match itself was definatly not pretty, both sides knew how important it was and there was a nervous tension in the air. News came through that Phil Ifil would be in for Abu Ogogo who had taken a knock in training, this was not welcome news as Ifil had become a bit of a target for criticism in his last stint at right back. More unwelcome news was that the daggers would be lining up 4-5-1 and those who had been at the Walsall game saw this as a bad omen. within the first 15 the worries of the travelling Daggers were nearly justified when a shot deflected off of Will Hoskins and nearly looped in only to land on the roof of the net, this was followed shortly by a cross which found the head of Danny Coles who nodded towards goal but an outstretched Tony Roberts fingertipped the ball out into the path of Rene Howe who kicked his chance straight back at Robbo but he couldnt hold onto it and it bobbled about in the box, Hoskins swiped at it only for it to hit the bar and bounce back to the head of Coles who nodded it straight into the welcome arms of our 'keeper. Everyone in the away end breathed a sigh of relief and i'm still not sure how they didnt score. Down at the other end Danny Green whipped in a cross which Solomon Taiwo got his head onto only for it to fly just over, gameon!
Damien McCrory went down with a knee injury with 10 minutes of the first half left and i must admit that having both of our current second choice fullbacks on made me a little nervous, especially considering Rovers where playing top scorer Hoskins as a right winger. It wasnt till right at the end of the first half that the deadlock was finally broken; Nurse put a good through ball into the path of Romain Vincelot who was tripped by (brother of our right back) Jerel Ifil, with Romain being the last man there was only one outcome and after a brief session of "handbags" (which included Gain getting all riled up and his shirt ripped) the red card was shown. Despite Danny Green placing the ball on the spot, the play was brought back to edge of the box for a free kick. Greeny stepped up and smashed the ball into the top corner (with a slight deflection off the wall) 1-0 to the daggers! We cheered and danced, including a nice little jig with me and Jerk. The wistle went for half time and with a man advantage you felt we had to come out of this winners.
So far it had been a nervous game and before the sending off and subsequent goal i couldnt honestly describe myself as confident. At times it seemed the 5 man midfield was causing a traffic jam, but the 1-0 lead was not to be sniffed at! As for the crowd, we had been in good spirits and sung for most of the game even if the open air terrace meant all our noise was somewhat dissapated into the cold bristol air. Being told we could only use the drum in moderation was quite funny though, i guess us using it for every chant and song must not be overdoing it becuase we recieved no complaints. There had been some top banter with the players warming up infront of us with rendisions of "he's got carrots on his feet" being met with applause from the pitch and special mention has to go to Phil Walsh for giving us a song as requested. After a quick trip to the toilet (conveniently situated right behind us) and a very tasty pasty (which i found out are only available in the away end) i was back in place ready for the second half.
The second half i have to say Rovers really stepped up their game and didnt let our man advantage scupper them. The Gas-Heads in the stand next to us had a chance to celebrate for about 1/10 of a second when Howe put a low cross to an offside Hoskins who netted but the linesman made the right call and no goal was given. And if once wanst enough it happened again, Hoskins danced past our defence and put a through ball into the box but Howe started his run prematurely and despite finding the net, was offside and for the second time The Gas found themselves scoring a non-goal. The Daggers switched things around and Darren Currie came off for former Bristol City man Bas Savage, straight away we started singing for Savage because we knew what would be coming from the home fans and sure enough for about 5 minutes all they did was sing their anti-Savage song (somehting about the way the Bristolians say "wankerrrrr" tickles me!). Bas nearly shut them up when Gains low ball deflected off of (the possibly fouled again) Vincelot and Savage got onto the loose ball and fired for goal. Sadly the Pirates on-loan keeper Conrad Logan got over well to save it. Danny Coles day ended prematurely when he went off injured for Rovers after tripping over Bas and injuring himself ,he had to be stretchered off.
We finally got the second goal to see us safe from a corner, Danny Green whacked it into the box and it was (who else but) Romain Vincelot who headed in into the goal. The home end started to clear and the walkway above and to the right of us was filled with Gas-Heads who wanted out! some clapped us others gave us the finger, we didnt care the points where pretty much ours and even someone remarking "remember Tranmere" couldn't fill me with any doubt. The final whistle went and we cheered the boys and the much needed 3 points they had earned. We clapped the lads and sang every player song we had, then spent about ten minutes trying to get Bas to moonwalk but he wouldnt, his moonwalks are saved for goals! So hurry up score Bas, we want another moonwalk!
We then conga'd out of the ground a line of happy Daggers, I had to escape the Conga for fear of getting Conga'd onto the coach and getting a premature trip back to London. Everyone else got back on the coach but Me, MrsMetal', Jerk and (Daggers for the Day) Andy and (Jerks Friend) Fred went to meet Gary and Phil before heading to the bus stop. Whilst waiting for the bus i saw a Rovers fan scowling at me from the top deck, I smiled at him and he stuck 2 fingers up at me, "that's right" i thought "2-0!" and we threw some hand gestures back his way (not that i condone such behaviour!). We boarded a bus and stopped off for a pint in the city centre before going our seperate ways; us back to Wells, Jerk and Fred back to Weston, with nothing to look at but very very very dark fields i crashed out on the bus back to Wells.
Another very good day!
I woke up the next morining without the hangover of the morning before, but alot later. after tea and toast i was taken on a tour of Wells where i eagerly sought out and was showed all of the main locations from "Hot Fuzz" and acted like a complete tourist. I was offically christened as a citizen of Wells when i tripped and put my foot straight into the running water channels that line either side of all the roads. The cathederal is very nice, and I bought 2 little Catapults and a gargoyles head keyring fromt he gift shop. After a pasty it was time to go back and pick up our bags then onto Weston to meet Jerk for the trip home (with a drive through Cheddar Gorge as per my request).
Me standing next to where Tim Messenger got "splatted"
Jerk was a little worse for ware after what sounded like the second heavy night on the trott for him. So we slowly drove home with a few stops at services for food an coffee. Once again many pounds where pumped into fruit machines and games of chance and all prizes will be coveted as prizes of a great trip until the day they break or are lost. We got back home at about midnight and i had a giant cup of tea before retiring to bed and falling asleep watching "Aqua Teen Hunger Force"
A third very good day.
FxMxD
Next - Colchester, let's see if it can finish with all player conscious.