I was woken by the sound of my 2 year old nephew screaming my name as he had just realised I was still in the house. I sat up on my fold away bed and rubbed my eyes and surveyed the situation. I was at my sisters gaff and I was now awake, I was still tired after the late night before hand but I was already thinking about the quickest way home so I could get some breakfast down me an get changed before the game. So with a rucksack stuffed with an Xbox and a carrier bag of Halloween novelty items I made my way home. Today was going to be the hardest home game so far so I needed fuel!
Saturday 3rd October - Swindon Town - Home
Once home I had a cup of tea and swallowed my medication for morning, (as I mentioned previously I am due a root canal so I'm on antibiotics) I switched on SoccerAM and finally got to see Bas do the moonwalk at Colchester. Nick had told me he would be at the Clubhouse at about midday but as I couldn't drink (antibiotics!!) I wasn't so keen to sit in the clubhouse for 3 hours with only a coke to cradle. So instead I sat on my arse and watched the rest of SoccerAM.
Once I got the motivation together we headed for the ground, luckily the tube was actually working on the Barking to Upminster section for a change so at least I would have a nice short journey. Stepping on the train who do I see sitting down with a giant kit bag, stitches and a black eye? None other than our top scorer of the season so far; Mr Romain Vincelot. We shared a nod and I let him get back to listening to his mp3 player. As we alighted at Dagenham East I snatched a quick conversation with the very approachable Frenchman where he told us he was ok to play that day and that he didn't remember scoring the goal. Looking at the damage to his eyebrow it looked like it must have been very sore, but he said it was all better now even if he did have a whacking black eye with it too. Wishing him good luck we left the station and headed for the newsagents to get some cash.
Once in the clubhouse chatting with fellow Daggers I felt a little out of place surrounded by what I knew were tasty pints of lager while I was cradling a small coke! Looking around one thing was very apparent; there was a lot of Swindon about, it seems like they had taken up the smaller main room completely and they were spread out on most of the tables in the big hall too, it was becoming clear this was quite possibly the biggest club that had been to Victoria Road (suck on that Notts!) I'm getting used to being nervous about games in this league so it seems a bit pointless to mention it.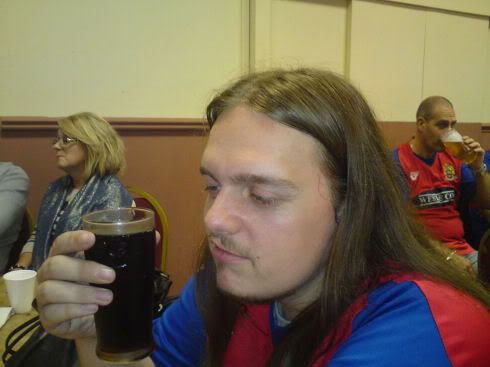 Unimpressed by Coke
It's amazing how slow the time can go without a pint in hand so I was glad when it became time to head for the turnstiles. I ducked into the club shop to have a look at the jackets (winter is nearing after all!) then walked round the terrace towards the middle of the sieve. Looking at the Marcus James stand it was noticeably full which instantly explained the amount of Swindon fans in the Daggers bar!
The kick off was one us Daggers would probably rather forget because 47 seconds into the game Michael Rose crossed the ball onto the head of Thomas Dossevi who flicked it into the top corner of the net. 1 minute into the game and we were 1-0 down, things were not looking good! And for the first ten minutes we looked a little lost at sea with Swindon testing Robbo again. Bas Savage nearly made it 1-1 when Gavin Tomlin found his newly red and blue dyed head, but sadly David Lucas managed to push it wide of the post. Then it looked like we should have been awarded a penalty when it seems Tomlin was pushed over in the box by Sean Morrison but it was waved of as nothing. At this point the referee and nearest lino were in for a lot of stick, especially when Rose got away with (what to us seemed) a harsh tackle on Danny Green (no doubt a slice of revenge for a similar iffy tackle by Green on Rose) considering Greeny had received a card for the same thing earlier the least we could hope for was some consistency! McCrory also created a chance but Lucas dived at his feet to smother the ball. The Half time whistle blew and although we had definitely picked up the pace I couldn't help but feel we would rue letting in that early goal. Despite the lower attendance (West Ham were home!) the atmosphere was pretty good, it seemed everyone wanted to continue noise we had made at both Charlton and Colchester.
The start to the second half was much more to the liking of the red and blue army 3 minutes in Tomlin set Damien Scannell free who put a lovely ball through the legs of Kevin Amankwaah and into the far bottom corner past the outstretched Lucas. 1-1 and the sieve rocked as we all hugged and cheered! I think we're all enjoying the goals we get as much as possible because they aren't going to be as easy to get in this league and to us a goal against Swindon was a big thing! Swindon was not out of this yet though and they attacked but the Daggers defence held strong. Scannell nearly netted another after a nice one-two with Tomlin put him one on one with the Swindon keeper but a very good save from Lucas kept it out and Damien was quite animatedly frustrated. It was very nice to see Scannell doing so well, his injury seems to be behind him and his fitness seems to be at match levels, if he plays every match like he did that match we can expect good things from the former Southend man. As if to prove my point Scannell stole the ball off of Amankwaah on the edge of the Swindon box and hit a right-footer just over the far corner, Dagenham were definitely signalling their intent and they intended to win!
The break finally came when Swindon's defence let a Danny Green throw bounce in the box, Bas Savage was the man to latch onto it, turn and Bash it into the goal and the sieve went nuts again! 2-1 to the Daggers and 10 minutes to play!! Now I was nervous these last 10 minutes were going to be hell to watch. With Swindon now looking like they could leave with nothing they seemed to switch on again and started attacking and every missed shot, tackle or save was met with nervous but excited applause, we didn't want anything fancy, we just didn't want that ball to go past Robbo and into the net and I think we all collectively shat a brick (for want of a better expression) when Alan O'Brien found Jon-Paul McGovern unmarked in the middle of the box. McGovern hit a beautiful strike and I knew it was going in, his position and the placement of the shot was far too good and the ball sailed into... the outstretched fingers of Tony Roberts who pushed the shot up and over the bar making an amazing save! And boy did we cheer, our absolute legend of a goalie had just kept us in it with a winning save before turning round, hands on hips and gesturing to the crowd "4-1" and then went on to safely grasp a McGovern header with the body language of a player on top form. The referee finally blew the whistle and a mighty cheer went up, the little team from Dagenham had beaten last year's play-offs finalists and we were there to see it. We heartily clapped the boys off of the pitch and made our way to the exits, a group of very happy Daggers.
On the way out of the ground I ducked into the programme shop to pick up the programme for the last Charlton game (which I somehow forgot on the day) on my way to the exit Bas was siging autographs for the kids so i called to him "hey Bas, Give us a smile!" and snapped a quick pic of our latest hero.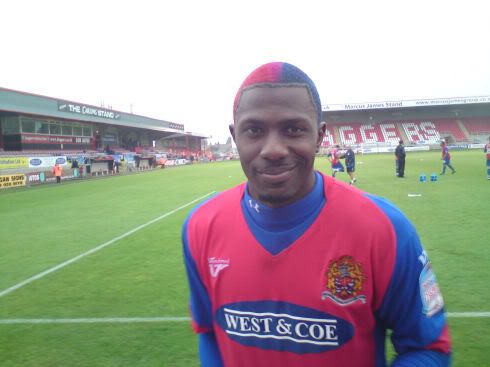 Bas Savage, Red and Blue, Through and Through!
outside I chatted with fellow Daggers as we all took the moment to enjoy the win. Waiting outside we saw Robbo and congratulated him on that awesome save then as I couldn't drink and needed food before I could take more antibiotics I decided to go home, looking forward to watching the highlights on the Football League show.
It's starting to look like the Dagenham & Redbridge brand of attacking football is starting to catch even the biggest of League 1 teams out and long may it continue! But I do have to ask, "Damien, What's this all about?"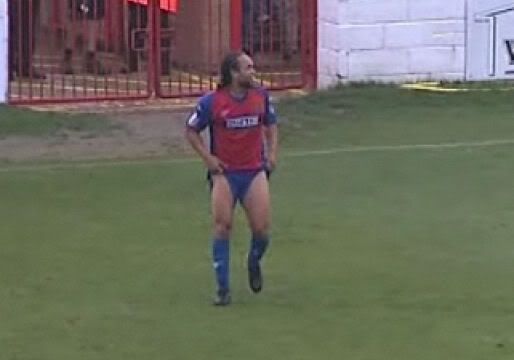 COME ON YOU DAGGERS!!!
FxMxD
Next - A trip to the ground I like to call "Silent Hill"