OK yes, I know
, maybe I've been avoiding it, maybe I'm just a little bit lazy. But I'm here and I'm finally sitting down and writing this up. So let's get this over with
Saturday 9th October - MK Dons - Away
I woke up looking forward to the relatively local away day. Dragging my carcass from the warmth of my bed I put my green shirt, sat down with a tea and put soccerAM on. MrsMetalDagger and her family left for the joys of lakeside so I was on my own today. I warmed up a pasty and watched as the TV showed me Bas Savage celebrating with a moonwalk to the tune of "Smooth Criminal". With pasty polished off and Chris Kamara getting footballs fired at his arse at 70mph on the telly I saw Ian (my lift) pull up outside. I jumped into the car and we sped away to pick up Mitch then on to Stadium MK. Getting to Milton Keynes was pretty easy, But once there it took us a while to find the actual ground. Ian had heard that it was well sign posted from the motorway but the first sign we saw was a picture of a football with an arrow but by then we could already see the ground!!


stadium:MK



As we pulled into the car park I noticed that there had been a lot of development since I was last here. The car park was now nearly completely tarmaced and there were now more places to eat than the nearby ASDA. We were directed by some stewards to an area with more stewards, one of these stewards then directed us away from the tarmac and made us park on what looked like the only bit of muddy un-layed car park!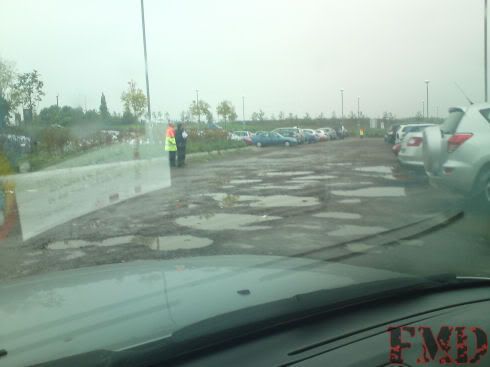 The muddy car park
Now out of the car we all felt the need for a beverage, with no other real options locally we headed for "the Red Dot Bar" as Mitch got a round in I took in the surroundings. Well you can tell the cash has been splashed in stadium:MK, the bar had the feel of a trendy wine bar or a yuppie sports bar, you know the kind, usually found in canary wharf frequented by soulless suits with pink shirts and far too much money. Not saying it wasn't nice, but I'm used to our club house and I'm used to usually being able to sit down, this bar was desperately low on seats (maybe they could borrow some of the unneeded ones from in the stadium!).Conversation pre-game was reflecting the positive mood in the daggers fan base and the recent good results had lifted spirits After a few pints I was up for the match and maybe a little more pissed than I normally would have been (oh well). So we made our way to the ticket office via the cash machine outside ASDA, picked up our tickets and headed to the turnstiles.

Silent Hill, Packed to the rafters as always!
Once inside the pang of hunger had hit, so a quick trip to the hot food outlet was in order. I ordered a cheese burger; it was a sorry looking biscuit of meat that I proceeded to smother in garlic mayo. After eating the burger I was still starving and I had beer to soak up, so Ian suggested a hotdog and I have to say that was far more enjoyable that the burger! We took our seats as the teams came out, the first half was a comparatively tepid affair but the atmosphere was pretty good with our away boys in good song and in a "taking the piss" mood both teams had their chances with 2 of our best coming from Danny Green long throws. Then Luke Chadwick's shot deflected off of the Daggers defence and Lewis Guy ran for the loose ball and Robbo ran for it too, sadly for us he got Guy instead and before the MK player could hit the deck we knew the result. The referee pointed at the spot Jermaine Easter stepped up and put it wide!!! We cheered like it was a goal, although it looked like Robbo may (and I stress "may") have got to it anyway I will never complain about the other team missing a penalty! The half time whistle blew and the teams went to the dressing room the score 0-0. A quick toilet break and a plastic bottle of Stella later (nice one Danny!) and I was back in my seat. I knew that if we stepped up like we did against Swindon, we could walk out with a win or at very least a point.
Within 5 minutes the Gaffer brought off Gavin Tomlin for Stuart Lewis a move John Still later said was an effort to "get our wide men higher" but sadly at 55 minutes substitute Sam Baldock was found with a cutting through ball and when he found he had no support drilled the ball past Robbo at the near post, 1-0 to MK. Despite it being a fairly even game the mood in the away end changed, I think we all expected some kind of point from this one and the songs were not as freely flowing as they had been in the first half. Danny green had a go from Long range which took a deflection but MK keeper David Martin did well to keep it out. on the hour MK had a corner, Angelo Balanta sent the ball over the box which was headed back into the box by Dietmar Hamann and met by Doumbe's head and into the net 62 minutes, 2-0 to the "Dons" There was some more football played after this point and Greeny nearly gave us a consolation but it wasn't meant to be. Just as the full time whistle went I was already walking up the stairs heading for fresh air.
Looking back I shouldn't have been as disappointed as I was at the time, I think I just got my hopes up a little bit too much. But anyway, after that we made our way back to the bar for a little pick me up. After our second pint (but not for Ian, he was being a responsible driver!) we were informed that the bar would be closing!! The feeling of confusion must have been plastered all over our faces because we were then informed that we could continue to drink in the even swankier upstairs bar, so in the lift we jumped (with another Ian now in our group), and boy was the swankier bar even swankier than the swanky bar we had just left.


So posh it has a ballroom!!



Lush sofa's and carpets were the order of the day, so with my next lager in hand we sat on a comfy couch and chatted about the game then someone (not sure who) noticed there was an Xbox 360, which I noticed had a brand new copy of FIFA 11 being played on it. So once the local kids had left it my Alcohol addled brain decided that the only way for me to avenge today's loss was to play FIFA 11 and beat MK dons with the Daggers!! So with Mitch Ian and Ian cheering me on I partook in an epic battle which ended 2-1 to the Daggers! Then after just for the hell of it I Beat West Ham 7-0 because I can! If only real life was me playing FIFA eh? With pride restored I polished off my drink and said goodbye to the swankier Bar. The journey back was filled with loud drunken conversation, with most of the loudest and drunkest probably coming from me. So now I will say thank you and apologise to Ian for putting up with us drunkards and driving us there and back, well me anyway.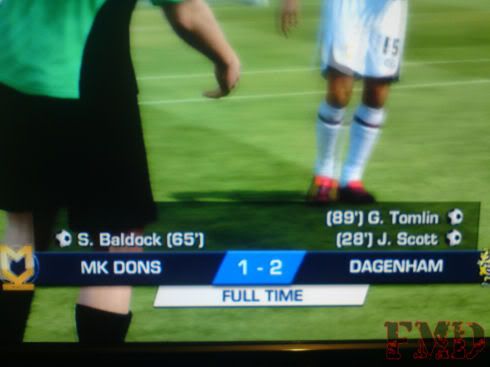 Well we had something to cheer afterall
We dropped off Other Ian and Mitch at the Crown in Romford and popped in for a quick pint as well, there was a covers band on playing an assortment of "poppy" goodness. There were loads of other daggers there and Mark told me not to let tonight's band reflect on the venue as they usually have some good rock bands on. In between songs the bassist of said band started playing the Bass line from "seven Nation Army" by the White Stripes, it was then I realised how many Daggers there were in the bar as "We're the red and blue army!!!" filled the air. Pint finished, back to the car it is then. I was driven back to my front door via the kebab shop. Once indoors I ate the rather tasty kebab, had a rather large glass of Jagermiester and then passed out face down on my pillow.
drunk in the posh lift
All in all despite the result I had a pretty damn good Saturday!!
Chin up boys!! And UP THE DAGGERS!!!
FxMxD
Next - The Lee Goodwin Testimonial and then it's Walsall