Ok this is gonna be a double report, Because I have had Gigs (which went rather well) and Bah-Humbug shopping to do, but here it is from the fingers of me and Jerk (oooh err missus).
First to a game I can't remember a single thing about (this should be fun!) so it will be pretty brief.
Saturday 20th November - Oldham Athletic - Home
Words by FullMetalDagger
I awoke to the sound of a tea being placed next to my bed. While this is way kings are meant to start the day, I knew that my normal pre-match routine (Tea - SoccerAM - Pint) was being cast aside. For this is the month of December and in December men (and women) around the world are bundled into cars by their respective partners and unloaded at the modern temple of commerce that is the shopping centre. Yep, you got it! No pint for me, I had Christmas shopping to do.
So with tea drank I dressed, strapped into the car and we made for Romford. After walking around and picking up various things for family and friends it was time to head for Vicky road.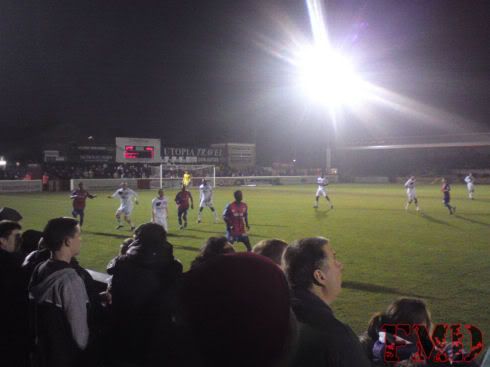 After the excitement of orient the week before it has to be said that the atmosphere for this game was a little flat. Don't get me wrong, the singing section in the middle was trying to whip up some song but it didn't seem to carry down the sieve. As for the game, both teams didn't really take the game by the neck and Oldham looked shaky at the back. Vincelot had a very good chance when Green passed him the ball to him in the box, but as anyone who plays FIFA knows, you gotta let go of L2 to take a decent touch and sadly Romain ran right into the Oldham keeper. Oumare Tounkara tore up some turf as he ran down the right before taking a shot from deep in the box only for Lewington to tip it onto the bar, that boy continues to impress me with every game he plays! Danny Green then whacked a ball from the right to meet Vincelot at the back post, but Romain couldn't knock it down and it sailed wide. Greeny then put in another ball this time from the left which Nurse tried to head into the net but once again a daggers player was left wanting.
As the first half concluded I walked up to Jerk' and commented that "this lot don't like being attacked do they!" and I knew that if we got on goal it would be 3 points to us. But football may be the beautiful game, but she is a cruel mistress! and the goal that would be our undoing came in the 57th minute as Tounkara after a nice little one-two broke into the box one again and took a shot which deflected off of the foot of Abu Ogogo across goal and into the path of Leeds loanee Aidan White, who deftly tapped it into the goal past the stranded Lewington.1-0 to Oldpork. Shortly after they would have made it 2-0 if it wasn't for another fine save from Lewo as he tipped a Chris Taylor shot over the bar. Our best chance to equalise was probably a will Antwi header that came from a long ball into the box but Dean Brill was equal to it. The final whistle blew and the Daggers faithful grumbled their way out of the sieve. All in all a pretty poor day, sometimes its hurts more when you feel we could have won.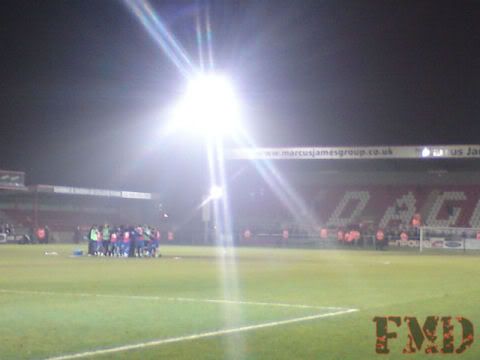 But would we fare better when The Daggers travelled to Plymouth?
FxMxD
Tuesday 23rd November - Plymouth Argyle - Away
Words By JerkFromTheCoach
Tuesday night games in different time zones are never fun, but this was one which really took the biscuit. Do you remember the first time you were forced to sit down and watch Star Trek by your parents? Not the original series, but one of those later ones where often you see the cast strolling about with other alien species, who are green, or who have rainbow colours on their temples….one of those series'. Well, that's what Plymouth is like. (FMD - don't be picking on sci-fi!!)
I endured possibly the world's longest coach trip (okay, I am exaggerating there) in order to get there too. Being a gentleman of the rather taller, more generously rounded build, I find coach travel usually makes me quite angry, due to the companies who build them seemingly thinking we are all midgets who have no legs. Six hours was more than enough for me, but as my only option of travelling down there, I had to bite the bullet and go for it. I must say first off, the company on board was exceptional, so if you were on board – thanks. The length of journey was offset by the fact we had more space due to the low numbers of travellers.
We left Dagenham at around 12:30 to begin our mammoth tour of English counties, and were to arrive some time after six – in true professional 'must-remember-this-for-the-write-up style, I forgot to look at a watch or clock, I'll blame it on the fact I was astonished by the dental work of the local yokels, or something similar. The coach trip was long but uneventful really, though I am sure by the time we arrived I had evolved into developing stumps where my legs use to be. It turns out, they had simply just died, and with the return of blood my reward was to be the ability to walk into the stadium and watch one of the most disheartening games of the season. Yay!
Now, I am in no way critical of the team for the loss at all. I simply cannot understand why things are not going our way this season. Congratulations are in order for Mr Tomlin on scoring his long overdue first Daggers goal. May it be the first of many. Gavin Tomlin consistently plays out of his skin, and the effort is noticeable – he always puts in a shift and despite his poor form in front of goal, it is the other reasons given that mean I am glad that he is with us. Judging by the way he treated the corner flag when celebrating, the goal meant a lot to him, and I am pleased he got it.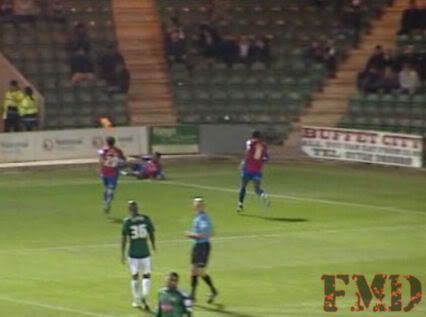 Tommo beats the shit outta a flag, happy days!
Three sides of Home Park are monotonous, every-day run of the mill flat pack style boring one tier jobbies, linked by filled corners. It's very similar to The Keepmoat at Doncaster in size. On the remaining side, they have a very unique looking old stand, with executive boxes, and a sadly unused area which used to be a terrace. I can imagine in days gone by, the ground would have been a great place to visit, but when that old stand is flattened it's going to be just another boring bowl of misery, which takes me to my next point.
Home Park
Plymouth fans. I imagine your average Plymouth fans day is as follows;
Wakes up in the morning, and is filled with bitter hate that they have once again awoken. Begrudgingly they get out of bed, and put on a knitted (Green, has to be) jumper and some corduroy trousers to complete the classic brethren look. The day is spent milking horses and beating up dough for the evening meal, which, in common with both lunch and breakfast, consists of a pasty.
Go out and try and sell Cider.
One or two days a week, the boredom is broken up by a Morris Dance with their cousins or some tom foolery with a maypole....whatever a maypole is. If there is football on, the Morris Dancing will be cancelled, so that the family (after all, Plymouth is one big family) can go to Home Park and moan that their team isn't up to much. They can also moan that their owners don't like them. While they are at it, they moan at the referee. They also moan at the Assistant Referee when the chance arises. Whenever a player in a green shirt makes a mistake, they moan. When they go a goal behind, they moan. 45 minutes in, the referee (who they are moaning at) blows his whistle to signal half time – Plymouth fans respond by moaning. Throughout half time, they move into the concourse downstairs to moan about the game. Some ten minutes later, they start to make their way back to their seats. When the whistle is blown and the second half begins, they moan. Their team starts off a little brighter, so they moan that it should have been like it in the first half. They get a corner, it's a bit of relief……but they moan when it is wasted and gets cleared. They equalise so the fans then moan at their owners again. Upon going 2-1 up, almost unbelievably, they continue to moan.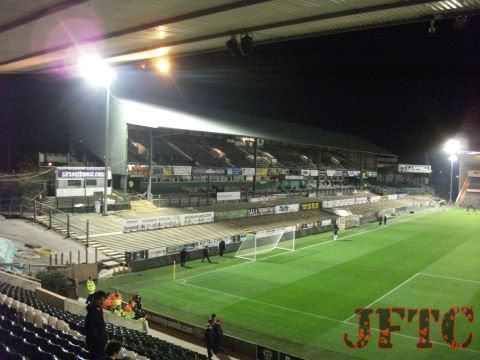 The Grandstand
The game itself was absolutely horrible for me, as a Dagenham supporter. There is no way we should have left there without the points. Reading the above paragraph might give you the impression that Plymouth fans are sour and angry. You'd be right. I dare say that they have reason to feel that way, it's hardly been a successful season for them - but, it is games like these that make or break your season. Despite having had the best of the game, Plymouth managed to beat us – and still they weren't happy.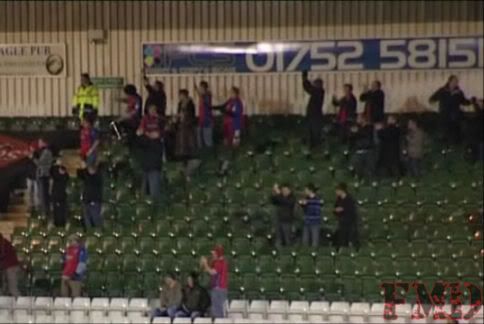 the brave and the few
I have decided to concentrate less on the game than the actual day. I am sorry if that's unacceptable, but after deserving much and leaving with nothing 4,000 miles from home I didn't wanna think about it.
Keep your chins up Daggers.
JerkFromTheCoach
And maybe time for one more
Saturday 4th December - Huddersfield Town - Home (POSTPONED)
Words By FullMetalDagger
The week before this non-game I was in a small northern Derbyshire town called Alfreton visiting FullMetalMother, who I had been trying to help move into a new house around the corner from her old one (before anyone asks, "NO I am not secretly from the midland, my mother moved up there a few years back, I am secretly from Barking and born secretly in the now destroyed Rush Green Hospital, which I believe fell apart after my rather ample frame popped out of my mother and crashed through a nearby load bearing wall") sorry where was I? Oh yes. The house move hadn't gone to plan because the midlands managed to confuse itself with the north pole and was knee deep in a white powder far less entertaining that anything found in a Romford club (though possibly purer).
Alfreton Station, and you thought the snow in the sarrtth was bad!!
After a week of not doing as much as I planned I was looking forward to getting back to the (relatively) sunnier south. A call had been put out for volunteers to help clear the pitch in time for the game and both me and Jerkington were willing and able (or wobbly and unstable?) to help out. So Friday came and although my mother had heavy furniture to move I know where my bread is buttered!! So I hopped on a train for possibly the 2nd worst train journey I have ever been on to get back. Well it turned out that was a pointless endeavour as the game was called off due to safety fears. In other words they didn't want us poor Dagenhamites falling over and breaking our pie eating arms.


So instead of watching football I sat about in my red and blue pants (yes I have some!) and played FIFA 11 and drank tea whilst MrsMetalDagger and family went Crimbo shoppin. For those that care (Hi Nikos!) I am now top of the premiership with a Dagenham team with only Abu Ogogo and Romain Vincelot as original daggers, Doe and Greeny are on the bench. I am top scorer in the league. Nice!
well a boy can dream!
FxMxD
Next - The battle of the Bovril and the Clash in Cumbria!