Before I hand you over to Jerkenstien I just want todraw your attention to the changes to the site, you can now select past blogs by the various categories which are on the list to the left. Also there is now a list of links on the right. - FMD
Saturday 11th December - Carlisle United - Away
words by JerkFromTheCoach
After the mammoth journey to Plymouth I was looking forward to a nice close one in the form of Carlisle. I took out my map and the tube, and suddenly I noticed the old lady sitting next to me was crying. "Far, isn't it?" I said, to which she replied "can you stop elbowing me in the face please?"…
…with that little issue out the way (no, I'm not serious), I set about making plans for the trip. Tickets had been booked thanks to Herr Hardy, and a crowd of 5 of us were to meet up and board the half past ten train to a place close to the arctic circle.
On arrival at Euston, and briefly having a conversation with the Paparazzi (Simmo), we noticed there was a steam train waiting to leave in another platform, so a few of us went down to have a look at that – you don't get to see them too often in Dagenham. Thankfully, all of my bodily functions were working on this particular day. If they weren't the train wouldn't have been able to screw my ability to hear up. Thanks for that driver, I'm sure it was necessary.
Our train may have left on time, or it may not have done – but for the reports sake, we left 4 minutes late, but 3:59 earlier than I'm going to tell you. I make this Rum o'clock, but as I had drunk my rum already (I just hate early starts!), I had to settle for coffee for the trip, which was fine by me. Spectacular journey though, some of the views you are afforded then the train tilts are amazing – especially once you have gone past Willesden. Of note to football fans, amongst the grounds seen from the railway are Crewe Alexandra, Wigan Athletic, and the mighty Lancaster City (I have to say, for a small club that looked an impressive set up – wouldn't mind taking a trip up for a game sometime).
Arrival into Carlisle was on time, but I can confirm that none of the items of furniture from the Homebase adverts were still present, which I found a tad disappointing. Carlisle station is a strange place, the station seems absolutely huge yet, even taking into account it was a weekend, it seemed far less busy than I imagined it would be.
The town itself wasn't a bad town. The locals get 10/10 for friendliness, happy to help with directions, and shared some decent friendly banter with us. To the lady that said we had 'come a long way for nothing', thanks very much for the three points – how I wish we could have seen you on our trek back to the station after the game.


Outside the station, is a nice pub called The….Pub-whose-name-ive-forgotten-due-to-Brandy-consumption. Nestled amongst the usual fare offered were one or two local ales, which I didn't try at the time, but one of which I did buy a bottle of to drink at a later date. Doris' 90th Birthday Ale. I cant wait to give that a go. The pub was happy to allow away fans in (take note Sheffield Wrongsday) and accepted that our supporters are never around to cause trouble, and are amongst the best behaved in the league.
Onward to the ground, we jumped into a taxi after consuming the pubs supply of Brandy…..again, and asked the driver to take us to Carlisle Rugby ground where we were told they are happy to serve away supporters alongside home supporters.
Carlisle Rugby Ground
Some Brandy was consumed, and we headed to Brunton Park for the game. Brunton Park is a peculiar ground, but not unpleasant. Actually, I'd far rather visit a ground like Brunton Park than I would a soulless bowl of new build in the middle of an industrial estate. This is a real football ground, with real football fans, who sadly were about as vocal as an anonymous mute in a hearing aid factory. The stand we were housed in was built back in the days of the Knighton Empire when it was planned the pitch would be moved, and the entire ground redeveloped. This wasn't to be the case. What Carlisle are left with is a lop sided ground with a stand running a considerable length beyond the end of the pitch. Our view was decent, but what kind of views are afforded when there is a full crowd of away fans and some have to sit at the end I do not know. Strangely the final two seats are taped off so you cant sit there even if by some weird coincidence that you might want to – and lets face it, nobody would.
A healthy crowd of Dagger's had made the trip for this one. A banana had made the journey, and some were waving their nipples at Carlisle fans in the hope they'd run scared. All credit to these fellows, as Carlisle has an average temperature lower than my refrigerator.

Brrrrrrrrrrrrrrrrrr-unton Park
It was nice to see Robbo at the top of his game as usual. Will he ever lose it? I get the feeling more and more that he has plenty of years left in him yet – as far as I am concerned this is great news, not only he is a club legend, but he is one of a kind, once he goes he cannot be replaced. A solid Dagger's performance here, far far from home, theres nobody I can really pick out as having performed badly. Absolutely delighted to see Kayleden Brown set up both our goals - that should do his confidence a good turn. Medy Elito was superb, quite why he isn't knocking on the doors at his parent club I don't know.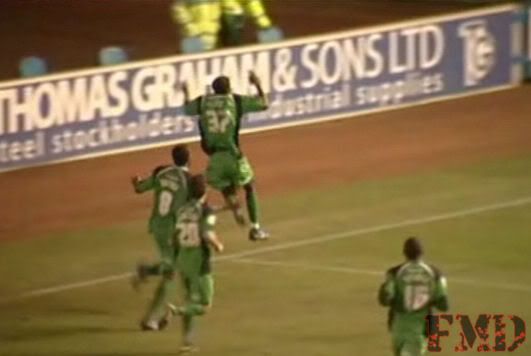 Another well taken goal away from home, and an absolute cracker from Danny Green ensured that from the 80th minute onward, the points were coming back with us. Though we are still locked firmly in a relegation fight, that's exactly what we are doing – fighting. I have the belief after watching a performance like this that we are good enough to stay up, and we'll have a few more eye opening results like this to come. On our day, I think it is fair to say we can mix it with anyone in League One, and with a bit of luck and belief in ourselves…we might just stay up. It's the frustrating points dropped scenarios earlier on in the campaign which keep us locked in the bottom four, and it is not down to bad performances. How useful now would those two points lost at home to Tranmere be?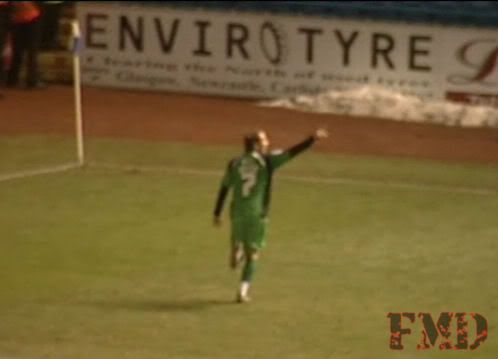 After the final whistle it was a walk back to the station immediately via the off licence to stock up on beverages for the trip home. The Paparazzi headed to his first class section to take in Richard Branson's hospitality, and as far as I am aware all carriages other ours had an eventless trip back. Aside from a flying pork pie, I think our carriage was well behaved though too. But then, what's a pork pie between friends when you just took 3 points from Cumbria?


JerkFromTheCoach
Jerk, King of hide and seek!
Next - with this weather, who knows? Brighton? maybe!