Paul Benson is and always will be a Dagger, no matter where he goes or what he does; he will always be a Dagger. And after 5 years of service, 201 appearances and 84 goals (the last of which was a sweet goal to open the scoring at last year's play-off final) he has earned the right of place as a legend at this little club of ours. For me the goal that will always stick with me has to be the Wembley goal, not just because of the brilliant touch - turn - and shoot into the net (that I can see in my mind as I write this) but because of how much it meant to him and us as fans, if there was anyone we wanted to score for us and put us on the map, it was him!
He had such a high identification with the club, if you was to say "Dagenham and Redbridge" to someone, chances are they'd say "Paul Benson" back at you and apart from the goal record, I think this is part of why it was so sad to see him go, Benno was ours! Our manager had found him, he made his name in our team and we loved him for it. I say this without any bitterness but with the affection of saying goodbye to an old friend. So Benno if you do read this, know that we all thank you for what you did and hope you get a fat pay-packet to line your nest for your family and retirement and complete the fairy tale of the Saturday league striker who made his name at a pub team from Essex!
Farewell you legend!
14 Paul Benson
Enough of that mushy bollocks, I went to a football game on Tuesday!
Tuesday 31st August - Charlton Athletic - Johnstone's Paint Trophy (away)
So we knew we had no Benno and now we were gonna face the team that wrestled our top goal scorer off of us. I was sitting indoors finishing off my last blog and washing the "cursed" green shirt ready for what was going to be one of the easiest away days (travel wise) of the season. When the missus got home and changed, we headed off to meet the others. The good thing about a weekday match so local is that the Tube network is actually useable without the normal disruption we as football fans have to deal with. So from Upney station we got the district line to West Ham and met Mikins, then onto the jubilee line to London Bridge picking up Nikos along the way. We stopped at Burger King in the station then onto the overground to Charlton. I have to say I had noticed more daggers fans along the way than I had going to any other mid season game (not including coach trips obviously!). After a journey on the train discussing possible replacements of Benno with a fellow Dagger we got off at Charlton and headed straight for the ground. Once at the ground we bought our tickets from the little huts outside the turnstiles and headed in, picking up a program for £1. Straight away I noticed we had brought a fair few with to the Valley that day. While I expected a few to show, after last year's trip to stadium:MK for the first round of the JTP where we brought about 180 (but it felt more like 80) it was a pleasant surprise to see so many had made the (albeit relatively short) trip. So with anticipation building inside me and after saying hello to some familiar faces I promptly shelled out £9.90 for 3 pints of John Smiths and we guzzled them down as kick off was nearing. As I took my seat the atmosphere was already building with us reminding them that not only were they no longer a Premier league team but that they are "in the same league as Dagenham, Same league aaaaas Daaaaaaaagenham!" (I knew that would be a favourite this year!). The Valley is a nice modern stadium but it still has some character and although it was half full it still looked impressive.
Just before kick off Nikos leaned over to me and pointed towards the pitch "there he is!" at first I couldn't find him amongst the red shirts but then I spotted him, wearing 17 in Charlton colours. I found myself getting the same feeling one would get seeing an ex-girlfriend with her new bloke! Straight away I realised that if anyone scored tonight, I didn't want it to be him, that would sting just a little too much. The first half began and we started like we wanted to prove a point, with some good runs and a shot by Nursy blocked by defenders. No matter what we did the Charlton defence was closing down well and it seemed like every time we got near there box somehow we'd give away a free kick, I don't know whether this was due to rough play, offside's or bad refereeing but it was very frustrating. The Daggers faithful were in good voice and if you watch back the highlights you'll hear us more than Charlton. Charlton also had their chances and Benson could have scored were it not for the heroics of our 2nd string (and in my view, constantly improving) 'keeper Chris Lewington. Benno was at the wrong end of some banter "what a waste of money" and "who are ya!" where flung his way, but the classic "he came from nowhere, he's scoring everywhere" was also thrown in just in case he doubted that out banter was anything but affectionate. The half time whistle blew and I knew we could win this, but I feared we wouldn't and said as much to Nick.
Sadly I was right!
The second half began and Dagenham carried on with the momentum from the first half but it only took until the 57th minute for Charlton to score. Paul Benson knocked it on to Matt Fry who found Therry Racon in the box who turned and slammed it past the outstretched Lewington. 1-0 to Charlton. At this point the boys heads seemed to drop and although we had ago we never looked like we were out to snatch it back. Thankfully though Lewington managed to stop the further shots from Benson! A last ditch cross from substitute Darren Currie was flicked on by Nurse was only just gathered by the pink kitted (poor sod!) Ross Worner otherwise Josh Scott would have had tapped it in to take it to penalties! The final whistle blew and as usual we clapped the team and it warmed the heart to see Benno hugging and saying goodbye to all his team mates.
The Gaffer seemed very animated in the post-match huddle, I dunno what was said, but it was very energetic. Going by his post match interview I'd imagine he was congratulating and commiserating, we're more settled as a team and now we need goals, wins and the points that come with them.
We exited the ground and headed towards the station. I was already looking forward to coming back to the valley in 3 weeks for the league fixture and I could see a good little rivalry developing if we stay in the same league for long. On the platform we chatted with the Charlton fans, one of whom was back over from working in Oz where his local team is Perth Glory (hallelujah!) they were all very complementary of our little team and wished us good luck in our season. We stopped before we all went our separate ways and took this photo to document our feelings towards tonight's result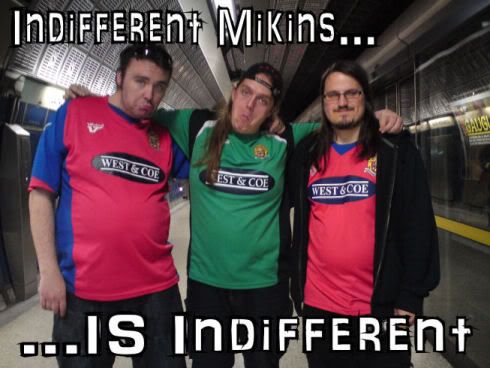 And this one to remind ourselves that we're in league 1 and havin' a laugh!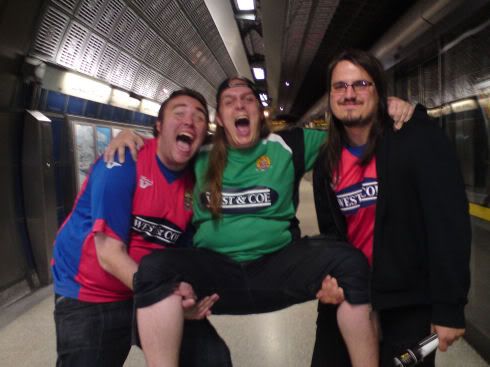 All apart from indifferent Mikins who as you can see is indifferent to everything!
Before I sign off I would like to take a moment to say goodbye to another big part of my life as Dagger and that is the old Unofficial Daggers Forum which was shut down on Tuesday. This was a great little forum where I have always enjoyed discussing our little team as well as burgers, music and fish fingers! Run by "steveMC" it was often the place to find out info before it hit the main site. Although unofficial it was without a doubt the online centre of Dagenham and Redbridge FC and even the players knew, a good example was when Scotty Griffiths posted on there to say goodbye to us all and it was name checked in the Tranmere program by (Daggers keeper of my youth) Paul Gothard in an interview. Thankfully though the ever faithful SteveMC has set up a new forum at http://www.daggersforum.co.uk/ and the tradition is continued.
So I say farewell and Rest in Peace to http://daggers.ytfc.com/daggers.mpl
So with all that said, I am gonna waste no more of your time but to say "chin up boys!"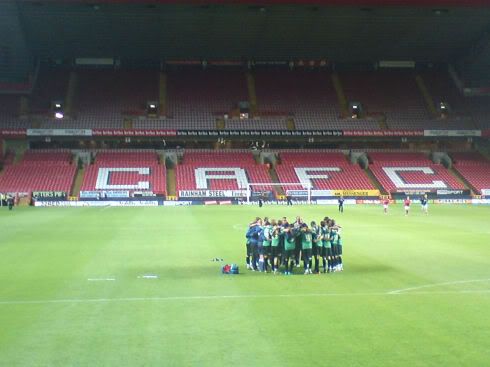 COME ON YOU DAGGERS!!
FxMxD

Next - The battle lines are drawn as Orient come to town!