Before I recap my version of the last 2 games I would like to take a minute to say a very sad farewell to Stuart Thurgood, Who has had to retire at 27 because of a persistent knee injury. Thurgood (although not with us for the longest time) made an instant impression on the squad and the fans. After seeing him in a couple of pre-season friendlies I was an instant fan. His bulldog tenacity and his constant bullying of opposition until they relinquished the ball will be remembered for some time with some saying had we had a fully fit Thurgood all season we could have finished as champions! This may be an accurate statement, because it took us a while to fill the hole his injury left in midfield. The last time I saw Stuart play was actually after the Rochdale game that took him out, it was in the Essex Senior Cup away tie to Harlow Town and MrsMetalDagger will testify to my excitement at seeing him on the pitch. Sadly this would be the last time anyone would see him in our colours and this week it was announced he would retire. While there is nothing I could say that could take away the pain of losing a playing career to injury, I would like to shake him by the hand and tell him how great it was to see him in the red and blue! So Stuart, good luck in anything you do in life, you will always be a Dagger to us!
Stuart Thurgood 8
Sooooo I guess I can't avoid this anymore
Saturday 18th September - Bristol Rovers - Home
I woke up on the floor Saturday morning, MrsMetalDagger's west-country cousins were down for the game and I had been relegated to the floor while the missus was snug in my bed with her sister (not as interesting as it sounds). Shaking off the cobwebs I sank a cup of tea and joined the queue for the bathroom. No time for Soccer AM today because the family had to go to see a grandparent before the game, so off we set to Vicky road via the grandparent's house. Getting off of the rail replacement bus at Dagenham East (so far I had yet to get a train there this season!) we headed to the bookies to put on some bets. It was here I discovered one of the cousins, Andy, was very good at the virtual gg's and walked out about £30 richer. Phil (the other cousin) put a fiver on Rover's to win (fair play, it is his team) but I warned him that if Rovers won I was entitled to a pint from the winnings that were earned at the expense of my tears!
Once at the ground we headed for the traditional pre-match pint(s) sitting with familiar faces with half an eye on the west ham game on the big screen. As the game started we seemed to be doing ok, the ball was going from end to end with both teams looking to get an early lead and I thought we scored when Tomlin spooned a rebounded Peter Gain shot. As the clock struck 27 minutes the Rovers attack danced around the Daggers defence and Jeff Hughes slotted the ball into the far corner. 1-0 to Rovers. 5 minutes later it got worse Hughes received a lobbed pass behind the Daggers defence and deftly lobbed it over the charging Robbo, 2-0. The atmosphere had gone from not very good to pretty bad, with the boys not playing as well as expected and a 2-0 deficit (not to mention West Ham being away that day!) lead to a flat and curmudgeonly mood in the sieve, of course the normal cried were trying to lift the atmosphere but the majority were waiting for something to sing about. As the half time whistle went a small boo grumbled its way out of the terrace.
The second half was a slight improvement but it seemed that every good ball was scuppered by a mistake or Rovers defending and with 10 minutes left people started passing me, heading towards the exits. It was around this time that new signing Bas Savage came on and as an ex-Bristol City player was at the wrong end of some stick from the Rovers fans. Sadly if the result wasn't set in stone it was about to be, Mark Arber was judged to have tripped John Akinde in the box and a penalty was given, Hughes stepped up and converted, 3-0. Bas tried to make a mark on the game when he hit the bar with a header shortly after. Thankfully the final whistle blew shortly after, I clapped the lads as always, although today it was with a feeling of sympathy, I knew I felt bad about the result but imagine how they felt. We exited the ground and went for a pint in the club house and Phil bought me a pint paid for by Daggers tears, and I topped it up with a few of my own.
It was in the bar that I found out that Phil and Andy had been started on by a Rovers fan and received some verbal until Phil unzipped his jacket to show Rovers colours, they then heard a member of daggers staff giving a description of a fan (very much like this same bloke) to a policeman as apparently a young Daggers fan had been hit. Phil later told me that he really hoped this didn't ruin relations between the two sets of fans, because having spent the day at Daggers drinking and chatting with our fans, he found us a very friendly bunch and is very much looking forward to heading west for the return fixture.
But random acts of idiocy wern't going to spoil their day, 'cause they met Digger!
Digger, Phil and Andy
After a family meal at Chiquito's we headed home with the bragging rights firmly in the pocket of the west-country lads!
So after that showing I was more than a little nervous about the Tuesday night tie...
Tuesday 21st September - Exeter City - Home
I can say I wasn't looking forward to this match as much as I normally do. Two 3-0 defeats on the bounce had taken the wind out of my sails a little. In my humble opinion (and I do not claim to be an expert) it didn't look like we were being outclassed because the teams in this league were an amazing class above the teams last year (although you do notice a step up in play) it seemed we were losing because we were not playing as good as we had last season and while some will point towards the loss of Benson I say we still have the rest of the team that got us promoted. So that leaves confidence and the team not quite gelling yet. But even knowing that we can play better than we had and that we could get a result, didn't mean I was 100% we would!
After a pretty boring day I had a shower and waited for the Missus and Mikins to finish work. Once they arrived we jumped on the train (that's right!! an actual train!! now let's see if this can happen on a Saturday!!) alighting at Dagenham East and heading down to Vicky Road and straight into the club house for drinks. As we entered through the turnstile I noticed the attendance has dipped a little, but this is as expected as the honeymoon is wearing off and fair-weather fans are not going to want to pay money when we're not winning most weeks. Despite the weekends loss the atmosphere was a bit better and I was starting to get that "Tuesday night under the lights" buzz. Me and the Mikins picked a bacon cheeseburger and headed deep into the sieve.
Teh Mikins eats Teh Burger
Sadly we couldn't get to our normal place near the singing but we still sang for the lads, even if it meant a few "on our own" moments! As the game started both sides had a shot on goal but 5 minutes in we all felt like we had gone back in time to Saturday as some sloppy defending allowed Ryan Harley to whip in a cross which was flicked on by Jamie Cureton and headed into goal by Richard Logan, 1-0. As the half went on the Daggers kept finding each other with no end product but Exeter were creating a fair few chances but none of them found the net. At about 40 minutes it looked to me (and most of the sieve) that Stewart Lewis was tripped in the box but no penalty was given, I have yet to see a replay of it, but I feel that if Saturday's trip was a penalty then so was this! Also no card was given for simulation so it was one or the other! We nearly had another equaliser when a Peter Gain shot took a deflection only to be saved very well by City keeper Paul Jones. Half time came and I disappeared for a quick toilet break and bumped into JerkFromTheCoach and shared a grumble at the score.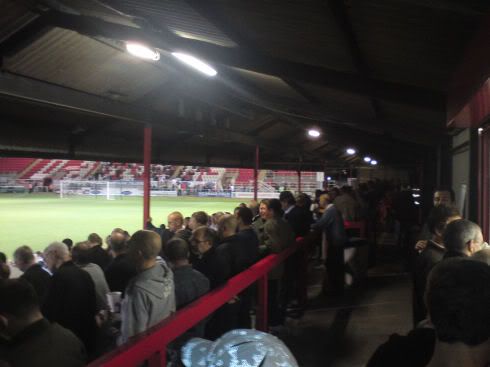 The Sieve
Back in the sieve we watched the start of the second half, Dagenham looked a bit better and really wanted to get something from this game but no matter how many balls were put into the box, nothing would get in the net. At around the 60 minute mark Bas Savage was subbed on for Scott and then Gwillem came on for Phil Ifil. The Switch in formation from 442 to 352 seemed to work quite well and if Savage and Tomlin can work out exactly who's going to go for each ball we could have a good little partnership brewing. As for Savage's low scoring record, I'd like to see how many assists he has because from initial impressions he seems to work really hard. 71 Minutes in and we had a corner, Danny Green whipped it in (thankfully as he'd caught allot of flack for not getting it past the first man today) and our midfield miracle Romain Vincelot jumped and with an almighty smack off of his blessed bonce, headed the ball into the net!! 1-1!!! As the cheers went up it felt like the cheers of relief washed over us all, for the first time this season we had come back from a deficit. Exeter kept having a go though and came close a couple of times, but so did Dagenham! And as injury time was announced the terrace filled with more excitement than it had all night as we willed the red and blue army to finish with points. Finally the final whistle blew and although not the best result it was better than Saturday. Happy with the point we walked into the clubhouse happier than we'd been 2 hours ago.
outside the club house with Jerk' we bumped into Paul Benson, I shook his hand and drunkenly told him how much he was missed and asked him if he could knock one the wrong way for us on Saturday, seeing him there made me completely forget that Theo Walcott had come to see us. Who needs Walcott when Benno's in town!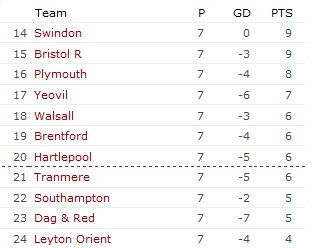 So now we've moved up 1 place and the Orient are the team below us. This is good, we are moving forward, but Saturday we return to the valley and a difficult game against Charlton where a win means we could be above the dotted line.
UP THE DAGGERS!!!!
FxMxD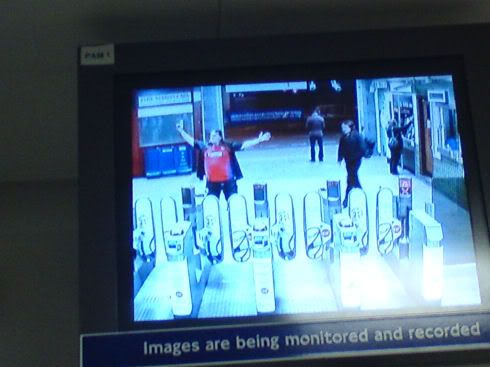 Drunk at the station
Next - South London Football fans claim "they pay our benefits", we remind them they're "in the same league as Dagenham".