Tommorow is the start of the 2010/2011 season, and before every Dagger everywhere goes to bed for a sleepless night thinking about a huge opening day away match to Sheffield Wednesday, I thought I'd take a moment to relive the end of last season. Not just the playoff final mind, because we all know that's only half the story.
Saturday 17th April - Burton Albion - Home
I was especially pumped up for this game, even more so considering that (due to uncontrollable circumstances) I had not been able to attend our 4-1 win over our local rivals for that season, Barnet. For this game we needed a win, any less than three points would surly mean the end to our playoff dream. Now my memory of matches can be quite sketchy and as of now I can only remember the main points and have used video highlights to refresh certain details, so please bear with me. The first thing I remember is Burton scoring (22 mins - Harrad), this was not the start I was looking forward to, the mood in the sieve was still one of hope, but a very tense hope, knowing this could be the end of our season, right here before our eyes. Then something amazing happened. Romain Vincelot (filling in, in midfield) managed to bundle the ball from the centre spot get past the Burton Midfield, he was in a good position and had Benson waiting in line with the back four, but to my horror his body shape changed, he was going to try for one from about 40 yards out! If you we're standing next to me this is what you would have (roughly) heard; "Oh no, don't try and shoot from....YEEEEEAAAAAAHHHHHHHHHHHHHHHH GET IN!!!" the ball flew over the keeper straight into the net, 1-1. But the minutes passed and at the 89th minute with it looking like Burton had held on for a point that meant nothing to them and denied two that meant the world to us, people started to head towards the exits. Injury time was announced, I can't remember how much. As always when injury time is announced everybody made some noise hoping to encourage the boys through the last minutes. I didn't see our winner go in, I saw the ball flying around the Burton area then I saw the net ripple, then I was cheering with all my heart hugging five complete strangers. Graeme Montgomery had latched onto a loose ball and sent it into the net, 2-1.
I came out of that match with one of the best feelings I've ever had from a football match. I think because I was so sure we were done, that there was nothing else anyone could do to snatch those points. To win like that is the most stressful but satisfying I feel.
It's just a shame that the next game wasn't so good.
Saturday 24th April - Morecambe - Away
I didn't get to this game and in hindsight I think that wasn't too bad of a decision. I listened to the game with the online commentary and it didn't sound like we were having the best time of it and watching the highlights seemed to reinforce that belief. A superb 86th minute strike from Darren Moss it 1-0 to Morecambe and we were left in the same situation as before the Burton game.
Saturday 1st May - Hereford - Home
Today was to be a special day, once again Dagenham needed a win to stay in the playoff spots and after the game me and my little posse would be heading into town for my birthday drinks. But I knew those drinks would taste a lot sweeter if we sent Hereford home without any points! First thing I remember about this game was Paul Benson wearing a mask to protect his broken nose and he was the man to put the Daggers ahead at 35 minutes. Once again I am in the embrace of 5 complete strangers jumping around the terrace when I slipped a little and felt my ankle twist with an audible crunch! "No matter" I thought, "I'll happily shake the pain off with three points and a beer! We looked a lot stronger this match and I thought Vincelot was gonna get his second in two home games when his low driven shot flashes past the post. The game wasn't over yet and Marc Pugh slid one in at the far post from a cross to make it 1-1. It was at this point my ankle really started to ache and as the minutes passed I started thinking "I hope I ain't busted my ankle for nothing!" The game went back and forth and my heart nearly came out of my throat when Phil Walsh's header was saved (by the way does anyone else think Phil looks a little shark-like?) and I nearly filled my trousers when a Hereford free kick was cleared off of the line! Amazingly though miracles can happen twice at the same ground, in the same goal, by the same player; Hereford keeper Adam Bartlett punched the ball away for it to fall to the feet of Graeme Montgomery who volleyed it straight back at the goal and into the net, Monty scores another last gasp goal at 91 minutes to keep us in a playoff spot. Again I had a great feeling leaving Vicky Road that day; once again we'd been taken to the edge of getting so close but not close enough to being back in the thick of it!! And to top it off I was going out to get pissed!
Saturday 8th May - Darlington - Home
Once again I didn't go to this game (as I explained before I only really had enough money for the home games) but once again listened at home. I was convinced we could win this one but I must admit I was a little nervous. One thing I noticed listening to the game was that it sounded like a home match, all you could hear was daggers singing and cheering on the boys in yellow on, I instantly wished I was there. John Nurse was the first to score with a header at 31 Minutes. From watching the highlights I saw the Quakers had a good headed chance denied by a very good save from Tony Roberts. Dagenham sealed up the game in the 75th minute when Benno held up the ball and passed it across goal for Josh Scott to put it into the net, I jumped out of my seat scared everyone else in the front room and spilled my beer, and yelled "WE'RE IN THE PLAYOFFS!" now we just had to play Morecambe again and it had to be better than our last game against them!
By this time I had already bought my season ticket but now there was a chance that ticket would be for a league 1 Dagenham and Redbridge FC!
Sunday 16th May - Morecambe - L2 Playoff Semi - Home (1st leg)
This weekend I was visiting my little sisters in Kent but I had a plan. I was going to wake up at the crack of dawn and head back to Dagenham. Which is exactly what I did and I can tell you now on the trains home I was nervous, very nervous, I didn't want to talk and I didn't want to think about the game. With Morecambe being a very similar club to our own I knew we could easily be chasing a deficit in the second leg. My missus took this picture with my phone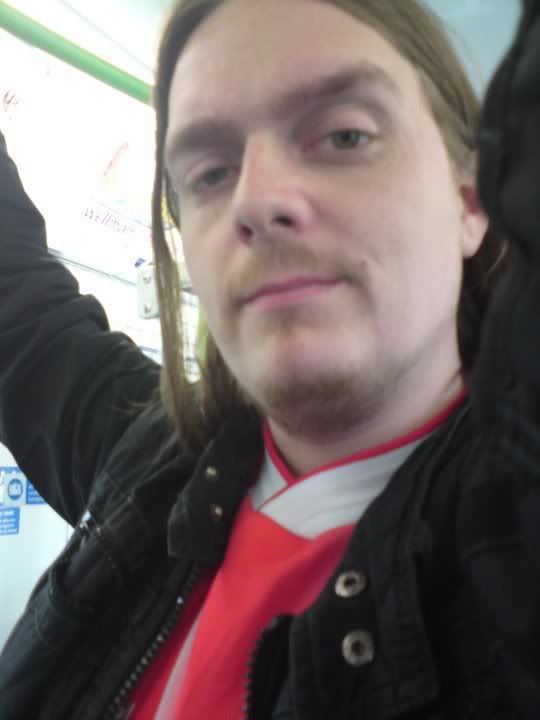 I think I look pretty nervous. Well as we know I need not have worried, what ensued was the most one sided game of football I have ever seen; four minutes in Benson slotted in a goal from a parried header. We waited half hour in the four thousand plus crowd for our next goal, when Barry Roche failed to kick the ball past Josh Scott who ran it forward and slotted it in at the far post. I have to say I felt a bit sorry for Roche when I watched the game back; he looked like he wanted the pitch to open and swallow him up. Three minutes into the second half Danny green was brought down in the box and the penalty was given and after a brief discussion between Green and Captain Mark Arber about who was going to take it Arbs stepped up and....it was saved, but Scott whacked the rebound... against the post, the ball rebounded back to Scotts feet who this time put it in the onion bag, 3-0 to the Dagenham! I felt pretty safe now and the packed house was singing away, it was a great atmosphere and I was having a great time. Surly nothing could make this better, well Mr Scott had something to say about that when he headed a Danny Green corner straight into the goal, 4-0. Well now I was numb with the joy of it all, I had been so nervous, I had bitten away all my nails on the (longer than normal) train ride but here I was in the crowd watching Dagenham leading a playoff semi-final 4-0! So imagine how I and my fellow Daggers felt when a Morecambe defender headed the ball in Benno's path who launched it into the goal and my heart was warmed to see Benson run straight to club captain Anwar Uddin, 5-0. "QUE SERA SERA, WHAT EVER WILL BE WILL BE, WE'RE GOING TO WEM-BER-LEY, QUE SERA SERA!!" and I seemed almost impossible to disagree when Josh gained the ball at the corner flag ran towards goal and put it in for six, my friend Nikos looked at me and said something to the effect of "fucking hell six nil!!" and he was right! So that was the end of an amazing leg, I was planning on buying a ticket for the second leg at Morecambe but with money tight and the almost certain fact I had a Wembley ticket to save up for, I decided to take the rare opportunity to watch the Daggers on Sky in HD with a beer in hand. But there was still a chance it could all go wrong...
Thursday 20th May - Morecambe - L2 Playoff Semi - Away (2nd leg)
So with dreams of Wembley in our heads, Beer in our hands and the slightest fear we might lose 7-0, me and MrsMetalDagger went round to Nikos's house to watch the second leg on sky. This was to be Morecambe's last ever game at Christie Park and as soon as I saw our fans on the terrace both Nikos and I wished we were there! The first half saw some good shots from us, some from them and Barry Roche redeeming himself with some nice saves but the first half ended 0-0, job halfway done now. Second half underway and our crowd once again made me regret not being there by congaing around the away end. Morecambe were turning up the heat a bit, really trying to save face in this tie. Nursey broke away down the flank, cut inside and passed it to the waiting Vincelot on the wing, who fired it across the box for Benson to slot home 1-0!!! (7-0 agg)
"No, wait, it's been given offside, oh well!" I think any other game in the season that fans would be spitting teeth about what was a perfectly good goal being disallowed but as it stood it remained 0-0 (6-0 agg). Mark Duffy finally got a goal for the home side to make it 1-0 (6-1 agg) the home end went nuts and I didn't mind. On the 85th minute Green put a ball across the box that Benson put in off of his head to make it 1-1 (7-1 agg). A lovely ball into the box was met by David Artell's head to put the home side ahead 2-1 (but 7-2 down) as the final whistle blew Home and away fans met on the pitch and celebrated the end of the season together, Dagenham and Redbridge on their way to the playoff final and Morecambe said goodbye to Christie park with a win. Can't argue with that really can you? ;-)
Sunday 30th May - Rotherham - L2 Playoff Final - Wembley
This day is a bit of a blur to me, but I remember leaving my front door and heading to Upney station where I had to catch a rail replacement to Barking. Barking station was quite a sight, I'd never seen so many people going to a Dagenham match before, the c2c arrived and I squeezed on and took the train to West Ham. After picking up the last people of our group we sat on the Jubilee line on our way to the home of English football. I had tickets for the second row behind the goal but before we could go find our seats we had to find a pub. We had been told that the Green Man was set up as a Dagenham pub, so we headed there. After walking up a hill we found ourselves in the beer garden of the green man with more Daggers than I've seen in one place at once, we queued up for beers and sat in the hot sun and proceeded to get a little tanked. There was a good atmosphere and I could feel my excitement building as the KO approached. We headed back towards the stadium found our seats and took it all in. I was very impressed by the large floating flags with the team crests on, I don't know why but I just didn't expect this kind of effort to have been put into the final. All in all I was very impressed with the New Wembley and it was even better because I went as a Dagger! I don't think I need to comment too much on the game but I'll give a quick summary of my feelings throughout. It was great to see our boys out on that pitch, they all worked so hard to get there and all deserved to be there. At 38 minutes Paul Benson took a brilliant touch in the box, turned and whacked it in, 1-0 to the Daggers. I was ecstatic jumping and hugging everyone in sight but before we'd even finished celebrating Ryan Taylor scored with a header. I remember thinking to myself "well we lead at Wembley for a minute, guess that's our lot". It's amazing how wrong I can be. Half time came and I was feeling good, 1-1 in a final ain't bad and it had been exciting and a great day out. 10 minutes into the second half Danny Green picked up the ball outside the Millers box took a couple of touches to get it to the edge of the box and fired it low and hard underneath Andy Warrington and into the net, 2-1!! Once again the Dagenham end went mental and once again we were in the lead. Five minutes later Taylor received the ball in the Dagenham box and blasted it past Robbo, 2-2!! "Well that's definitely it now!!" my brain told me, I'm so glad I was wrong more than once that day. 70 minutes gone we have a corner Danny green launches it into the box and it bounces about a bit before dropping to John Nurse who tapped it with the side of his foot into the goal! It took a slight deflection and Warrington never saw it but we didn't care 3-2!! what followed was 20 minutes of nerve shredding football and in the last couple of minutes the Millers threw everything at the Daggers defence, twice Robbo punched the ball clear just to keep it away from his goal mouth, then finally the whistle blew.
In the minutes that followed I don't think it really sank in, I mean I celebrated, I watched the players celebrate and get their medals, I watched the whole match back on Sky+, I bought the DVD and watched it many timed but it's only as I write this tonight it's really sunk in. Tomorrow I will be going to my first game of the new season, Sheffield Wednesday, at Hillsborough. That is an amazing fact and no matter what happens this season I hope that everyone can recognise the achievement of a pub team from Essex.
until next time
(The next one I write will not be as long, I promise.)
Next..."Hillsborough!"