Soooooo we're back
First a quick rundown
of where your favourite hairy buggers have been. Well Jerk' has been doing a butt-load of overtime in a bid to become the richest man in Becontree and I have been doing a voluntary work placement in the hope that my 6 year absence from getting up at a ridiculous time of the morning to go to a job I hate can finally end, YAY! Other than that I have been running round like a crazy bastard trying to get my band together.
But don't despair I still found time to go to some football (even if I haven't found the time to write about it) first things first, the friendlies. In the interest of not giving our readers "World of Warcraft" levels of eyestrain I shall present my cliff notes versions of the ones I attended.
Saturday 23rd July - Orient - Home (friendly)
Pretty Boring but informative. Nice to see the new players and it was amusing to see how seriously the travelling "O's" took the fixture "bless!" 0-0
Tuesday 26th July - Wet Spam - Home (friendly)
Actually quite fun. The Daggers looked lively and if it wasn't for Robert Green clawing out Jake Reeds shot we could have walked out with a Draw (we should have shot for Greens feet!). 0-1 to the Hammers.
Saturday 30th July - Stevenage - Home (Friendly)
Was nice to see the fringe players run about especially injuries mounting. Overall, it was a pretty standard friendly. 1-2 to the Visitors.
Monday 1st August - Thurrock - Away (Friendly)
Probably my favourite pre-season game. Me the missus and a couple of fellow Daggers parked in between the dugouts listening to Wayne Burnett shout at everything in sight, simply awesome. Got to see Lee Goodwin being a manager and a lot of the trailists and fringe players looked pretty good. Ian Gayle (yes that one!!) Dwight Gayle, Osborn and Louis Dennis all impressed in our 5-0 win.
Oh Paul Terry didn't try to shag my woman! Thumbs up all round then!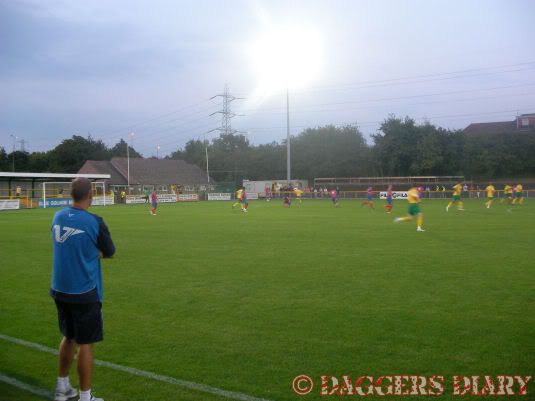 With Pre-season over all eyes turned to the opening trip to Macclesfield.

The night before I had requested an early wakeup call at about half 6 but at half 7 I was still glued with sleepy-time sweat to my pillow. Peeling myself from the bed I pulled on my brand new Daggers shirt, went through what I shall tactfully call "the morning routine!" and left for Vicky Road. We were greeted by the sight of about 100 or more early rising Daggers (hehehe that is officially my new term for "morning glory", BAD FMD!!! get your mind above yer navel!)
Saturday 6th August - Macclesfield Town - Away
Pleasantries where exchanged between people that hadn't seen each other for 2 months and then we boarded the coach. The coach for today was a proper swish one and many of us spent a good 10 minutes playing around with the various features of the posh seats. "oooooh it goes sideways!!" the coach trundled up the motorway northbound and we watched "Paul" on the little flip down coach telly's The chatter on the coach reflected the optimism and nervousness a new season brings, I had a long chat with a relatively new Dagger who after last season is a self-proclaimed "life long convert". Good on ya mate!
Now the thing is, I can't eat in the mornings. I have to have been awake a good couple of hours before my stomach even realises it exists, so I left without having any breakfast. The upshot of this was a very grumbling stomach about an hour into the journey! So you could imagine my relief when we finally pulled into the M6 toll road services. Sadly they were the worst services to buy food at! I wanted some hot food and I fancied a coffee (you know the kind, one of the ones that is really hard to say and remain viewed as a heterosexual, "Caramel Latté please!")
The two main food outlets were a typical service station hotplate convention and a burger bar called "The Burger Co". Burger sounded good to me so I opted for a "Bacon-Double cheeseburger" meal and the missus had a chicken Burger. My burger tasted like they had emptied the grease-traps into a bun and added ketchup, the 4 onion rings tasted like greasy cardboard. I was not impressed; you know one of those microwavable "rustlers" burgers? Yeah, it tasted about 10x worse than that. A bargain at £7 eh!!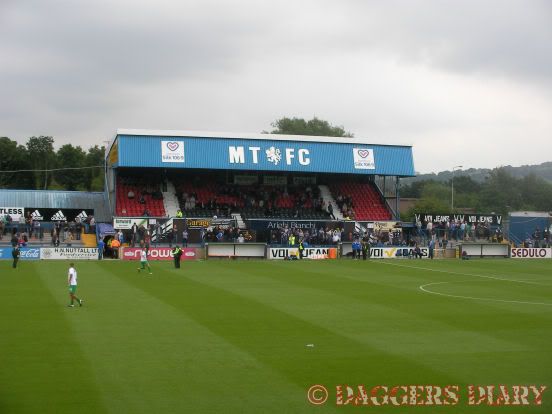 After my disappointing meal I decided I couldn't be bothered to join the mammoth queue for Costa, so instead I grumbled my way back to the coach and fell asleep. We rolled into Macclesfield and after a little confusion we parked outside Moss Rose. We bought our tickets then made for the Alfred McAlpine Stand which contains "Kieths Bar" Named for the late Kieth Alexander who died just before the last time we faced the Silkmen. Was a nice new looking (if a little cramped) bar and I sank a much needed lager.
Looking out of the bars window I could see both teams warming up and took in the ground. The first thing I noticed was the nearest stand to us the "Star Lane" end was an odd little stand, the front half was seating but the back half was Terraced, I've always had a soft spot for little quirks like that.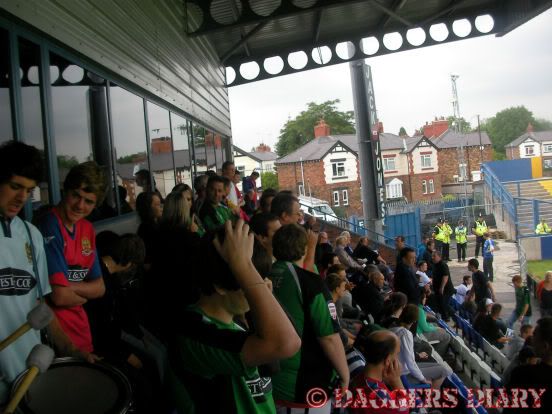 With kick-off approaching I picked up a programme and found a space in the tiny portion of the Alfred McAlpine Stand that was our allocation for today. An MC came out (no not the rapping kind ya silly kiddies!) and informed us that today was a family day and tried (unsuccessfully) to whip up the Silkmen....Silk..Women? Silkpersons!! yeah that's it. Tried to whip the Silkpeople into a frenzy. A smattering of polite unimpressed applause was his reward, but when he acknowledged the travelling Daggers we made more noise than the other 3 and 3/4 stands combined! Yay us!
Overall I have to say this felt to me like a shaky game, what felt like a new team was trying to find its collective feet and work as a unit, and The Silkmen took advantage of this with Waide Fairhurst coming close twice early on, but The daggers had their own chances with new boy Howell and fan favourite Johnny Nurse both having a go. With Robbo gone (oh yeah forgot to mention that!) Chris Lewington was our man between the sticks and did very well to keep out a Nat Brown header from close range. Elito nearly came close after a nice bit of headed back and forth between him and (our new number 7) Sam Williams. But all in all not a half to write home about but certainly not the worse I have seen.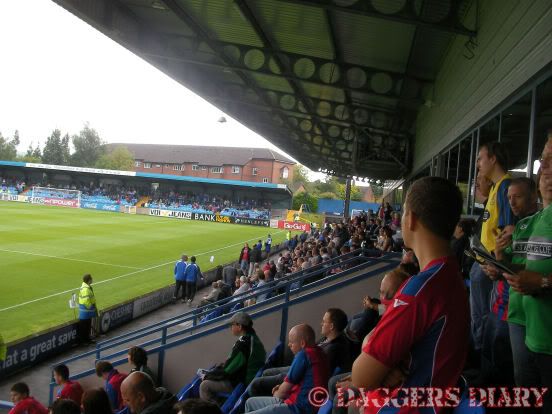 The deadlock was finally broken at 60 minutes (quick side note; my golden goals ticket had "59" for fuck sake!). The Daggers had looked better in the 2nd half so far so we were glad to see Gavin Tomlin's free kick guided home by Arber... no Elito.... no Arber...errrrrrrr... hmmmm it's been given to Elito, fair enough! Either way we went nuts and celebrated our first goal of the season.
Lewington made game winning saves when he parried away Tomlinson's volley and blocked an Emile Sinclair shot, but sadly his last contribution was a very controversial sending off for handling the ball outside of the box, which no one in the away end saw. We went absolutely fucking mental and the last 10 minutes of the game were an exercise in referee hatred. Bile flowed onto the pitch until the final whistle calmed us down. It now looks like there may have been a handball from the follow-up shot making the red card justified. But I stand by our outburst of contempt, we are here to support the boys and we didn't think it was handball at the time and we made the appropriate noise.
I mean even the Macc's players were trying to tell the ref it was a header.
All in all I think we were a good crowd, in good voice and 3 points was a welcome start to the season. It wasn't until the last few minutes of the match that the prophecy of rain was finally fulfilled. We walked through the rain to the coach and settled in for the (damp) journey home.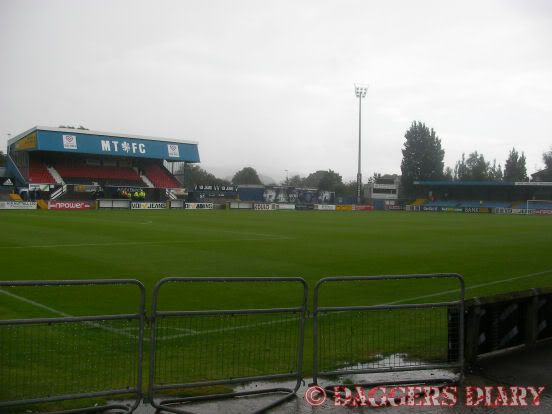 The Tuesday after The Daggers lost 5-0 to Bournemouth in our annual first round exit from the league cup. I myself didn't go and could only listen up to the third goal before an amazing wave of apathy washed over me (you know the kind, the kind that means you can decide not to care about your team receiving a battering) so I turned off the commentary and had a cry in the corner. I mean a beer.
Next on the horizon was our first home game against Football League newcomers AFC Wimbledon.
I don't need to outline the Dons rise to league status here as every site/paper/sports show has already well covered it. Nethertheless here they were and they needed their first league win.
Saturday 13th August - AFC Wimbledon - Home
Saturday morning saw a welcome return to my home game routine. I sat myself on the couch and watched Soccer AM with a cuppa. I rang around my little posse and confirmed that our lot would indeed be making for The Bell, spot on!
TV off and home shirt on, we made for the pub (via Tesco's for a sarnie). It was great to have that match day feeling back. I love the way that nearly all the locals will wish us luck when they see us in the red and blue. I can't be the only one to notice this.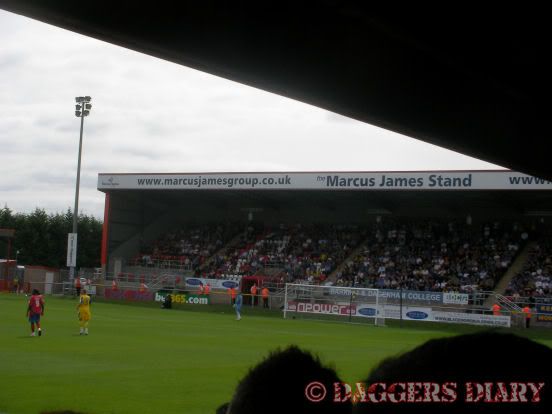 After a couple of pints kick off was approaching, so we jumped on the 103 and rolled on to Vicky road. Due to a couple of people dithering whilst trying to get on the bus we arrived about a minute after kickoff and before we had got through the turnstiles I could hear the Wombles in full voice. After wedging myself into my favoured spot in the sieve I took in the game.
The first half hour I thought we looked really good, we were getting the ball down and passing it about and we certainly looked in more control than we had at Macclesfield. Wimbledon hardly got a shot in and the Daggers came close so many times. Williams, Nurse and Lee all had chances that never became goals. Towards the end of the half the Dons woke up a little and this little rash of enthusiasm lead to a throw near our box. As the long throw came in Scott Doe controlled it with his arm in the box and conceded a penalty, which was deftly converted by Luke Moore.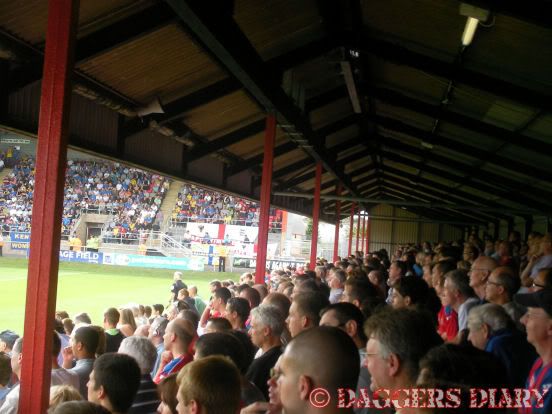 At this point I decided to go for a burger and I watched the rest of the half from the back of the sieve with a mouth full of bacon cheese burger. I have to say I wasn't too concerned with the score at this point. We had controlled the game for the most had looked very threatening at times and I honestly thought we would get at least a point from the match.
But the second half was a different affair all together. We gave it a go don't get me wrong, but when our defence let Rashid Yussuff take a superb strike from outside the box to make it 2-0 it was safe to say the writing was on the wall. The daggers heads dropped, our fans heads dropped and anyone to do with AFC Wimbledon were having a ball and it showed. I think as fans we were a little disappointing, not much song was in the air and I think the was an air of entitlement to the three points that were on offer than day. Sadly this is football no one is entitled to anything!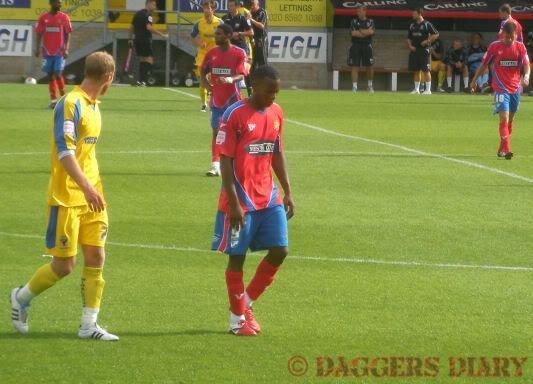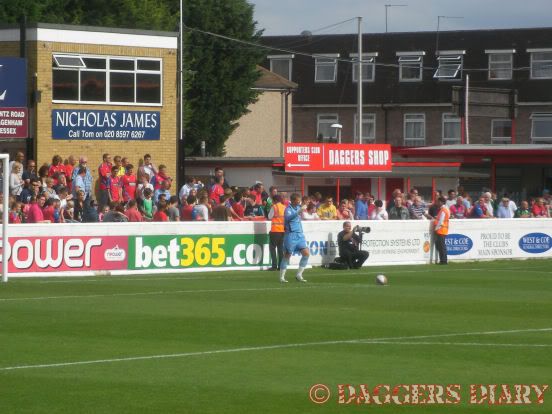 Despite 5 minutes of us getting corners and Phil Walsh coming so close, the Wombles walked out with three points and a song in their heart. We filed out in silence with no points and a big doom cloud above our heads. There was no clapping after the final whistle and a few boos could be heard. The players walk around to clap the crowd was decidedly short and subdued and only a few stayed to clap them back. Daggers had made history once again, this time for being the first league club to lose to AFC Wimbledon.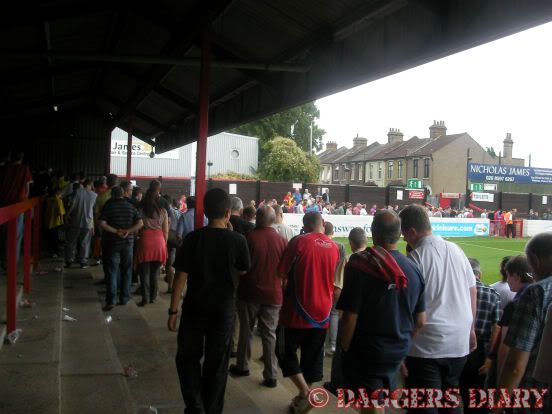 In the Bell afterwards the mood was a little grey and when I got home and flipped on my laptop the forum was ablaze with criticism, counter-criticism and mudslinging. But amongst it all I think we know this will be hard season. League 2 this time round is a much harder league but on the good side last year we beat two of the biggest sides in this league (Bristol, Swindon,)
And a top half finish is on the cards, honest!

I really hope we beat Swindon, I really do! But we need to get behind the team and make some noise!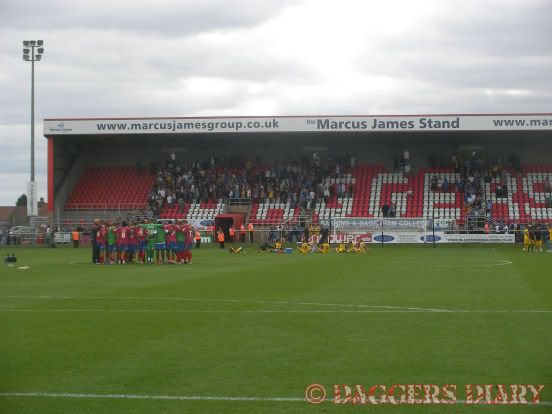 Chin up Daggers!!
(That goes for you lot too)
FMD
Next – Swindon, and Dicannio returns to East London.