A little break from our normal offerings, not Daggers related but football related none the less. (and maybe it'll pass some time until the new season eh!) - FMD

Now It's Our Turn


(or "how to try not to suck in a football team")
THUD!
That was the noise my outstretched body made as I hit the floor, kicking up a cloud of dust. I looked along my arm to my gloved hand and saw my fingertips ineffectually glance at the ball, which rolled past the make shift goalpost (my back-pack) and over the line. This wasn't going to be as easy as we first thought, well maybe that's a lie, we never thought this was going to be easy! Forming a Five-a-Side football team with a bunch of unfit 20 somethings was always going to be a tough task. It was something that had often been bandied about during late night chats and even attempted once before with little success (This being due to the futsal league we wanted to join closing down) But this time we decided plain old 5-a-side was the way to go if we were actually to get this idea off the ground.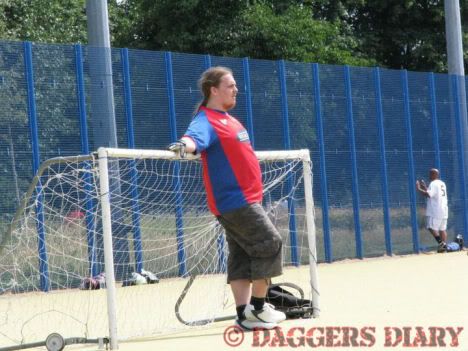 Let's rewind a month...

The first thing to do was see if we could actually get enough people to form said team. We had decided that Dagenham's Goals Soccer Centre was the best place to find a league to join and in their leagues a match day squad can consist of no less than 5 players (well, no guff!) and no more than 8 (which includes 3 subs) but a maximum of 20 players can be registered to our overall squad. So messages were sent, phone calls were made and interest was gauged. After about a week or so we had a preliminary team. That team was;
Ben (Me) - now many of you that know me know I am not exactly the owner of an athletic body, what many of you might not know is that I used to be quite svelte! But this was before a 6 year absence from work which encompassed a major spinal surgery and a good couple of years of recuperating. since then I have probably put on about 2 stone (maybe more, I daren't check!) and whilst my current physiotherapy is starting to give me back my full movement it isn't exactly a way to get fit again. Now I am a member of my local gym, BUT!!!! I find standing/sitting in some machine in a room looking at the wall, running but going nowhere EXTREMLY FUCKING TEDIOUS!! But I do enjoy riding my bike around the park and playing football as a goalie. So this for me is the perfect outlet. In the Team I will be the Goalkeeper and the Manager.
James - A friend I have known nearly my whole life and also the guitarist in my band. It was just natural getting him on board; anything we set out minds too usually gets off of the ground. The fact he was pretty athletic in our younger days can't hurt either eh?

Nick - You know him, he's the tall/loud bloke that I quite often go football with! Another friend for a fair few years who's love for football is second to none! He has pretty good tactical knowledge, he's loud, he's got a good pass and a sweet free kick on him. All this is why it was decided very early on he would be our Captain.
Abz - A friend of mine and Nick's. He is very very sporty, he's in at least one other 11 a side team that I know of and over the years has done all sorts of stuff including pro-wrestling. A solid geezer with nary a bad word to say about anyone. His experience as an outfielder and goalie in proper teams is why he leads training, because you know... he's actually done this before!
Mark - A friend of Nicks with whom he has played many games, got a right hard punt on him.
Chris - A mate of mine who I know through my life as a musician. The lead singer of Hardcore-Punk band "Local Mad Man" and another really nice bloke (for a Milwall fan!) and built like a brick shit house, a very smiley amiable one!
So not a bad start really!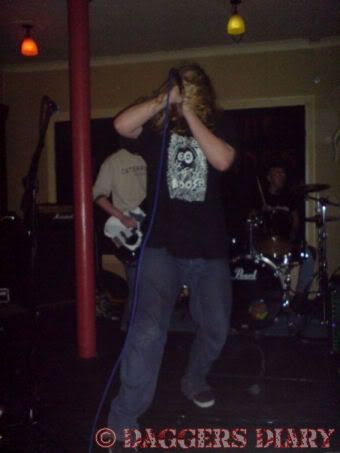 told you I used to be skinny!
Second thing to do was find a League, it was decided a Thursday league would be best as none of us watch teams that will be in the Europa League and none of us wanted to miss any vital Saturday, Sunday, Monday, Tuesday or Wednesday Games!! And seeing as Fridays only had a 1 division student's league, Thursdays 3 division adult league looked the way to go!
Since then we have had a few training sessions in Mayesbrook Park and a match against some people we bumped into in the park. Despite losing said match (to some very athletic looking eastern European dudes!) we came away feeling our general organisation wasn't too bad and the goals we had given away were more due to our own mistakes rather than them outright dominating us. So in theory if we keep practicing we'll win some! As well as the practices, smaller groups of us (mainly Me Nick James and Mark in various combinations) have met up for little kickarounds. With all this though I feel we have all improved a little and more importantly; started to feel like a team!

Sadly, Chris's new job has meant he will be on the other side of London and his band, practices on a Thursday (which can't be moved - he tried). So in a very apologetic call from him he bowed out. Despite this he is being registered in our squad so if at any time he can make it there is always a place for him.
On the bright side other team members have brought new recruits, these are;

Si - Abs' brother

Michael - Marks cousin

Our next step is a "Grading Match" which is essentially a friendly which will determine which division we are placed in. The general consensus is that we would like to start at the bottom and work our way up. This is the most exercise some of us have done in years so we just want to build up slowly. If it turns out (by some miracle) we're too good for the bottom division at least we'll be able to win eh! But before we could register for the grading match we had to pay our registration fee (thanks to Mark for covering that!) and give ourselves a name.
We had discussed names before, knowing we would need one eventually. Many joke names were made and trying to work in "Un-Athletic" and the like into names was tried. Someone (Mark I believe) suggested "the Misfits" or "Misfits FC" which was probably the best description of our little team. I myself had liked the idea of tying the team to location, which in my mind feel a little more real identity wise, something like "AFC Mayesbrook" or "Upney FC". So after one practice, sitting in my back garden When Mark said "what about Mayesbrook Misfits?" looks of agreement were shared and it became official.
We are Mayesbrook Misfits FC!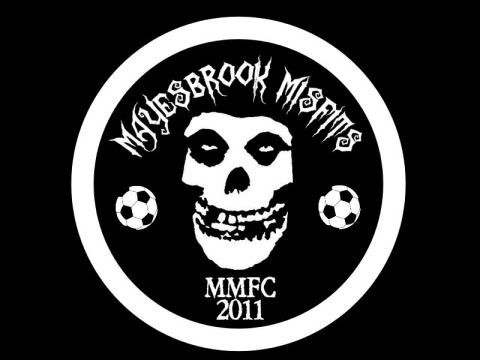 We had our team, we had our name, and we even had enough plain black shirts (that I had spare from when I last made a batch of merch for my band) which will act as our temporary kit. All we needed was a proper match...

...and now we have one
Mayesbrook Misfits FC vs. (Unknown Opponent)
(5-a-side Grading Match)
Thursday 2nd of June (20:15 KO)

Oh shit! That's tomorrow!
FMD

NEXT - What will happen in our first match ? (spoiler - we're probably gonna lose!) and the Daggers Diary Awards are still to come!!