Tuesday 1st February - Brentford - Home
Words by JerkFromTheCoach
The bible is open to interpretation, and also, since being forced as a
child to study it I have to admit much of it I have forgotten, so I
shall have to fill in the blanks as I go along, please bear with me.
The book is also comparable to Dagenham & Redbridge in some ways.
Mainly because I have a beard and can walk through puddles without
drowning (rumours I catch fish and share my sandwiches out though are
unconfirmed), but also this little known tale below
Daggers 1-2 Shrewsbury - 2nd May 2009
The year was an unholy 2009, and The Daggers had ended the season in
8th position having gone into the final day needing only a draw
against Shrewsbury to cement a place in the play offs for promotion to
League One. The aim had not been achieved, Dagenham went down 2-1 at
home and Shrewsbury pipped us into the final play off position (and,
it is worth saying, managed to screw it up for themselves afterward
s too). Nevertheless, after the previous seasons late escape from
danger, the season had been a remarkable turn around for a club run on
a shoestring budget, the mood was of disappointment (you're never
going to get that close and not feel disappointed) but also of great
optimism for the future after such a good showing. As supporters,
little did we know that the next time we had a home league fixture,
the squad would look remarkably different.
the old Pondfield end
Come summertime, the family was broken, and certain members left for
pastures new. The most significant change to the squad being the
three players who moved on to Brentford for a total fee of £0 two of
whom (Ben Strevens, and Danny Foster) have since transferred again, to
Wycombe. So leaves our prodigal son of the tale, step forward please
Mr Sam Saunders.
Whether you liked him, or he frustrated you (I never really got the
latter myself, but you do sometimes hear it said) there is no doubting
the ability of Sam Saunders, and likewise no doubting the countless
shifts he put in whilst wearing Dagenham colours. Without him (and
the likes of Matty Ritchie), I don't think we'd have not gone into the
aforementioned final day fixture aiming for a play off place.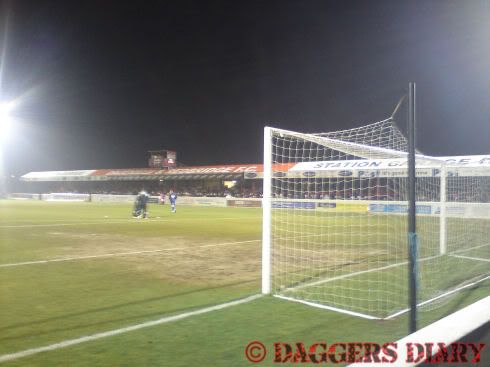 On the 1st February 2011, it was our chance to say hello to Sam
Saunders again. The return of the prodigal son! He'd missed the
Boxing Day fixture with a broken nail, but I was pleased when it
happened to be that his first appearance coming back from injury was
to be at The Artist formerly Known As the London Borough Of Barking
And Dagenham stadium. And what a game it was for him to return to!
Our home form this season has been frustrating when stood on the
terrace. We've not often played bad, but we have been hit by late
goals generally robbing us of points – and there have been occasions
when many spoke of a curse on us scoring at a certain end of the
ground. Myself, I think all this superstition is rubbish, but well,
some people cant help but put their left sock on before their right in
case their Nan has a coronary (weirdos!). I therefore think that a
big win for us in front of our own fans has been long overdue, and
what better way to get it than in a derby against a team that includes
one of your old players?
When it comes to the actual game, Brentford were appalling from start
to finish, and its easy to see why their supporters were so frustrated
with how things were going. After a worrying start to the season
which saw them in the bottom four they'd picked themselves up and made
progress for a couple of months, but at the time of this game were
sliding back towards danger. The kneejerk reaction since to sack Andy
Scott was, in my opinion, not the best move for the club – but I guess
the people in charge think they know what they are doing. Easy to
forget the achievement of promotion in 2009 followed by survival the
following year it would seem – survival being no mean feat, as im sure
our supporters can testify that League One is far from easy.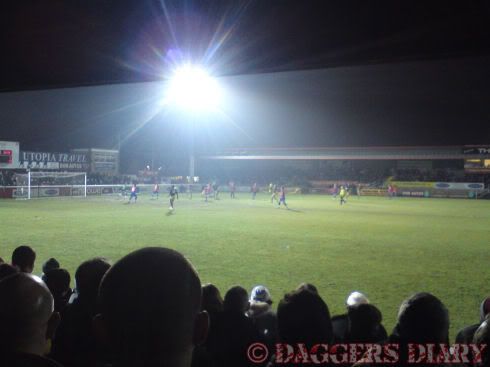 Sam Wood, managed to rob himself of the chance to play a number of
games this season since he broke his arm in the reverse fixture back
in December, and was still absent for this game. Shame really, would
have been nice to see his happy smiley "I cant tackle for shit" face
trotting around during this heavy Brentford defeat. It'd certainly be
a huge disappointment if he missed out on the Paintpot Trophy final,
perhaps he could invest his time that day studying tackling
techniques, or working out ways not to do a mischief to himself when
advertising boards are nearby.
The deadlock was broken on 20 minutes when the ball seemed to strike
Jon Nurse and roll in. Brentford stand in keeper Simon Royce looked
every bit the player I remembered him to be. Numerous chances came
and went, but come half time the two sides went in with the score
remaining 1-0, we should have been out of sight but it wasn't to be –
it can be nerve wracking as a Dagger being 1-0 up this season at home.
Thankfully come the second half femininely named Karleigh Osborne
decided he felt great sympathy for the Dagenham cause and scored for
us, which was nice. Cheers 'Carly'…Jon Nurse made it 3-0 ten minutes
later scoring his second of the day in a little more convincing style
following Damien Scannells ball in. What victory this season is
complete without a headed goal from Romain Vincelot? One wonders just
how difficult it will be to keep hold of him come the end of the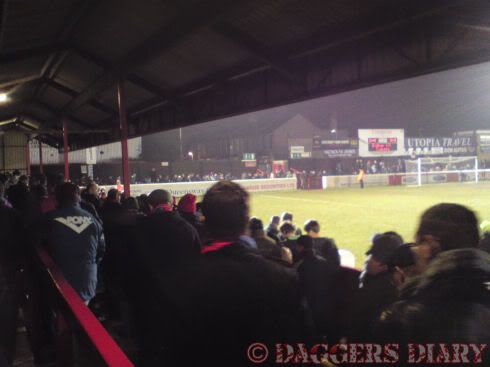 season. Just a minute after the third, Vincelot pretty much assured
victory with his goal. Disappointingly Charlie MacDonald grabbed a
consolation at the death meaning we missed our chance of a clean
sheet, but this was the only down side in an otherwise fantastic
night, other than the paltry attendance of 1,907. For a local team,
this really wasn't great. Brentford's travelling support was very
insubstantial – but then, if you had to watch that every time your
team went away, its got to be difficult to motivate yourself into
going if you aren't a die hard supporter.
In 'The Prodigal Son', the young man returns home a broken man after
wasting his fathers money, and he is welcomed with open arms and
generously looked after. But there was to be no ending like The
Prodigal Son here for Sam Saunders, in fact the only thing biblical
about this one is that someone ended up being crucified – and it
wasn't Dagenham.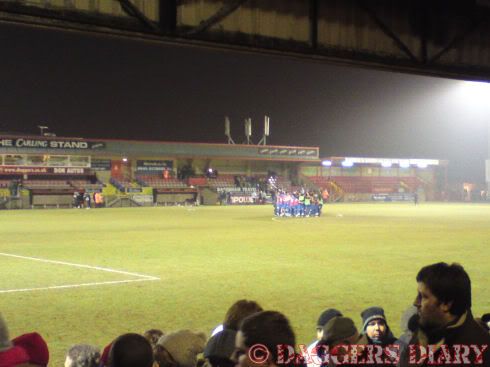 JerkFromTheCoach
NEXT -
An adventure in Oldham.